Date
Time
Location

Werribee City Centre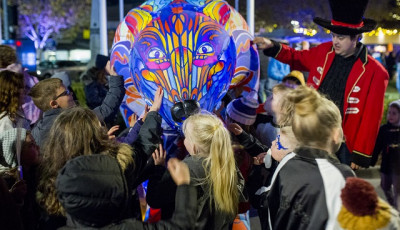 See the city light up after dark with beautiful light installations, street performers, kids' activities, music and warming winter fare at Wyndham City's FREE Winter Street Party.
From glowing angels and neon puppies, to twinkling fairies, hula hoopers and dazzling fire shows, this year's program will bring a touch of magic to Werribee City Centre.
This year's event will be spread across five major precincts of Station Place, Watton Street, Comben Drive, Wedge St Piazza and the Wyndham Cultural Centre.
As night falls, a giant illuminated cube in the heart of Station Place will be transformed into a space of wonder, with renowned Melbourne theatre company, Born in a Taxi and crowd favourite, Carla O'Brien bringing a series of new works to Watton Street, including neon dogs, hearts and umbrellas.
There'll be fire shows, ice sculpting, glow-in-the-dark face painting, projections, roving circus acts, kids craft and even a light-up dance floor!
Local businesses will be open late, to create a bustling winter marketplace of warm winter dishes, hot chocolates and special winter offers.
So rug up, bring in the kids and enjoy the magic of the Winter Street Party.
Follow www.facebook.com/werribeecitycentre for the latest program updates.
This is a free Wyndham City event supported by the Wyndham Business and Tourism Association.
Light Installations

Born in a Taxi present Enlighten

As night falls, a giant illuminated cube will be transformed into a space of wonder with renowned Melbourne theatre company, Born in a Taxi. Within the glowing space, three angels go about their business, sending messages between the divine and the mortal, with lighting projections and soundscape bringing this enchanting interactive work to life. Between performances, the space will be lit with projections.

Enlighten is a collaboration between award-winning physical theatre company Born in a Taxi, internationally renowned, ex U2 lighting designer Bruce Ramus and sculptor David Murphy.

Neon by Carla O'Brien

A crowd favourite last year, Melbourne-based international artist Carla O'Brien will bring a series of playful new works to Watton Street, including neon dogs, hearts, umbrellas and balloons. Vibrant and glowing bright at night, the touchable works are created with LED Neon Flex – a revolutionary new replacement for glass neon giving you an immersive 3D multi-colour experience.   
Piano Republic Speakeasy

Of all the gin joints, in all the towns…why don't you walk into ours in the heart of Wyndham?

Escape the bright lights and settle into this cosy loungeroom speakeasy featuring musicians Mama Alto, Lisa Mary Drake, Paige Spiers, Michel Kwon and The Bridge Community Choir. We have a Grand Piano, a relaxed vibe and a place to luxuriate.

Interested in taking to the stage? We invite you to join our open mic at Wyndham's own Piano Republic from 8pm onwards. Register your name at 7pm to guarantee a spot.

6pm – 9pm

Presented by Wyndham Cultural Centre
Fire and Ice

See a master at work, transforming blocks of ice into beautiful animal sculptures with chisels, saws and chainsaws! Plus catch dazzling fire shows throughout the night.
Music and LED Dance Floor

Head to the giant, neon boombox and get the party started with smooth DJ tunes and a lit-up, LED dance floor!

Plus, catch Wyndham's fresh new talent at the Buskers Pitch on Watton Street, including Saskia Wardlaw, Moe Chi and Jade.
Eat, Shop and Explore

Local businesses will be open late, with special winter offers and warming winter dishes to enjoy. Details to be announced soon.
Kids Workshops + Activities

Make a tea light penguin or polar bear to take home, decorate an igloo with neon paint or make your own seed planter to take home, with free craft workshops for the kids in Station Place and Werribee Library.

You'll also find free, glow-in-the-dark face painting stations in Station Place and at Wyndham Cultural Centre Car Park, neon mini golf and a huge line up of roving performers.
One Minute of WINTER

What does winter mean to you?  Is it a time for hot drinks, cosy nights in, a time to escape to warmer climes? Catch short one-minute flicks from local talent on the Big Screen.