Address

Werribee South Boat Ramp, Beach Road, Werribee South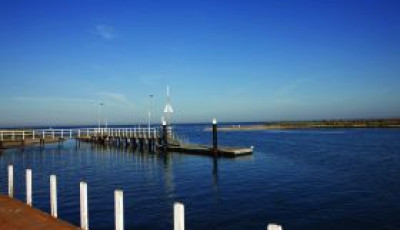 The Werribee South Boat Ramp is situated near the mouth of the Werribee River along the Werribee South foreshore. The Boat Ramp is a public facility open 24 hours, 365 days a year.
The facility comprises of:
Six boat ramps (two shallow)
Four floating pontoons (NOTE: We currently have one pontoon unavailable due to damage)
Fish cleaning table
78 vehicle-with-trailer paved parking spaces
Approximately 90 vehicle-with-trailer parking spaces in overflow
Floating Pontoons
This winter, a combination of a change to the dredging patterns by the Department of Environment, Land, Water & Planning (DELWP) and high winds resulted in a large amount of sand being deposited under the pontoons. As a result, one pontoon (which experiences lower traffic compared to the others) incurred considerable damage.
Currently, while the two middle, double ramps and pontoons are impacted by the build-up of sand, they are operating as normal, launching and retrieving all sizes of vessels.
Action
Council is seeking to get the dredging done as soon as possible;
A dredging plan is being developed, which will be submitted to the Department of Environment, Land, Water & Planning (DELWP) and Parks Victoria for approval;
DELWP can take up to sixty (60) business days, to consider and approve an application;
The middle two deeper, double ramps will be prioritised for dredging/repair first; and
The shallow ramps, will be prioritised second.
As soon as specific dates for dredging and pontoon maintenance are known, we will update the community.
Safety & using the Werribee South Boat Ramp
With the current warm weather and snapper biting in the Bay, it is timely reminder before dragging your boat/watercraft out for the first time this season,  to refresh your memory regarding safe boating and trailer towing.
Your safety and the safety of others is paramount both travelling to and from the water as well as while on the water. Please check not only the condition of your vessel but also the condition of your trailer.
A reminder of safe boating can be found with the link below to the Recreational Boating Safety Handbook.
When launching you vessel, please take care, as boat ramps are situated in a natural environment and are subject to changing conditions. Before heading out onto the water always check the following:
Also, upon your return to shore, please check that your car and trailer, including the coupling have not been tampered with and are safe for you to retrieve your vessel and tow your boat home.Emergency Contact Information: Victorian Water Police (03) 9399 7500 or 000
For further information contact Wyndham City Leisure Facilities Contracts Officer on 9742 0777.
Parking at Werribee South Boat Ramp

Wyndham City has improved the way users pay for parking at the Werribee South Boat Ramp.  

From October 15 2018 users will be able to pay for their parking by simply using the PayStay app on their phone for a casual pass, purchasing an annual ticket from Council's website or by purchasing tickets in advance from Council. WiFi will be available at the site so users can pay online.

How the Annual Permits work:

Register your details. Your boat trailer registration is now the only vehicle registration required.
Choose the parking permit that best meets your needs.
If you are a resident, you will need to upload your proof of residency (utility bill or rates notice) as well as your boat trailers registration (the name/address must match the proof of residency and boat trailer registration). For a concession benefit you will need to upload a copy of your concession card.
Complete your payment.
Keep the receipt for your records. 
Display the receipt in your window if you are using the ramps within 14 days of purchasing your ticket. Failure to display a receipt may result in a parking infringement being issued.
Keep your details up to date – if your details change please email mail@wyndham.vic.gov.au to have your details updated.
Renew. We will send you a reminder email when it is time to renew your annual permit.  Follow the link and complete your renewal. Display your printed receipt for 14 days following your renewal. 

If you are an infrequent or casual user of the Werribee South Boat Ramp and casual permits are best value for you. Casual tickets can also be purchased from PayStay. To use PayStay on your phone:

Download the app.
Register.
At the time of use, validate parking permit and make payment.

How much does it cost to park at the Werribee South Boat Ramp?

 

Parking Permit Description

Fee

Wyndham Residents/Rate Payer Rate*

Annual Ticket

$99

Annual Concession Ticket

$77

Non- Resident Rate

Annual Ticket

$202

Annual Concession Ticket

$143

Causal

24hr Casual Ticket

$18

Other

Replacement Ticket

$25

Other

Commercial Vessel Ticket

$218

*Resident discount is provided to those who upload satisfactory proof of resident/ratepayer status. The boat trailer must be registered to the name/address of the person purchasing the ticket to receive a discount.

Proof or resident/ratepayer status – please submit a copy of your rates notice or a utility bill as well a copy of the boats trailer registration. The name/address of the utility/rates notice must match the name/address of the boat trailer registration.

How is parking at the Werribee South Boat Ramps managed?

Wyndham City's Infringement Officers monitor the car park, ensuring that users have a valid parking permit for use of the space. The Officers check the registration of the trailer for a 'valid' parking permit. If a registration is not valid or there is no ticket on windscreen, a parking infringement may be issued.

If you receive a parking infringement and have questions about the parking permissions within Wyndham, please click here for more information.

How do I purchase a casual ticket?

PayStay are the provider of casual tickets for the Werribee South Boat Ramps. You can download the app or visit the website here.

How do I contact PayStay?

You can contact PayStay via customerservice@paystay.com.au or 1300 322 111.

I have an existing annual ticket – what do I need to do?

If you have an annual ticket that is valid between February 2018 to October 2018, an extension can be applied. To activate this extension, we require your correct contact details. Using the link in the letter posted, sign in an update the information we have on file.

Once we have your correct information submitted via the link, your boat trailer registration will be transferred into the Enforcement Officers database and you will no longer have to display your old ticket.  Please allow the 14 days required between loading your information and not displaying your ticket.

If you haven't received a letter with a link, please email lesiurefacilities@wyndham.vic.gov and a Wyndham City staff member will contact you.

How do I purchase a ticket without a mobile device or credit card?

You can purchase your annual or casual parking permits in person from Customer Service at the Civic Centre, 45 Princess Highway, Werribee during business hours.

Why do I need to allow 14 days for my online annual ticket to be validated?

All renewals and new annual tickets require validation to ensure the correct permit has been issued. Display your printed receipt on your windscreen if you are using the ramps within14 days from the date of purchase.

What do I use if my boat doesn't have a trailer?

If you launch at the Werribee South Boat Ramp, but your boat is moored in the river or transported to/from the ramps by other means, you are still eligible to use and park at the ramps with a valid Wyndham City Werribee South Boat Ramp Parking Permit (annual or casual).  Simply use your vehicle registration where your boat trailer registration is requested within the Annual Boat Ramp Parking Permit form or the PayStay system. 

How do I use the Wi Fi?

You can access the free Wi-Fi at the Werribee South Boat Ramps to purchase your parking permits from PayStay.  Select WCC_PUBLIC.  No username or email is required.