Address

Werribee South Boat Ramp, Beach Road, Werribee South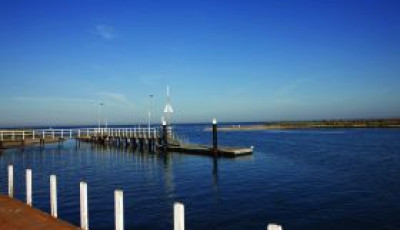 The Werribee South Boat Ramp is situated near the mouth of the Werribee River along the Werribee South foreshore. The Boat Ramp is a public facility open 24 hours, 365 days a year.
The facility comprises of:
Six boat ramps (two shallow)
Four floating pontoons
Fish cleaning table
78 vehicle-with-trailer paved parking spaces
Approximately 90 vehicle-with-trailer parking spaces in overflow
Using the Werribee South Boat Ramp
You  must take care when using the facility, as the boat ramps are situated in a natural environment and is subject to changing conditions.
Always check the following:
For further information contact Wyndham City Leisure Facilities Contracts Officer on 9742 0777.
Ticket prices

Daily Ticket (24 hour period) - $17

Annual (Full Fare)

Resident: $97.00
Non Resident: $198.00

Annual (Concession)

Resident: $75.00
Non Resident: $140.00

Commercial: $213.00 

Replacement Ticket: $25.00

Valid boat ramp tickets must be placed on the dashboard of your motor vehicle with trailer, clearly displaying the expiry date and time. Infringement notices may be issued for failure to display a ticket.
How can I purchase a daily ticket?

Daily tickets can only be purchased at the Werribee South Boat Ramps from the automated ticketing machine. Credit cards (Visa and MasterCard debit options accepted) and cash-operated facilities (coin only) are available at the ramps to purchase daily tickets.

Daily tickets are only valid for 24 hours from the date and time of purchase.

All vehicles must display a valid ticket on their dashboard while parked at the ramps, or risk infringement notices being issued. 
How can I purchase an annual ticket?

Annual tickets can only be purchased from the Wyndham City Civic Centre Offices, 45 Princes Hwy, Werribee. Wyndham City's operating hours are Monday to Friday, 8am to 5pm, excluding public holidays.

Purchasing an annual ticket must be done in person with the appropriate documentation to be presented. 

Proof of boat trailer registration
Photo proof of identity, recognised photo identification (drivers licence/permit or passport)

To receive the resident's rate, you  need to confirm proof of a current address in Wyndham.

Note: Past annual tickets do not validate the current residence and therefore are not accepted.