Address

Werribee South Boat Ramp, Beach Road, Werribee South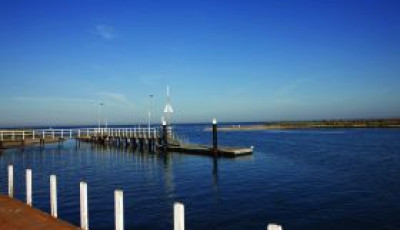 The Werribee South Boat Ramp is situated near the mouth of the Werribee River along the Werribee South foreshore. The Boat Ramp is a public facility open 24 hours, 365 days a year.
The facility comprises of:
Six boat ramps (two shallow)
Four floating pontoons (NOTE: We currently have one pontoon unavailable due to damage)
Fish cleaning table
78 vehicle-with-trailer paved parking spaces
Approximately 90 vehicle-with-trailer parking spaces in overflow
Dredging Completed
Council and Parks Victoria have completed all dredging at the Werribee River entrance channel, the river channel and dregding of the Pontoons and Ramps at Werribee South.
Pontoon Repairs
Council will continue to complete pontoon repairs, including replacing pontoon Fenders, Bumpers, infill panels, pile guides and repiars to the gangways.
*Access to the ramps and Pontoons will be maintained at all tmes*
Significant repairs are required to Pontoon 1, which will not be undertaken until the New Year.
Safety & using the Werribee South Boat Ramp
With the current warm weather and snapper biting in the Bay, it is timely reminder before dragging your boat/watercraft out for the first time this season,  to refresh your memory regarding safe boating and trailer towing.
Your safety and the safety of others is paramount both travelling to and from the water as well as while on the water. Please check not only the condition of your vessel but also the condition of your trailer.
A reminder of safe boating can be found with the link below to the Recreational Boating Safety Handbook.
When launching you vessel, please take care, as boat ramps are situated in a natural environment and are subject to changing conditions. Before heading out onto the water always check the following:
Also, upon your return to shore, please check that your car and trailer, including the coupling have not been tampered with and are safe for you to retrieve your vessel and tow your boat home.Emergency Contact Information: Victorian Water Police (03) 9399 7500 or 000
For further information contact Wyndham City Leisure Facilities Contracts Officer on 9742 0777.
Annual Pass Holder Refunds

All pass holders who have been affected by the ticket machines not being operational will be compensated with a refund.

By November you should have received a letter with the process to claim that refund 

If you have not received this letter, but believe you are eligible, please contact LeisureFacilitiesGroup@wyndham.vic.gov.au
Frequently Asked Questions (FAQ)

What are the new parking arrangements at Werribee South Boat Ramp?

The Victorian State Government has abolished boat ramp launching and parking fees across the state. 

No fees will be charged at Werribee South Boat Ramp. Parking Officers will still monitor and enforce compliant parking in line with the current designated parking areas and associated signage.

How are the refunds calculated?

Daily Rate = The annual amount paid divided by 365.

Days Refundable = 1 January 2018 is the effective date for fee cancelation.  As of January 1 2018 the remaining ticket machine was removed from the site and parking restrictions no longer applied.

 For example:

If you paid an annual fee of $99 on 1 February 2017 and the twelve-month period expired on 1 February 2018you will receive a refund of $8.41.

99 ÷ 365 = 0.27 (Daily Rate)
Different between 1 January 2018 and 1 February 2018 is 31 days.
0.27 x 31 = $8.41

Do I need to have a receipt or a copy of my old parking pass?

No – this will not be necessary. We will be cross referencing your supplied name, address and your boat/car/trailer registration provided at the time of your purchase.  Please complete the form online (for a quick refund process) or return a completed form via post. 

I didn't receive a letter, who do I talk to?

If you have not received a letter from us and believe you are entitle for the refund, you can complete the online form, or you can contact the Recreation Leisure Facilities Team on 03 9742 0777 or email us LeisureFacilitiesGroup@wyndham.vic.gov.au

Who is now responsible for maintaining the Werribee South Boat Ramp facility?

Council will still maintain the condition of the facility. 

If you require to report any issue relating to the facility you can contact the Recreation Leisure Facilities Team on 03 9742 0777 or email us CustomerService@wyndham.vic.gov.au
If you need to report an Emergency, please contactt Australian Volunteer Coast Guard Search & Rescue (03) 9598 7003 or Victoria Police 000

What are the Refund Payment methods?

Most will be paid via Electronic Funds Transfer ('EFT'). Council will treat your bank account information in accordance to our Privacy Policy.  For the quickest refund, please use the EFT form provided.

Cheques may be arranged on a as needed basis if requested.

How long do refunds take?

This depends on which payment method you chosen:

EFT – the money may take up to 14 days to appear in your account from the time we received your completed form.
Cheque – the money may take between 4 to 8 weeks from the time we received your form completed.

How can I track my Refund form progress?

You can contact the Recreation Leisure Facilities Team on 03 9742 0777 or email us LeisureFacilitiesGroup@wyndham.vic.gov.au

How am I notified when my refund is processed?

If you have supplied a valid email address a remittance advice will be forwarded to you. 

Can I submit my claim form for the refund at any time?

Requests for refunds will be accepted up until 31 December 2019.

Who do I talk to about the Werribee South Boat Ramp?

If you would like to talk to someone about the Werribee South Boat Ramp, you can contact our Recreation Leisure Facilities Team on (03) 9742 0777.