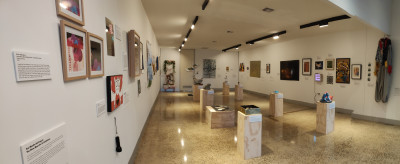 Wyndham City Arts & Culture have partnered with Wunder Gym over the past two-years to provide creative development opportunities for local artists.
Since the start of 2020, the Wunder Gym mentor and exhibiting program virtually, online to deliver development opportunities to our creative community. The program is designed to encourage, and support individuals own artistic practice and aid in developing access to broader support networks and audiences.
Further benefits include:
Interaction with the mentoring artist via the Wunder Gym community online channels and at a Q&A event that offers feedback and conversation
a supportive creative arts community
access to virtual exhibiting; participation in 'select' group shows to build artist's CV
promotion of the event, leveraged by its members and the mentoring artist
an opportunity to sell their works
Information on the current program – FORWARD MOTION can be found here 
Please sign up for the Arts enews for announcements of future Wunder Gym Programs.
You can view a selection of past exhibitions below:
For further information, please contact arts@wyndham.vic.gov.au