Address

177 Watton Street
Werribee
VIC 3030
Phone

8734 6021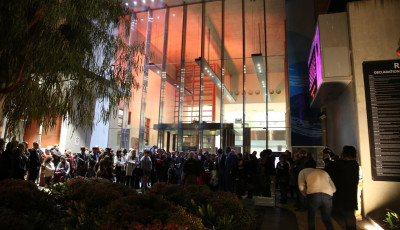 Wyndham Art Gallery
Great Art. Deep West.
Our exhibition program is curated to reflect the diverse social and cultural character of Wyndham and invites the viewer to explore new and challenging ideas.
Our 2021 program offers a unique vantage point at a time of great change in our world.
PINK and FLUID our first two exhibitions in 2021 reflect changing attitudes in a world forever changed by events of 2020. They are followed by our signature event The Wyndham Art Prize 2021 showing the best work from across Australia.
Every exhibition features an 'Artist in Conversation', an artist or curator talk, and larger exhibitions feature a range of activities such as tours and workshops through the 'Go Deeper' engagement program.
Mentoring for emerging artists is available through the Art Paths Program and annually the gallery hosts the Wyndham Art Prize. Alongside the Best in Show we are also offering a new prize TREAT, as a commission for an artist to work within the Wyndham Community and with the research initiative, the Public Art Commission, from Deakin University. This is in addition to the Leap Acquisitive and People's Choice Award.
For more information about the gallery contact us at arts@wyndham.vic.gov.au or call 03 8734 6021. Sign up to Wyndham Arts eNews to be kept up to date with a range of arts & culture activities across Wyndham.
Entry to the Gallery is FREE
Opening Hours
Mon-Fri: 9.00am – 5.00pm
Weekends: 11.00am – 4.00pm
Gallery closed on Public Holidays & 23 Dec 2019 – 03 Jan 2020