Businesses and their employees can also get involved in taking sustainable action. Resources available to business owners and managers wanting to incorporate greener practices into their work environment are listed below:
Become an Energy$mart Business
Rising energy bills got you down?
Get $mart about energy! Future proof your business from rising energy costs by going solar and upgrading your lights through Council's Energy$mart program.
free lighting and solar assessments by experienced and reputable providers
no obligation quotations for quality products and installation
a great return on investment through a solar system, with typical payback periods of between five and 10 years
reduced lighting and maintenance costs by up to 80 per cent through long lasting LED lights
obtain low interest finance to help fund these projects with Environmental Upgrade Finance.
Wyndham City have partnered with Energy$mart specialists to provide these services so you don't have to spend time worrying about who you can trust, whether you are getting good quality products at a competitive price and whether they will do a good job.
Contact our lighting and solar providers directly:
Cherry Energy Solutions on 1300 570 886 (solar and lighting)
Suntrix Solar Energy Solutions 1300 884 898 (solar and lighting)
ZEN Energy on 1300 936 466 (solar)
For more information call Council on 9742 0777 sustainability@wyndham.vic.gov.au
Need to fund your lighting or solar upgrades? An Environmental Upgrade Agreement (EUA) might be for you!
Environmental Upgrade Agreements (EUAs)
Wyndham City now offers Environmental Upgrade Agreements to assist businesses in Wyndham to save money and improve their environmental performance.  Wyndham City is working in partnership with Sustainable Melbourne Fund to deliver this service.
An EUA is an agreement between a building owner, a financial lender and the building owner's local council that facilitates a building upgrade to improve environmental performance.  A finance lender provides a loan and the building owner pays it back through Council (like Council rates). Council's involvement in this process ensures that the loan is highly secure and the lender will provide better terms. The tenant can use a portion of the energy savings to contribute to repayments. There is no upfront capital required.
Owners can increase the value of their asset!
Tenants can enjoy cost savings and improved working conditions!
Check out the following videos and factsheet for more information
Contact Sustainable Melbourne Fund to enquire about applying for an EUA. They will check your eligibility and assist you throughout the application process.
Phone:9658 8740
Email: info@sustainablemelbournefund.com.au
Website: sustainablemelbournefund.com.au
Alternatively, contact Council's Sustainability Team on 9742 0777 or sustainability@wyndham.vic.gov.au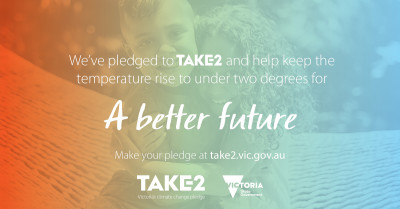 TAKE 2
Businesses can take the TAKE 2 pledge to reduce greenhouse emissions and achieve Victoria's target of zero net emissions by 2050.
For more information visit the TAKE 2 website.
Other Resources:
EY's ECO-Buy supports organisations to deliver environmental and social outcomes to organisations through the delivery of tailored services, training, resources and events. Visit the ECO-Buy website for further information.
Sustainability Victoria Resources for Businesses provides information on reducing greenhouse gas emissions, water conservation and waste management.
VECCI has developed a range of programs, products and services that help Victorian businesses understand the key issues and respond to the challenges of climate change.