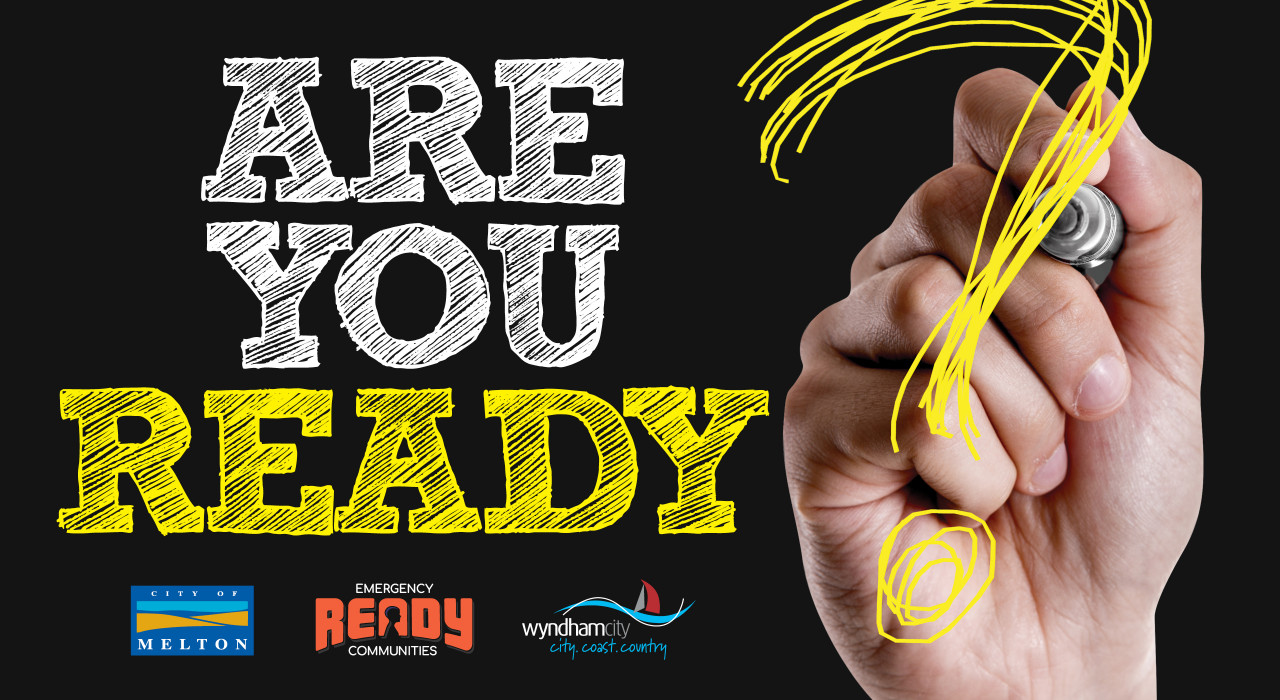 In Victoria, local governments play a key role in emergency management.
Wyndham City collaborates closely with emergency services and community organisations to support our community before, during and after emergencies.
Our Municipal Emergency Management Planning Committee reviews the relevant risks and plans for the consequences in the Wyndham area.
Our growing population can be affected by risks such as grassfires, structural fires, industrial accidents, transport accidents, and floods. The community and visitors should have a situational awareness in relation to emergencies. While the Emergency Services respond to emergencies, individuals can take steps to ensure their safety by following warnings and precautions. help may not arrive quickly during a major emergency.
Residents also play a role in ensuring our community is prepared for emergencies. For further information to help you prepare for an emergency and where to find help in an emergency, use the links below.
Fire Danger Period commences 20 November 2023 – Vacant Land Owners Responsibility

We've entered the seasonal 'Fire Danger Period' that runs from spring to autumn in Melbourne, starting 20 November 2023.

The Fire Danger Period is set by the Country Fire Authority (CFA), this includes administering fines under the Country Fire Authority Act 1958 and Fire Rescue Victoria Act 1958.

We're asking the community to clear dumped rubbish from vacant land and keep their grass cut. Grass grows rapidly during this time and when dried out during extreme weather becomes a source of fuel for grass fires.

A simple way to manage the risk of a fire catching and spreading to neighbouring properties is for landowners and residents to keep their properties tidy.

From 20 November and throughout the summer period landowners and residents must:

Not allow grass or weeds on the property to be over 15 centimetres in height.

Not allow any rubbish, litter, or other waste material to remain on the land.

Throughout the Fire Danger Period inspections will be undertaken to make sure landowners and residents are keeping their grass cut and properties tidy as listed above.

A Fire Prevention Notice will be issued under the Country Fire Authority Act 1958 (Vic) ('the Act') or Fire Rescue Victoria Act 1958 (Vic) to owners who have not maintained the land as listed above. 

If a Fire Prevention Notice isn't complied with, a fine may be issued, the minimum fine is $1,923.00 (10 penalty Units) and the maximum court-imposed sentence is 12 months imprisonment. 

It is important you maintain the grass on your property and keep it free from dumped rubbish and waste throughout the year.  Outside of the Fire Danger Period, vacant landowners must keep their land maintained as prescribed in the Wyndham Community Amenity Local Law.

Know how to prepare for a grass fire by visiting: https://www.cfa.vic.gov.au/plan-prepare/am-i-at-risk/grassfires-near-cities-and-towns

Plan and Prepare for an Emergency by visiting: https://www.wyndham.vic.gov.au/are-you-ready
Municipal Emergency Management Plan

As outlined in the Emergency Management Act 2013, Municipal Emergency Management Planning Committees are required to develop and maintain a Municipal Emergency Management Plan (MEMP) along with several sub-plans based around the risks in the area.

In 2020, the Emergency Management Legislation Amendment Act 2018 made changes to the Emergency Management Act 2013 (EM Act 2013) in Victoria. These changes introduced new integrated emergency management planning arrangements at the State, Regional, and Municipal levels.

The MEMPC is a collaborative group consisting of members from various organizations, industries, and individuals who bring their expertise to the task of mitigating and planning for emergencies in their respective municipal districts.

The MEMP details Wyndham City's roles and responsibilities as a member of the committee, in preventing, responding, and recovering from an emergency.

View the Wyndham City Council Municipal Emergency Management Plan
Municipal Fire Management Plan

Victoria is one of the most fire-prone regions in the world. We must all contribute to being prepared for fires. Every year, Wyndham City Council, in conjunction with fire agencies (Fire Rescue Victoria (FRV), Country Fire Authority (CFA)) conducts fire prevention efforts to contain fire and safeguard our community.

This season, Victoria anticipates a heightened risk of grassfires, which can be as hazardous as bushfires. It is important for our community to be prepared and aware of fire risks.

The Wyndham Municipal Fire Management Plan (MFMP) was endorsed by the Wyndham Fire Management Planning Committee.

To prevent fire spread and protect our natural and built resources in Wyndham City, the Council follows a Roadside Management Plan. One crucial action is conducting controlled burns with the help of local CFA brigades.
Wyndham Relief and Recovery Plan | Wyndham Storm and Flood Plan
Emergency Contact Details

For all current emergencies and warnings in your area, please visit 

VicEmergency

.

For life threatening emergencies all 000.

If you are deaf, hard of hearing or have a speech impediment, contact the emergency numbers through National Relay Service.

TTY users phone 106 then ask for 000 or 1800 226 226

Speak and Listen user phone 1800 555 727 then ask for 000 or 1800 226 226

Internet relay user connect to the NRS then ask for 000 or 1800 226 226

Medical emergency – Werribee Primary Priority Care Centre has been established for urgent, minor injuries and minor illnesses.

 

Agency

Phone

Wyndham City

Medical

Ambulance – emergency
Ambulance – non emergency transport (booking line)
Poisons Information Centre
Werribee Mercy Hospital
Nurse-On-Call

Priority Primary Care Centre, Werribee

Phone

000 or TTY: 106
1300 366 313
13 11 26
9216 8888
1300 60 60 24 or TTY: 133 667

03 8734 0340

Police and Security

Police – emergency
Werribee Police (24 hours) - non emergency
Wyndham North Police - non emergency
Crime Stoppers
National Security Hotline

Phone

000 or TTY: 106
9742 9444
8734 1100
1800 333 000
1800 123 400

Fire

Fire – emergency
CFA  District 14 Headquarters – non emergency
CFA District 7 Headquarters – non emergency (Little River residents only)
Victorian Bushfire Information Line

Phone

000 or TTY: 106
8746 1400

5240 2700
1800 240 667

State Emergency Service

SES – life threatening emergency
SES – flood, storm, tsunami or earthquake emergency
VICSES information line service only available for large scale emergencies.

Surviving Storm & Flood Emergencies

Flood Emergency

Phone

000 or TTY: 106
132 500 or TTY: 106 then ask for 132 500

1300 842 737 or TTY: 133 677 then ask for 1300 842 737

Support Lines

Lifeline
Directline – Drug and Alcohol Support

Phone

13 11 14
1800 888 236

Roads

Vic Roads – public roads
Wyndham City – council owned roads

Phone

13 11 70
1300 023 411

Water

City West Water (Water & Sewerage fault & emergencies)

Phone

132 642

Power

Powercor (Service delivery and faults)

 Phone

13 24 12
In August 2022, in preparation of the summer fire season, Wyndham Council in conjunction with Victoria Police, Fire Agencies and other Emergency Services are conducted an emergency management exercise in the Jubilee Estate.
Residents participating in the exercise were sent a message alerting them to a fire risk in their area and then asked to leave their house briefly and walk 'Two Streets Back". This exercise provided an opportunity for residents to become familiar with sufficient safety and cover in the neighbourhood. View the link below to understand what might take place and how best to respond in the event of a grass fire.