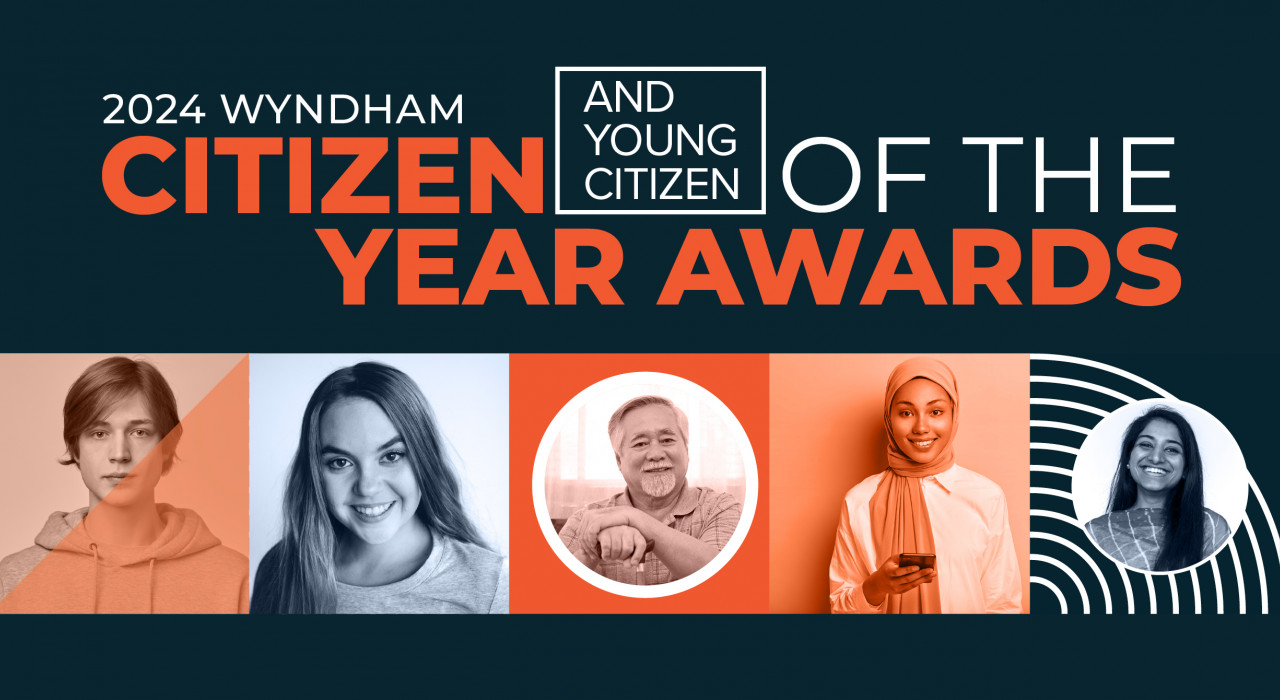 Do you know someone who makes a difference in the Wyndham community?
Nominate them for Citizen or Young Citizen of the Year!
Wyndham City's Citizen and Young Citizen of the Year Awards program recognises the outstanding contributions of Wyndham City residents who, through hard work and dedication, have significantly contributed to the community.
These individuals help make Wyndham a better place.
They offer outstanding service each day and enable our communities to be stronger as a result of their tireless efforts.
Service areas might include education, health, fundraising, charitable and voluntary services, business, sport, arts, the environment, or any other area that contributes to the advancement and well-being of a community.
So go on, let's celebrate those unsung heroes!
Nominations are now CLOSED.
Citizen of the Year
This is awarded to someone making an extraordinary contribution to the community and may recognise outstanding service over a number of years.
To be eligible, the person must be a Wyndham resident and an Australian citizen aged 26 or above as at 26 January 2024.
Young Citizen of the Year
This is awarded to a young person who is making a real difference in their community, potentially over multiple years.
To be eligible, the person must be a Wyndham resident and an Australian Citizen aged between 16 and 25 years as at 26 January 2024.
The award-winners will be announced during Wyndham City's free, community Australia Day program in 2024.
Award Criteria and Assessment of Nominations

A judging panel will evaluate nominees against the following four criteria and shortlist up to 6 nominees for each award:

High Quality & Impactful

– the nominee's actions or contributions have been 'above and beyond' and have resulted in an outstanding impact in the community.

Positive Role Model

- the nominee is respectful and open in their interactions with others and can be considered a positive role model.

Outstanding Commitment

– the nominee has shown an outstanding commitment to their local community through their length of service and/or the level of their involvement.

Overcomes Challenges

- the nominee has demonstrated a commitment and been resourceful in their approach to dealing with complexities and challenges.

Shortlisted nominees will be contacted by Council on 15 November 2023, and will be required to undergo a national police check (at Council's cost) if they are aged over 18 and may be asked to participate in an interview between 20 November and 1 December 2023.  The judging panel will also conduct reference checks for shortlisted nominees during this period.

The judging panel will then determine the winners of each award and all nominees will be notified of the outcome no later than 5:00pm on 12 December 2023.  Winners will be publicly announced during Wyndham City's free, community Australia Day program on 26 January 2024.
2023 WINNERS

Leanne Down – Citizen of the Year 2023

Leanne Down is known for always going above and beyond to help the local community, over her time working with the Wyndham Health Foundation. Leanne has helped to raise over $180,000 to support public health care services in Wyndham ranging from paediatrics, ICU, emergency and palliative care.

Leanne also ensures patients who find themselves in hospital on days of significance have something to celebrate. She collects donations of new toys for children to wake up to on Christmas morning and Easter eggs to celebrate over the Easter period. She even raised and donated funds to help fatigued doctors and nurses during Covid with free coffee over a two-week period to let them know they were appreciated. 

In the nomination it said that Leanne's enthusiasm for supporting the local community is infectious. She lives and breathes the Wyndham Health Foundations values of kindness, integrity, innovation and inclusion in everyday life. Leanne leads a dynamic team to help make a difference in the community and support the local public hospital in Wyndham.

Juliette Bormeh Moe – Young Citizen of the Year 2023

Juliette Bormeh Moe arrived from a refugee camp to Australia 11 years ago and since then has dedicated herself to her community by volunteering. Her outstanding commitment is evidenced by her past involvement as a youth leader for the Karenni Melbourne United Youth and now is the President of the Karenni Association of Victoria.

By overcoming her settlement journey as a young 14-year-old and the challenges this entailed she has continued to do her best, quietly studying, achieving her nursing goals, and caring for her community. She goes above and beyond in her nursing work because of her caring nature and commitment to the refugee community.

Her positive "can do" attitude is infectious. People around her tell of many young people aspire to be like her, with some going on to nursing study just like Juliette. She is extremely respectful of everyone she meets and open in her interactions. She has recently accepted the request to be a Board member of Utopia Refugee and Asylum Seeker Health so she can be a voice for the community.

The Wyndham community, which has a growing number of Karenni residents have benefitted enormously from Juliette's day to day involvement in their lives. She works at Utopia Refugee and Asylum Seeker Health in Hoppers Crossing as a practice nurse helping deliver high quality health care.

Because of her refugee background and ability to speak Burmese, Karenni and English, the clients feel valued, heard and very well cared for. She is often called on to interpret for the community and will often be called when clients are in A&E as they are unable to find an interpreter so she gladly helps. She always goes above and beyond.