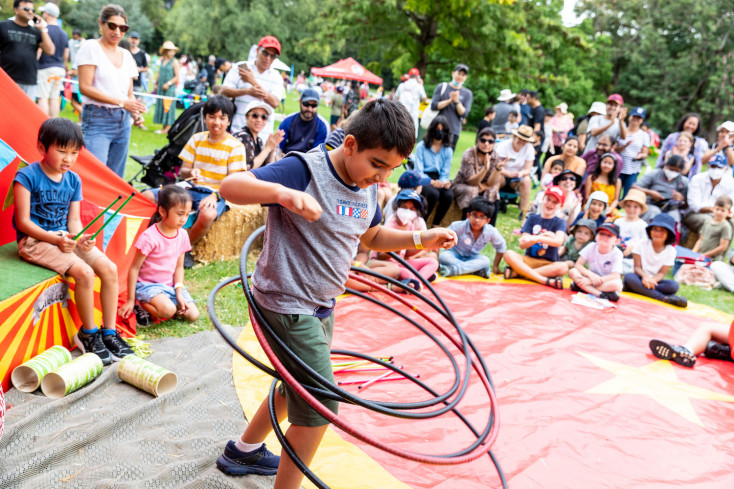 The much-loved Children's Week Picnic is back for the second time this year and returns to its usual timeslot, to be held on Sunday 23 October at Werribee Park. This FREE community event is open and accessible to all and is a fun family friendly day out full of entertainment, interactive arts experiences, sporting activities, music, dancing and good times! There will also be food trucks and roving entertainers.
The event provides an opportunity for children to explore new experiences and activities in a fun, safe and family friendly setting and aims to:
Encourage education and learning through fun and interactive activities
Encourage an active, healthy and safe lifestyle
Provide children with an opportunity to discover their talents through new experiences
Give children an introduction to the wonderful Arts & Cultural programs operating throughout Wyndham
Check back here closer to the date for further information, ticket links and programs.
Wyndham City is committed to providing a COVID safe event and will abide by all current restrictions and guidelines as set by the State Government of Victoria.
Exhibitor Applications

Applications are currently open for Exhibitors for Children's Week Picnic 23rd October 2022.

Opportunities are currently open for exhibitors to promote their child & family related businesses to the diverse Wyndham community at this long running and much-loved family event.

This event attracts families from all over the Wyndham area, all looking for a fun day out in the picturesque gardens of Werribee Park.

In the event of Wyndham City cancelling the event due to COVID any site fees paid will be refunded.
 

Standard Exhibitor - $265 + GST (Includes a 3x3 Marquee, Personalised Event Signage, 1 x Trestle and 2 x Chairs)

Premium Exhibitor - $365 + GST (Includes a 6x3 Marquee, Personalised Event Signage, 2 x Trestles and 2 x Chairs)

Not for Profit Exhibitor - $165 + GST (Includes a 3x3 Marquee, Personalised Event Signage, 1 x Trestle and 2 x Chairs. *Reminder - Certificate of NFP status will be required)

Applications close strictly at 5pm on Friday 29th July
Please note that completing an application does not guarantee that you will be accepted and that not all applications will be successful. Wyndham City will make the final decision about successful applicants based on suitability and the requirements of the event and any decisions are made for the benefit of the event and guests that attend.
You will be advised whether your application has been successful or unsuccessful by Wyndham City within two weeks of the closing of applications.
If your application is successful you will be required to pay all site fees within 30 days from receipt of invoice as per Council's payment terms or your site may be re-allocated.

Event Information & Guidelines
Children's Week Picnic Photo Gallery
Date and time
Online

No
Location

Werribee Park, K Road, Werribee
Organiser

Wyndham City
Contact
Cost

Free entry with ticket