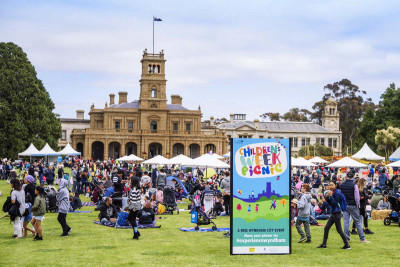 Children's Week Picnic is back in 2021 and we can't wait to see you all!
This much loved free family event will be held on Sunday 24 October at Werribee Park. Featuring a range of interactive activities with a focus on education and learning, Children's Week Picnic provides an opportunity for children to explore new experiences. There'll also be much loved favourites including family entertainment, music, games, sport, market stalls, food trucks and more! 
Entry is free, however a pre-booked ticket is required for entry. Free tickets will be available from Monday 4 October, 9am. Please check back on this page in September for more information.
Check back here closer to the date for further information and programs.
Wyndham City is  committed to providing a COVID safe event and Wyndham City will abide by all current restrictions and guidelines as set by the State Government of Victoria – https://www.coronavirus.vic.gov.au/public-events
Exhibitor Applications

Children's Week Picnic Exhibitor Applications

In response to COVID-19, Wyndham City Council is offering exhibitor packages for the 2021 event only at a discounted rate.

Standard Exhibitor - ($150 + GST - normally $265 + GST) Includes a 3x3 Marquee, Personalised Event Signage, 1 x Trestle and 2 x Chairs

Premium Exhibitor - ($225 + GST - normally $365 + GST) Includes a 6x3 Marquee, Personalised Event Signage, 2 x Trestles and 2 x Chairs

Not for Profit Exhibitor - ($100 + GST - normally $165 + GST) Includes a 3x3 Marquee, Personalised Event Signage, 1 x Trestle and 2 x Chairs. *Reminder - Certificate of NFP status will be required

Applications close strictly at 5pm Friday 30th July 5pm
Please note that completing an application does not guarantee that you will be accepted and that not all applications will be successful. Wyndham City will make the final decision about successful applicants based on suitability and the requirements of the event and any decisions are made for the benefit of the event and guests that attend.
You will be advised whether your application has been successful or unsuccessful by Wyndham City within two weeks of the closing of applications.
If your application is successful you will be required to pay all site fees within 30 days from receipt of invoice as per Council's payment terms or your site may be re-allocated.

Event Information & Guidelines 
Food Vendor Applications

Children's Week Picnic Food Vendor Applications

In response to COVID-19, Wyndham City Council is offering food vendor packages for the 2021 event only at a discounted rate.

Approx 7x3m Vehicle Space Allocation - $200 + GST (normally $395 + GST)

Applications close strictly at 5pm Friday 30th July 5pm

Please note that completing an application does not guarantee that you will be accepted and that not all applications will be successful. Wyndham City will make the final decision about successful applicants based on suitability and the requirements of the event and any decisions are made for the benefit of the event and guests that attend.
You will be advised whether your application has been successful or unsuccessful by Wyndham City within two weeks of the closing of applications.
If your application is successful you will be required to pay all site fees within 30 days from receipt of invoice as per Council's payment terms or your site may be re-allocated.

Event Information & Guidelines 
Children's Week Picnic Photo Gallery
Date and time
Online

No
Location

Werribee Park, K Road, Werribee
Organiser

Wyndham City
Contact
Cost

Free entry with ticket (Tickets available from Monday 4 October 9am)