Address

86 Manor Lakes Boulevard, Manor Lakes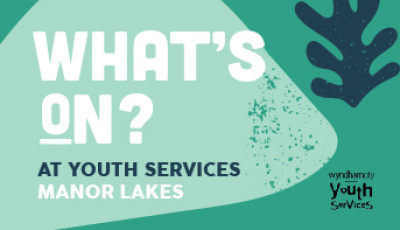 Due to Victoria entering a fourteen-day circuit breaker lockdown (Until 11.59pm on 10 June), all Youth Services programs/events have been moved to online or cancelled/postponed.
For further details call 8734 1355 or email YouthInWyndham@Wyndham.vic.gov.au
Wyndham City Youth Services is committed to ensuring that all young people have the opportunity to participate and engage in the social, economic and cultural life of the city.
Council also aims to ensure that all young people have access to and benefit from a range of educational, social, cultural, recreational activities and facilities. Council works actively with young people, schools, universities and community organisations.
Services and Programs
Drop in
Come and hang out in the Manor Lakes youth space. Thursdays and Fridays 3.30pm - 5.30pm.
Gamers Den 
Enjoy a safe space to hang out, flex your gaming skills, unwind and eat snacks. Wednesdays 3.30pm - 5.30pm.
Urban 
Hang out, dance and explore different cultures arts and more! Mondays -  3.30pm - 5.30pm
Youth Multicultural Committee
Wyndham City's Youth Multicultural Committee is a committee dedicated to those from a first generation Australian, migrant, refugee or asylum seeker background. If you're aged 16 – 25, identify from one of the above backgrounds and live, work or study in Wyndham you are eligible to join our committee.
Youth Counselling
Face to face youth counselling is now available from the Manor Lakes Community Learning Centre.
No problem is too small to seek help for, and we encourage you to access our services whenever you feel the need.
We can offer you the following:
Up to 10 free individual counselling sessions, including for parents/carers
Up to 10 free family group counselling sessions
Connect you to specialists, including bulk billing (free) psychologists.