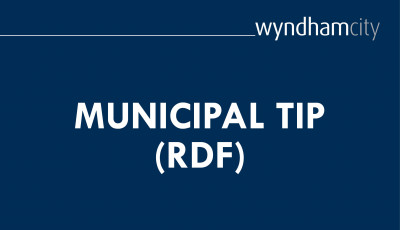 As of 9 July 2020, stage three COVID-19 restrictions apply to all Wyndham residents. This means there are only four reasons to leave the house – to shop for essentials, provide care, exercise, or work and study if essential.
While the RDF (Tip) remains open to the public, residents are encouraged to consider booking a free hard waste collection, to have waste collected from your property.
We have also have decided to reimplement the system by which a tip voucher can be exchanged for an additional hard and green waste collection.  
Submit your request to exchange via our online form and a staff member will contact you.
________________________________________________________________________________________________________________________
The Wyndham's Refuse Disposal Facility is be open to the public from Monday to Friday from 8.00 am to 4pm, and Saturdays and Sundays (from 7 June) 8:30am to 4pm.
Alternate bays have been closed  to increase the distance between people disposing of waste at the facility. Council has also implemented and an increased cleaning regime, ensuring all touch points, especially the handrails, are cleaned with disinfectant frequently.
The facility is not licensed to accept ASBESTOS OR LIQUID WASTE (chemicals etc.)
Polystyrene drop off will incur a fee.
We do not accept Credit Card payments over the phone
For all tip enquiries phone Wyndham City on 9742 0777.
Tip Fees

VEHICLES/TRAILERS (UP TO 1 TONNE)

PRICE

SUNDRIES

PRICE

*Car/Station Wagons

32.00

Gas Cylinders

5.00

*Van/Panel Van

63.00

Mattress (Max. 2 per tip token)

30.00

*Ute – Water level

63.00

 

 

*Ute - Heaped

108.00

RUBBER TYRES(Max. 4 per tip token)

 

*Trailer-Single Axle Water Level

63.00

Tyres up to 500mm diameter

10.00

*Trailer-Single Axle Heaped

108.00

Tyres 500mm – 1000mm diameter

33.00

*Tandem Trailer-Water Level

108.00

Grader tyres-up to 1000mm diameter

59.00

*Tandem Trailer-Heaped

167.00

 

 

 

 

 

Clean fill in trucks NOT ACCEPTED

 

FREE OF CHARGE -Residential Quantities Only

Car Bodies
Engine oil (up to 15 litres)
Paint (up to 20 litres)
Car batteries
TV's, printers, computers (E-Waste)
Cardboard
Fluorescent lights
Plastic bottles, jars, glass, aluminium cans

 

Clean Fill-Car/Trailer/Ute

31.00 p/item

 

 

BULK VEHICLES

 

 

 

Putrescible (Rubbish Trucks)

194.50 p/t

 

 

Solid Inert

194.50 p/t

 

 

Minimum Charge for Bulk Putrescible

160.00

 

 

Minimum Charge for Solid Inert

 

160.00

 

 

 

* Non-contaminated Green Waste receives a 50% discount on the prices above

PLEASE NOTE: TRUCKS WITHOUT AN ACCOUNT MUST LEAVE A DEPOSIT OF UP TO $700.00 CASH OR CREDIT CARD (WHICH WILL BE REFUNDED) of charge.

The facility is not licensed to accept ASBESTOS OR LIQUID WASTE (chemicals etc.)
Payment by cash, credit card, EFTPOS accepted. No Amex, Diners card or cheques

(No over the phone credit card payments accepted).

Wyndham City's Refuse Disposal Facility is open: Mon-Fri 8.00am to 4.00pm. Gates shut promptly at 4pm
Waste & Recycling Transfer Station

Waste & Recycling Transfer Station

Residents are encouraged to recycle as much of their bulk waste at the Waste & Recycling Transfer Station to avoid it being sent to landfill. All items must be separated and placed into the appropriate bins in order to be recycled. The transfer station is located after the weighbridge at the Tip.

The following items are accepted for recycling free of charge:

Batteries
Cardboard
Motor oil (up to 15 litres)
Light globes and tubes (Household quantities)
Mobile phones
Electrical Waste – all items with a plug, e.g. televisions, small appliances, computers and accessories
Hard plastics - Types 1-7
Paint (up to 20 litres)
Glass bottles, jars and steel or aluminium cans

Chemicals such as petrol, thinners and acetone can not be disposed of at the Transfer Station.

Please visit www.sustainability.vic.gov.au/detoxyourhome for safe disposal options near you.

The following incur a fee to be recycled:

Gas cylinders
Mattresses
Steel – e.g. old car bodies
Car tyres
White goods, e.g. washing machine, fridges
Green Waste

Resale Shed - (currently closed)

When you visit we encourage you to browse the Resale Shed where you can purchase second hand goods. Come along and find assorted treasure including furniture, cupboards, tools, books, etc. Opening Hours: Monday to Friday 9:30am-12:30pm, Saturday & Sunday 10am-12pm.

The Waste & Recycling Transfer Station:

Located at the Municipal Tip (Refuse Disposal Facility), 470 Wests Rd, Werribee
Phone 9742 0777
Open - Weekdays: 8am-4pm. Saturdays, Sundays, Public Holidays: 8.30am-4pm
Closed on Christmas Day, New Year's Day and Good Friday