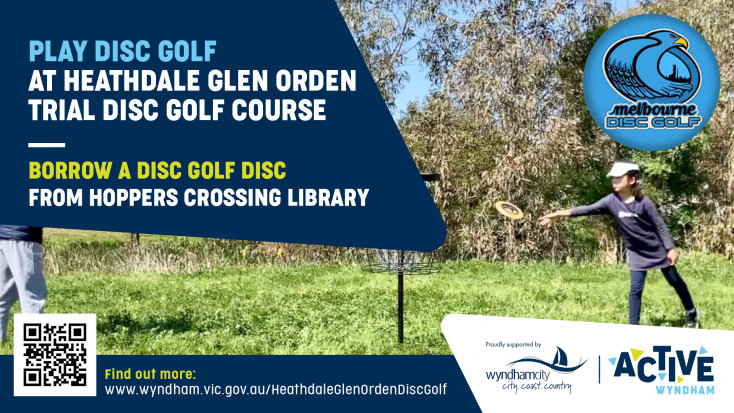 Course open during daylight hours, seven days per week
The Melbourne Disc Golf Club and Wyndham City are working together to run a trial course at the Heathdale Glen Orden Reserve in Werribee.
It is a nine basket course separated into two main sections, a north side and south side.  After finishing hole five in the north section, you can use the path running the northeast section of the reserve to get to hole six.  An image of the course map can be found on Melbourne Disc Golf's Glen Orden Trial Disc Golf page.
A check-in sign is located at hole one, so please remember to check in so we can monitor how popular the course is and whether Wyndham needs a permanent Disc golf course in the future.
Disc Golf is a fun activity that can be played by all ages, watch the videos below to find out about Disc Golf then visit the Heathdale Glen Orden Trial Disc Golf course page to find out more.
NEW Disc Golf Loan Scheme
Disc Golf discs are available to be borrowed from Hoppers Crossing Library to use at the Heathdale Glen Orden Disc Golf course 
Anyone aged 15 years or over who is a Wyndham City Library member can borrow a disc. To become a library member, Wyndham residents can join here and bring a copy of their ID with address to the library to complete the application, or complete the whole process at the library.
A maximum of 3 discs can be loaned out at a time for 2 weeks.
For any discs not returned you will be asked to pay $10 per disc, if a member owes $30 in disc replacement fees then no further discs will be able to be borrowed until the amount has been paid.
By borrowing a disc you accept the responsibility of looking after the disc and returning it to Hoppers Crossing Library. Discs can only be obtained and returned from Hoppers Crossing Library.
Please note this does not affect your borrowing of Wyndham City library books.
The Wyndham City Disc Golf loan scheme is a partnership between Active Wyndham and Melbourne Disc Golf Club, and facilitated through Wyndham City Library Service.
Please note that Hoppers Crossing library has a new temporary home, details can be found on their page
Basic starter sets can also be purchased online, ie from Amazon Australia 
Date and time

every 3 days
Online

No
Location

Heathdale Glen Orden Reserve

(Behind Glen Orden Oval 2)

Kookaburra Avenue

Werribee

3030

 
Organiser

Melbourne Disc Golf
Cost

Free