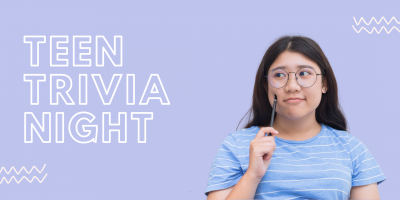 Fancy yourself an expert on book, music, movie, celebrity and general knowledge trivia? Join our Teen Trivia Night to test your knowledge and be in the running to win.
1st Prize = $50 JB HiFi voucher
2nd Prize = $25 JB HiFi voucher
This event will be held online using MS Teams and Kahoot. Teen Trivia Night is for young people aged 15-19 years.
Note: you do not have to have an MS Teams or Kahoot account to join this event.
Date and time
Online

Yes
Organiser

Wyndham City Libraries
Contact

8734 2600
Cost

Free