Address

1 Wedge Street,
Werribee
VIC 3030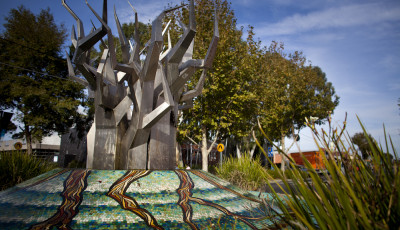 Location: Cnr Watton Street & Wedge Street, Werribee
Acquired by: One Per Cent for Art, capital works
About the Artwork:
The stainless steel sculpture is the central focus of the fountain, taking its form from an inverted red gum tree root system. River red gums proliferate along the banks of Werribee River. The fountain component of the work features a series of vertical streams flowing from the tree root branches.
The characteristics of the sculptures design complement the modernist lines of the adjacent Wyndham Community Cultural Centre, thereby celebrating the interface of built and organic environments. The viewer's eye is led from the Cultural Centre to the River Walk at the end of Wedge Street, and to the Werribee River beyond.
The mosaic surrounding the sculpture suggests that the tree is encircled by water. The domed base, whilst serving as the sculptures plinth, depicts a radiating series of branches, gently corrugated by a series of three ripples. Patterning and colouring of the vascular branches, emanating from the base of the sculpture, represent the rich and complex indigenous heritage of the region. Water areas of the mosaic were rendered using a range of blue, green and gold hues from the Werribee River.
The design of the mosaic can be read as: A watery reflection of the root structure above it; a view of the sculpture as a tree seen from underwater; and a stylised representation of sections of the Werribee River and its tributaries, seen from an aerial perspective.
Helen explains that the symbolic meanings of the sculptural tree include the following: both the giver and manifestation; synthesis of heaven, earth and water; diversity in unity; and nourishment, shelter, support.
 "The tree is a universal symbol of life and knowledge. As such, its root system is the primary channel for its strength and very survival. The root system was chosen as the subject for this artwork because of these meanings and because it is an aesthetically pleasing form that is simultaneously familiar and unfamiliar. It takes the form of a tree but it obviously not a tree." - Helen Bodycomb
The design & production team that worked with commissioned artist Helen Bodycomb were: Wathaurong artist Glenn Romanis, Rene Schaefer, Chris Rak, and PL Fountains.
Materials: Stainless Steel, Mosaic tiles