Each week our friendly library staff and special guests review their latest YA reads. Head over to our Instagram account @librariesinwyndham to see all of our recommendations.
The Road to Winter by Mark Smith
"If COVID-19 met Mad Max and was written into a post-apocalyptic YA novel you'd get Mark Smith's 'The Road to Winter'.
An unknown virus has slowly spread across the world, taking over cities before making it out to smaller country towns like Angowrie. Here Finn lives with his dog, Rowdy, alone in the now empty town.
Surviving off stocks his father hid, fishing, hunting and sometimes trading with a farmer who lives out of town, Finn ekes out a life filled with isolation. One of Finn's favorite activities is surfing and he admits that it is probably the one thing that has kept him sane these last two years. 
One day while out surfing Finn hears Rowdy barking and can see another human on the beach, returning to shore and using his surfboard as a shield, Finn slowly approaches the stranger and calls Rowdy off.
Discovering the stranger is a girl roughly his age who is being chased by Wilders, a violent gang who rove north of the town, Finn decided to help her escape and shortly after that to invite her back to his secluded home.
We soon discover that Rose and her sister barely made it away from Ramage, the leader of the Wilders and that she intends to go back out and find her.
The Road to Winter is extremely well written and I thoroughly enjoyed the audio version of this book read by Ben Hall. This book stands among great YA Australian literature and is eerily similar to Tomorrow when the War Began by John Marsden.
I cannot recommend this book enough and would suggest it to adults and Youth who are looking for something short but engaging.
Reserve your copy here today!
'Never Ever Getting Back Together' by Sophie Gonzales
Maya was left devastated when her ex-boyfriend, Jordy, cheated on her two years ago. So, when she's asked to participate in Second-Chance Romance – a reality show in which the now famous Jordy re-dates his exes- Maya jumps at the chance. It's the perfect opportunity to seek revenge on Jordy and expose him as the liar and the cheat that he is on national television.
One of Maya's fellow contestants is Skye, the girl Jordy cheated on Maya with. Though they struggle to even be in the same room as each other at first, the girls become surprisingly close as they navigate the show's challenges.
After Skye realises that she was also betrayed by Jordy, she joins Maya in her quest to tear down his golden boy image. It isn't long until a deep attraction and secret romance develops between the two.
Past hurt, jealousy and Maya's resolution to seek revenge Jordy makes things complicated as the show reaches its peak, however, and it seems like no-one will be finding love on the show after all…
I really enjoyed this rom com by Sophie Gonzales! The story was fast paced and was written with such a biting sense of humour. It also gave a funny insight into the behind the scenes cheesiness of reality TV. I really appreciated that we don't have to wait until the end to for Maya and Skye to get together. I was pleased to see their relationship blossom early on and how they help each other grow and heal from their past hurt.
Perfect for fans of 'John Tucker Must Die' and Taylor Swift's 'We Are Never Ever Getting Back Together' 😁
Borrow a copy of 'Never Ever Getting Back Together' today using your Wyndham City Libraries membership.
Reviewed by Education & Youth Librarian, Anna.
 
Embassy Row Trilogy by Ally Carter
Is it cheating to choose an entire trilogy as my YA Book of the Week instead of just picking one of them? Possibly. I read and loved Ally Carter's 'Gallagher Girls' series when I was studying at uni, and while I picked up 'All Fall Down' when it first came out, I never finished the trilogy until now. Here's a bit of the synopsis to pique your interest:
For the past three years, everyone's been telling Grace Blakely that she's crazy. Her mum died in a horrific accident. There was no gun, there was no murderer. The Scarred Man doesn't exist. But Grace is absolutely certain that someone is wrong - and it's not her. Everyone in Adria wants Grace to move on, put on a pretty dress and pretend everything's fine. But Grace is determined to track down the man who murdered her mother and make them pay.
I have to admit that I'm a sucker for romance in YA novels, and I'm normally the type to put a book down if there isn't a whole lot of it. But that wasn't the case with this trilogy. Despite the romance - and there is some! - taking a backseat to the plot, I was so intrigued by the action and the mystery that I couldn't possibly put it down!
'All Fall Down' and the rest of the books in the Embassy Row trilogy are available for borrowing with your Wyndham Library Card. Click here to reserve your copy!
Reviewed by Education & Youth Librarian, Caitlin.
Waking Romeo by Kathryn Barker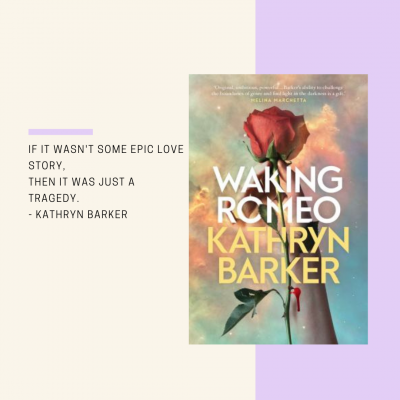 Reviewed by Education and Youth Librarian Carrie
I absolutely adore retellings of anything from fairytales to classic stories so I couldn't let this one pass.
It's the end of the world, literally, the year is 2083 and time travel has proven to be possible, but you can only move forward. Only a handful of humanity has chosen to live in the present, the "now" living off the scraps that have been left behind.
Enter our main characters Romeo, who lies in a coma and 'Jules', estranged from her family and friends who are dealing with the very real consequences from their fierce romance. And Ellis, a mysterious time traveller, sent back to the past on a mission to save the future and inadvertently makes Jules question everything she knows about life and love. I appreciated her growth as it happened in the background seeing her character take control of her own story inspired me, no spoilers! but I enjoyed seeing how history had a prat to play as well.
Have you ever yearned for the tragedy of Romeo and Juliet to be redeemed? What about the bad boy Heathcliff from "Wuthering Heights"? Seemingly Kathryn Barker has done this by creating an amazing Dystopian version of Wuthering Heights and put it straight in the middle of Shakespeare's Romeo and Juliet.
I was expecting a retelling of Romeo and Juliet in the future, some science fiction add ins and modernisation, instead Kathryn Barker has turned some tried and true classic storylines inside out and upside down and time travel!
Overall, I wouldn't hesitate to recommend this to readers who are looking for an interesting retelling, I particularly appreciated the complexity of time travel, the intricate world Kathryn Baker has created and finally the uniqueness of the story.
TW: suicidal intentions, guns, depiction of PTSD, ableism.
Recommended reading age: 12+
Available in book📚 and eBook📱 (via BorrowBox) formats using your library card.
YA Book of the Week: 'The Thief' by Megan Whalen Turner
This book was recommended to me by a friend who read it many years ago. I was told that it is full of grey characters whose intentions are not always clear straight away. Personally, this book took me a while to get into but once I was hooked there was no putting it down.
The story begins with Gen, a thief, who is released from the King of Sunis' prison by the Kings Magus (wizard or magician) to travel with him and find a stone that gives the owner the right to rule Eddis, a rival kingdom.
The pair are accompanied by the Magus's two apprentices: Sophos and Ambiades as well as Pol, a soldier from Sunis.
Full of complex world building this book is the first in a series filled with political intrigue and rife with complex characters and intentions. Turner has managed to bring the characters to life in a world reminiscent of Ancient Greece.
I would recommend this book to any one aged 12+ who is looking for a good series to sink their teeth into. The most recent book in the series (book 6!) was released in 2020 along with a swath of new covers for the other books in the series.
Put your copy of The Thief on hold here!
Reviewed by Education & Youth Librarian, Declan
YA Book of the Week: 'Unnecessary Drama' by Nina Kenwood
Eighteen-year-old Brooke is a lover of rules, control and order. She is also a people-pleaser. Arriving in Melbourne to start uni and join a new share house, Brooke has her sights set on impressing everyone and doing everything the right way. In the shiny new future in her mind, Brooke is super-prepared, always in control, successful at uni, and great friends with her new housemates.
Brooke's meticulously planned future, however, is interrupted when her former high school crush, Jesse, shows up unexpectedly as one of her new housemates. Brooke and Jesse have not spoken to each other for four years since an incident at school and Brooke is determined to set clear rules in place to ensure she has as little as possible to do with Jesse. Never will she forgive Jesse for his past actions.
But will Brooke be able to maintain these rules? And can she successfully hide her past with Jesse and ensure she sticks to their share house rule of 'no unnecessary drama'?
This is the first novel I have read by local author Nina Kenwood and I thoroughly enjoyed this entertaining and well-paced romcom! It is a super-fun exploration of leaving home and settling into adult life. The characters and setting are genuine, relatable and vividly depicted (reading this book brought up a few memories for me—good and bad—of my share house days!) And Brooke's anxious, controlling behaviour propels the narrative as she entangles herself in some extraordinarily elaborate (and frequently hilarious) situations.
I thoroughly recommend checking out Unnecessary Drama. Available for loan using your Wyndham City Libraries membership.
Reviewed by Education & Youth Team Leader, Jenny