Each week our friendly library staff and special guests review their latest YA reads. Head over to our Instagram account @librariesinwyndham to see all of our recommendations.
📚 YA Book of the Week – 'Terciel & Elinor' by Garth Nix🤩
Being an Old Kingdom tragic, I was very excited to hear that Garth Nix was releasing a story about Sabriel's parents, Terciel & Elinor. For those of you who aren't familiar with the Old Kingdom series, I highly recommend that you look into it.
'Terciel & Elinor' is told from the points of view of the two main characters, switching between them as their storylines merge. In the book we learn about Terciel's grim childhood in the Old Kingdom (think of a Middle Age setting with magic) & how he becomes the Abhorsen in Waiting (an official necromancer of the Old Kingdom💀). We get to see glimpses of Terciel's apprenticeship with his great-aunt Tizanael as she teaches him charter magic & necromancy – the necessary tools for battling the creatures of Death.

Across the Wall that divides the Old Kingdom from Ancelstierre (a Steam Age country without magic) we find Elinor, a young woman living a sheltered life with her governess, groom & dying mother. Whilst Elinor is intelligent & educated, she knows little of the Old Kingdom, magic, or even about branches of her family tree (something which her mother has forbidden any mention of). As the secrets of Elinor's family start to unravel she crosses paths with Terciel & Tizanael, who are investigating a plot hatched by the Abhorsen's greatest enemy. This meeting sets off a chain of events which sets Elinor on a path into the Old Kingdom & into the lives of the Abhorsens.
I really enjoyed delving back into the Old Kingdom, & as usual Nix delivers some great action scenes & world building. I particularly liked Elinor's character development & felt myself cheering for her along the way. It would have been great to see Terciel's character teased out more, & to journey with him as he went about his apprenticeship. Having said that, 'Terciel & Elinor' is solid read that I think both Old Kingdom fans and newbies will enjoy.
🔗 To get your mitts on a copy follow this link. https://catalogue.wyndham.vic.gov.au/client/en_AU/wycl/search/results?qu=terciel+and+elinor&te=

🤓 Reviewed by Sophie, Education and Youth Services Librarian
📚 YA Book of the Week 📚 'The Henna Wars' by Adiba Jaigirdar.
The Henna Wars is a contemporary LGBT romance exploring identity, prejudice, and cultural appropriation. It's a great summer read with just the right balance of drama and sweetness.
The story follows Nishat, a Bengali girl living in Ireland with her family. When she gathers the courage to come out to her parents, she's not sure what she expects, but it isn't for them to stop speaking to her. She becomes invisible to them, except when they are telling her she must be confused, or mistaken, because good Muslim girls can't be lesbians.
From there, her year only gets worse.
Flavia, one of the first girls she ever had a crush on, moves to her high school and at first Nishat is over the moon but soon the two girls find themselves rivals in an intense competition where there can only be one winner.
Battling discrimination, bullying and sabotage, Nishat discovers what beliefs she is willing to take a stand to protect, and what behaviour she cannot overlook regardless of how she feels about the people involved.
There are so many things I loved about this book, including the discussion of culture and identity. Both Nishat and Flavia are queer people of colour, and I loved that while they are both seen as 'other' in the school community they have vastly different beliefs, experiences and friend groups which both unite and divide them at different points in the story.
Family is a huge part of the book, and Nishat's close relationship with her sister Priti is another real highlight to look out for. You're going to fall in love with her sassy energy and big heart.
Without spoilers I can't say too much more except: read it.
You won't be disappointed.
Reviewed by Kirsty, Adult Programs & Services Librarian 😁
To reserve a copy of 'The Henna Wars' click here
📖 YA Book of the Week – 'A Court of Mist & Fury' by Sarah J. Maas 📖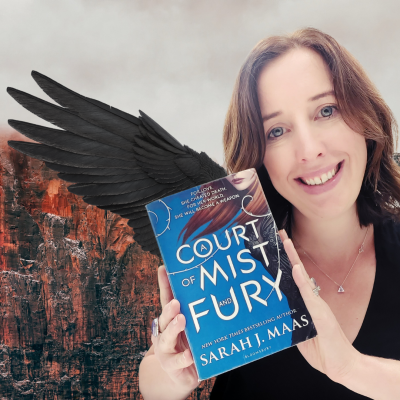 'A Court of Mist & Fury' is the second book in the popular fantasy series by Sarah J. Maas. When reading the first instalment ('A Court of Thorns & Roses'), I quickly became immersed in a fantastical world where humans lived apart from the much feared and despised, immortal faeries that dwell north of the wall in Prythian; a place where lands are divided into courts, each ruled by a High Fae Lord.
I cheered for Feyre, our brave protagonist who fell passionately in love with Tamlin, ruler of the Spring Court. I grew wary of the beasts, mythical creatures & enemy Fae that Feyre encountered, including the handsome but menacing Rhysand, High Lord of the Night Court. I read with gritted teeth as she fought against the evil Amarantha to free her love and restore peace to the lands. I felt satisfied, entertained, and curious as to what would be in store for Feyre & her fairytale romance with Tamlin.
When I first delved into 'A Court of Mist & Fury', I was a little taken aback by the revelations and development of the characters I thought I knew. As the author peeled back facades and revealed more about our heroes and villains - their motivations, back stories & true emotions – I was hooked. If you read the first book and thought 'meh', I urge you to stick with it and read the second. It gets even better! As Feyre fulfills her bargain and is forced to spend time in the Night Court, we learn so much more about Rhysand and are introduced to an ensemble of new and interesting characters who I quickly grew to love. This book was hard to put down. It took me on an emotional rollercoaster filled with sexual tension and raw passion, interspersed with rushes of danger and adventure, sprinkled with a healthy dose of surprise revelations. Though sceptical at first, I'm extremely satisfied with the direction the series is headed and cannot wait to read the third instalment.
Reviewed by Education & Youth Librarian, KatyAnne. Recommended for ages 15+.
📖YA Book of the Week 📖Stay Another Day by Juno Dawson.
Reviewed by Education and Youth Librarian Carrie 🤓
When three very different siblings, Fern, Rowan and Willow, go home for a Christmas reunion at their family home in Edinburgh, it's not long before some SECRETS threaten their cosy holiday...
It's four days until Christmas, and each family member is battling their own demons. Fern has an obsession with control and perfection, she's also bringing home her boyfriend.
Rowan has detachment issues and would rather go out than hang with the family.
Finally, there's Willow, terrified of Christmas day and who struggles with an eating disorder.
Gripped by the interwoven perspectives and the growth experienced by each character, Dawson paints a realistic picture of a family who appears to have everything but are in denial about the chaos bubbling just beneath the surface. Of course, secrets, lies and revelations exploding to the fore at Christmas time seem inevitable.
We see the three McAllister siblings at their absolute worst and absolute best, making selfish mistakes and barging through the family attempt at having a perfect Christmas with no drama.
Despite their terrible behaviour, I found myself rooting for the McAllister siblings. I was in awe of how beautifully their voices were all developed. I also loved the supporting characters, especially Syd and Hamish, who shared so much wisdom.
Excellent writing, unique characters and a gripping plot.
I absolutely adored the bisexual representation and the discussions surrounding mental health and breakups. Dawson also shines a light on eating disorders, family issues and troubling pasts, and with a massively dysfunctional and painfully middle-class family at its core.
Stay Another Day is suitable for older readers. It includes references to anorexia, sex scenes, outing, OCD, self-harm, drugs and alcohol. The publisher's recommended reading age is 14+
Stay Another Day is available to borrow in-branch and online, click the link in our bio and get a copy today! 🔗
 #junodawson #stayanotherday #YABOTW #wyndhamlibraries #YAfiction #YAreads #YAbookrecommendation
🤩📚YA Book of the Week - 'It's Not You, It's Me' by Gabrielle Williams
Time travel seems a pretty alluring concept at the best of times... even more so in the year that has been 2021! The premise of travelling back to 1980s Los Angeles sucked me into reading 'It's Not You, It's Me', and Gabrielle Williams' fast-paced storytelling kept me there.
'It's Not You, It's Me' details the story of 40 year-old art teacher, Holly, who (following the gift of a vintage Brother typewriter) wakes up to find herself not in Melbourne in 2020, but rather in LA in 1980. What's more, she is no longer in her own body, but that of 16 year-old teenager, Trinity.
Whilst Holly is inhabiting Trinity's body, it seems that Trinity is now living Holly's life in present-day Melbourne. And, it appears, she is none too happy about waking up as a daggy 40 year-old teacher and promises to shake things up a little!
Holly must navigate her way through Trinity's life, trying to convince her peers that she really is a 16 year-old (whilst convincing Trinity not to totally trash her own life back in 2020) and buy time to figure out how, and more importantly, why, this time-travelling body swap has come about.
I really enjoyed the time travel element and the exploration of values, culture and language between the two time periods. I also enjoyed Holly's gradual realisation that she had not been planted in Trinity's body just to 'save' her, but also to change her own perspective and life course.
If you are looking for a fun, escapist read (which also has an incredibly moving and powerful conclusion), I thoroughly recommend checking out 'It's Not You, It's Me'.
Click here to start reading 'It's Not You, It's Me'
Reviewed by Education and Youth Team Leader, Jenny
📚 YA Book of the Week – 'Sorcery of Thorns' by Margaret Rogerson
What a fun read! 'Sorcery of Thorns' was exactly what I was in the mood for and is one of the best fantasy titles I've read this year 👏👏👏
Meet Elisabeth, a young woman who was raised as a foundling in one of Austermeer's Great Libraries… a place where magical grimoires can whisper, move, and even turn into dangerous creatures 👹 Elisabeth leads a relatively sheltered life at the Library and wants nothing more than to be one of its wardens, charged with safeguarding the kingdom from the dangerous magic of the grimoires. She is taught that sorcery and sorcerers are evil and should be avoided at all costs.
Enter Nathaniel Thorn, a dashingly handsome sorcerer who comes to the Library to check out some books in the vault 👀 After an awkward introduction where Elisabeth almost crushes Nathaniel with a bookshelf (she was spying on him from behind it), the pace starts to pick up and Elisabeth finds herself in the thick of a dangerous plot that has been centuries in the making. To prevent Austermeer's impending destruction, Elisabeth must work alongside Nathaniel and his mysterious servant, Silas, making her question all the things she has been taught to believe.
Whilst 'Sorcery of Thorns' is a typical YA fantasy (there aren't any major plot or character surprises) the pacing and character development is excellent, and nicely weaves in with the world building. Nathaniel's banter always got a chuckle from me and broke up some of the heavier moments. My favourite character is Silas, whose penchant for fashion and propriety, combined with his mysterious nature makes him a complex, interesting character. Highly recommended for anyone looking for their next fantasy adventure!
Click here to start reading 'Sorcery of Thorns' 🔗 
Reviewed by Sophie, Education and Youth Services Librarian 🤓
YABOTW - The Wild Ones by Nafia Azad
Never judge a book by its cover so they say, in the case of this week's YABOTW, The Wild Ones- a broken anthem for a girl nation -by Nafiza Azad, I selected this book for its stunning cover and title alone and it did not disappoint! I adored it.
A feminist fantasy fiction focusing on sisterhood and the plight of women around the world, the Wild Ones is the story of girls of colour refusing to conform to their fate and choosing to be their own person. The Wild Ones are girls who have been hurt and betrayed all their lives, Paheli is the main voice who was betrayed by her mother and by escaping, gains access to a magical realm called the Between, a place of adventure and mystery. She collects girls like herself and they become the Wild Ones, using their magic to travel the world, helping and saving others in need.
It has a unique storytelling style with a beautifully diverse cast of characters, although at times was a little confusing as the first person point of view shifts between characters and sections and it is not always obvious which character is narrating. However the world building is amazing, painting an exotic picture of the countries travelled and a desire in me to travel these places too (one day)!
It's a fiercely feminist and magical fantasy with a touch of romance, though it's not a light hearted book and contains themes of sexual and physical violence, so recommended for more mature young adult readers. To borrow your copy, head to the library catalogue.
Reviewed by Sharyn, Education and Youth Librarian at Werribee Library.
📖 YA Book of the Week - The Loop by Ben Oliver 📖
'The Loop' is a futuristic novel that tells the story 16-year-old Luka Kane, an inmate of a death-row prison for young offenders called The Loop. Life in The Loop is torturous and repetitive - every day runs like clockwork, right down to the government-issued rain. The inmates are heavily controlled and guarded by artificial intelligence, and the only way to avoid imminent execution in The Loop is to opt-in for 'delays' – scientific and medical experiments designed for the benefit of the elite members of the outside world.
Things start to get a whole lot more interesting when rumours of a war on the outside, along with disruptions in the daily routine lead to an outbreak of chaos within the prison and the outside world. Luka and his friends must survive a host of challenges including murderous fellow prisoners, a warden who is losing her mind, masses of hungry rats in the train tunnels, and an outside population that has been infected with a disease that makes them want to kill each other. Luka is determined to keep himself and his friends safe while trying to locate his family and discover who is behind the chaos and devastation that surrounds him.
If you're a fan of popular YA series such as 'The Hunger Games' and 'The Maze Runner', you won't want to miss this debut novel, the first of a trilogy. With interesting characters, lots of action, suspense, horror and twists to keep you entertained, this dystopian sci-fi is one to add to your reading list! A lot of events were quite gruesome and disturbing, so I recommend this for young adults over 15 years.
To borrow your copy, head to the library catalogue. Available in eBook, AudioBook and Hard Copy.
Reviewed by Education & Youth Librarian, KatyAnne
📖📖 YA BOTW - Ash Princess by Laura Sebastian 📖📖
Reviewed by Education and Youth Librarian Carrie 🤓
Princess. Prisoner. Orphan. Rebel.
Theodosia was six when her country was invaded and her mother, the Fire Queen, was murdered before her eyes. On that day, the Kaiser (the new king) took Theodosia's family, her land, and her name and crowned her Ash Princess--a title of shame to bear in her new life as a prisoner.
Now a captive in her own palace, Theo endures relentless abuse and ridicule of the Kaiser and his court. Then, one night, the Kaiser forces her to do the unthinkable. With blood on her hands and all hope of reclaiming her throne lost, she realises that surviving is no longer enough. But she does have a weapon: her mind. And power isn't always won on the battlefield.
Ash Princess has a heroine desperately trying to reclaim her stolen throne, a mindlessly evil tyrant who stole said throne, and a love triangle... What's that, you say? You've heard this one before? Yeah, me too. That being said, I give credit where it's due, it stands out for being compulsively readable and entertaining.
Overall the major plot aspects has historical and colonial vibes, such as the Kaiser who leaves the rightful heir alive, a lot like Elizabeth and Mary Queen of Scots.
I should warn that Ash Princess is at times grim and gory and is strictly for older readers. Slavery is depicted, as are beatings, torture and rape (non-graphic). The divide between the dark-haired, olive-skinned Astrean people and the pale-skinned, blonde-haired Kalovaxians is clearly along racial lines.
If you have room in your heart (and on your bookshelves) for another fantasy with princesses, evil rulers, rebellion and romance, then this series is for you!
If you haven't yet discovered the 'Ash Princess' series by Jennifer Barnes then click here to start reading 🔗.
📚 YA Book of the Week - 'The Ruby Locket' by Melissa Wray
🤩 Reviewed by guest author Sarah Cole!
I loved this book as soon as I saw the front cover! Check it out, it looks awesome!
As I started to read 'The Ruby Locket' I found the characters captivating and intriguing, specifically the strong female protagonist Kerina!
The blurb is as follows....Saxon finds a girl with no memory (Kerina) on the outskirts of the Nevertyre community, his family take her in and nurse her back to health. When Kerina wakes she must fight to make sense of her situation, but she is haunted by images of her past. She is the key to the future, she just doesn't know it yet. They both set off on a quest of self-discovery and along the way they meet allies, enemies and uncover truths too difficult to accept.
I love how author Melissa Wray has crafted this novel. Her writing is clever and detailed and her descriptions are strong and make me want to meet Kerina in real life and congratulate her on being the awesome, determined person she is!
Loved this! Five stars! ⭐️⭐️⭐️⭐️⭐️
🔗 Click here to start reading 'The Ruby Locket'.
📚YA Book of the Week - 'More Than This' by Patrick Ness
🤨What happens when one dies? Where do you go? Is there an afterlife? When teenager Seth dies by drowning, he expects that to be the end of his life. Instead he wakes up in what was his old town, naked and right outside his old house. Confused and all alone Seth must come to terms with himself and his past if he is to find a way out of the strange new world he finds himself in.
I read this book because I like stories set in mysterious places, and I like the dread of not knowing what's going to happen to our main character. I would warn that it does deal with heavy topics like suicide and death which might make it upsetting for some readers but other than that it was a very well written and engaging book.
🔗Check out a copy of 'More Than This' today.
😀Reviewed by Education & Youth Work Placement Team Member, Tristan
💀📚 YA Book of the Week – 'Kingdom of the Wicked' by Kerri Maniscalco 📚💀
🎃 If you're looking for a supernatural mystery with an Italian twist this spooky season, then dive into Kingdom of the Wicked! 😈
I was very excited to read this book for its Sicilian setting and inclusion of Italian folk magic, something that I have grown up learning about from my Italian family. Kerri Maniscalco does a wonderful job exploring this in her YA fantasy novel.
Eighteen-year-old Emilia and her twin sister Vittoria are streghe (witches) gifted with the ability to magically protect themselves from evil. Their Nonna guides them in their magic and warns them that the seven princes of Hell, known as the Wicked, are to be feared and avoided at all costs. When Vittoria is brutally murdered, Emilia suspects that a demon is responsible, and vows to find the killer and bring them to justice.
This book shines most during the interactions between Emilia and Wrath, the demon prince who Emilia forces into a contract. I really enjoyed their dialogue and the growing chemistry between them. The little moments of humour throughout the book also gave me a good chuckle!
I did find some of the action and pacing a bit hard to follow, however this may have been partly due to my 'lockdown brain!' I'm excited to see what happens in the sequel, Kingdom of the Cursed.
I recommend this for ages 14+.
To borrow a copy, click here!
🧙‍♀️ Reviewed by Emily, Education and Youth Librarian.