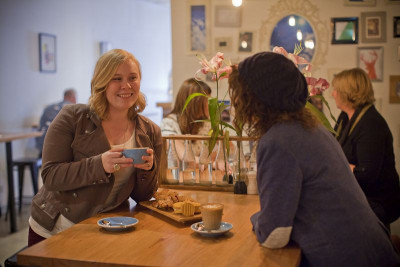 With a range of vibrant restaurants and cafes, Werribee City Centre is the place to be!
Whether you are looking to grab a quick bite to eat or savour a great meal, there is something for everyone. Experience the range below and more down at the Werribee City Centre.
Free Wifi in Werribee City Centre

Stay connected with free public WiFi in Station Place and Wedge St Piazza in Werribee City Centre.

Simply select 'WCC_Public' as your WiFi network.

No subscription is necessary and email addresses do not need to be entered in order to connect.
Bank of Queensland
Bendigo Bank Werribee
Brian Mark Real Estate
Grant Financial Planning
Mantello Lawyers
Matchworks

40 Synnot Street, Werribee

8742 3444

Website: Matchworks
My Job Is Your Accounts
Quest Werribee
R J Sanderson & Associates
Sechi Hair Academy
The Gordon TAFE
Wyndham Community & Education Centre
Ages Ristorante Pizzeria
Black Seed Café

133 Watton St Werribee
0435 191 922
Come visit the best cafe in the west as voted by Bean Hunters
Website: Black Seed Cafe
Bruno's Deli Café

125 Watton St Werribee
9741 3280
Website: Bruno's Deli Cafe
Local & international produce tastes best sliced fresh
Chatterbox Café
Mondells Patisserie
Fusion Ceylon

27 Watton St Werribee
0433 696 726
A mix of authentic Sri Lankan cuisine & Western gastronomy
Website: Fusion Ceylon
Tasty Gate

4C Watton St Werribee
9974 1081
Come taste our traditional Malay & Chinese Cuisine
Website: Tasty Gate
The Crooked Fork
The Park Hotel
Truck Stop Deluxe
Watton Café

1/169 Watton St Werribee
9741 4572
Come and try our 'Hash Stack' signature dish
Website: Watton Cafe