Address

Wyndham Park, Werribee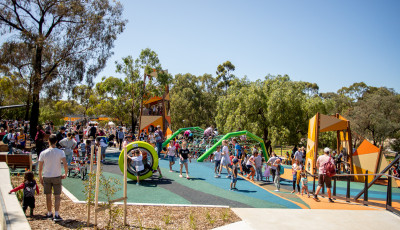 Entry via Wedge St Piazza, Watton St Werribee
The newly renovated Wyndham Park is located on the banks of the picturesque Werribee River, this major, $13 million Wyndham City project has transformed the park into a recreation and events hub in the heart of the City Centre.
As well as delivering a range of new attractions including playgrounds, exercise equipment, picnic facilities, walking tracks and improved cycling paths, the upgrade also provides an opportunity to enjoy the natural beauty of the Werribee River and surrounding environment, including additional trees and plants.
Frequently Asked Questions

How do I access the park?

There are 3 main access points:

Wedge St Piazza, Watton Street, Werribee
Bicentennial Bridge, Comben Drive, Werribee
Cnr Werribee St and Princes Hwy, Werribee

Where can I park?

There is a range of public car parks located close to the park, in the Werribee City Centre. These include:

The large new car park established by Council at the corner of Werribee and Watton Streets, with 200 all-day free spots for anybody to use (access Wyndham park via the Wedge St Piazza and Wyndham Park Pedestrian Bridge);
The large public car park on Comben Drive (access Wyndham Park via the Bicentennial Pedestrian Bridge).

There are also drop-off areas in Comben Drive and a number of car parks in and around Watton Street, Synnot Street, and Cottrell Street.

Does it have a playground?

Yes, Wyndham Park is home to two playgrounds.

The adventure playground features an 11 metre tower with a spiral slide down from the top of the tower, climbing structures, small see-saws, spinning wheels, and more.

Is the slide metal?

Yes, the slide is an enclosed metal tube. This was the best option to avoid any vandalism to the slide. The entire tower is fire-proof.

Is there a skate park?

The Werribee Skate Park is located just around the corner. The skate park was built as part of the Level Crossing Removal Project.  Built amongst the rail bridge columns, the park is sheltered from sun and rain.

Is there be an off-lead dog park?

The park is dog-friendly, and people are more than welcome to bring their dog to Wyndham Park. There is no dedicated off-lead area, so if you do decide to bring your dog, it's important they are on a leash. For information on spaces across Wyndham that your dog can be off a leash, visit www.wyndham.vic.gov.au and search 'Dog Off Lead Areas'.

Is there be CCTV at the park?

Safety is an important part of the design and operation of Wyndham Park. In consultation with Police and the Werribee City Centre Safety Group, it is agreed that clear site lines, lots of activity, good lighting, good maintenance and regular Police patrols are the most effective ways to keep a place safe. CCTV may be used to supplement this in specific circumstances for events and asset protection.

Are there toilets onsite?

Yes, a new centrally located public toilet block has been constructed to ensure visitors don't have to leave the park to use the bathroom. Extra toilets can be added for events.

Can I hold an activity in the park?

Yes, you can. 

To apply to hold an event or activity, you can complete a Use of Public Space Permit.  If you have any questions you can contact facilitiesandrecreation@wyndham.vic.gov.au

To find out about filming in Wyndham Park, you can read more here, Filming in Wyndham
Hold an activity in Wyndham Park

Wyndham City is inviting businesses, clubs and groups to hold free activities in the park for the public to enjoy and participate in. 

If you are interested in holding an activity in Wyndham Park please, fill in the short survey to register your interest.