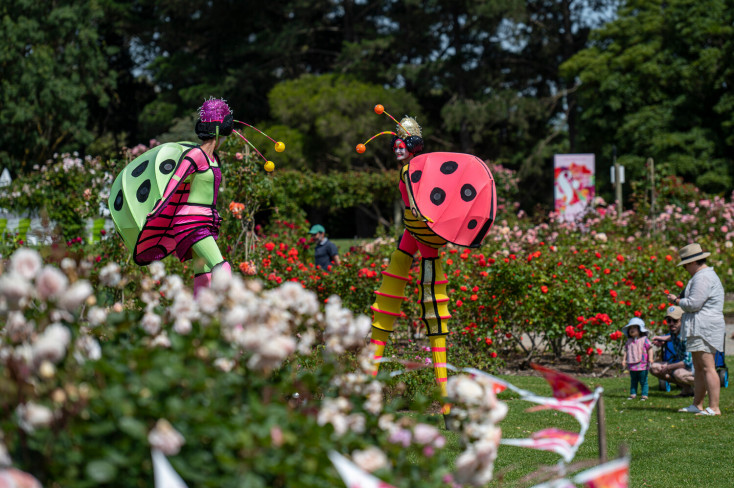 Witness the Victoria State Rose Garden at its blooming best this spring as the annual State Rose & Garden Show returns to Werribee Park.
Celebrating its 9th year in 2023, this free event will take place over one colour-filled weekend, from Saturday 11 to Sunday 12 November. Whether you are a certified green thumb or a gardening novice, there'll be something for everyone.
Across the weekend the gardens will transform into a kaleidoscope of colour as the spring sunshine lights up over 5,000 rose bushes and the manicured lawns play host to numerous garden exhibits, plant stalls, food trucks, and live music – making it a must-see event for visitors of all ages.
Highlights of the two-day event include the following:  
NEW this year, The Gardeners' Dome will host an impressive line-up of gardening experts covering a broad range of gardening topics, including everything from sustainable gardening to fermenting practices. Speakers include horticulturist and garden coach, Chloe Thomson, the charismatic Vasili Kanidiadis of 'Vasili's Garden', horticulturist Craig Castree, best-selling author and radio host AB Bishop and fermentation specialist The Fermented Mumma.

Also NEW to the event is the Green Hub – an interactive space which will shine a spotlight on sustainable living and gardening practices, with stalls from Craig Castree, Nature West, Wormlovers and Eat My Garden.

Free, hands-on and interactive workshops will be on offer at the All Green Workshops and Café. Highlights include flower crown and posy making workshops with Petal Pop; beekeeping workshops with Holly's Backyard Bees; how to collect and store native seeds with Nature West; terrarium and kokedama workshops with Lady Jane Greenhouse; terracotta pot painting workshops with ceramicist Melissa Murphy-Vella; and a Little Sprouts Growing and Nature Play program for kids.

Vertical arts company, SWAY will entertain attendees from above with a series of gravity defying performances in the heart of the Garden. Expertly fusing circus and physical theatre, these colourful and energetic performances promise to be a hit with all ages.

A sea of wooden poppies which attendees can paint will be displayed on the lawn to commemorate Remembrance Day on the opening day of the event. On the Sunday, the poppies will be replaced by wooden roses which attendees can paint and take home with them.

A range of delicious sweet and savoury foods will be available including rose flavoured scones from the CWA. Timboon Fine Ice Cream will be serving up tasty rose flavoured ice, while The Prosecco Van will add a touch of sparkle. Add to the mix the chilled sounds of an acoustic set and attendees have all the essential ingredients for a leisurely picnic on the lush green lawns.

Plus much more! Including guided tours of the Victoria State Rose Garden, led by the enthusiastic and knowledgeable volunteers who tend and nurture the garden year-round.
Check back here closer to the date for further information and programs!
Wyndham City is committed to providing a COVID safe event and will abide by all current restrictions and guidelines as set by the State Government of Victoria.
Principal Partner
FAQS

DESCRIPTION

The State Rose Garden is one of Victoria's best kept secrets, with over 5,000 different species of roses in the beautiful grounds at the Victoria State Rose Garden at Werribee Park.

There is truly something for everyone at the event, shop the huge selection of specialty garden exhibitors with garden products, hear from garden personalities and gather tips, tricks, and knowledge on garden related topics, check out the workshops, grab a meal from a food truck and picnic amongst the glorious garden which will be held early November.

EVENT INFO

DATE: Saturday 11 and Sunday 12 November 2023

TIME: 10am – 4pm

LOCATION: Victoria State Rose Garden, 350 K Road, Werribee South

WEBSITE: www/wyndham.vic.gov.au/stateroseandgardenshow

CONTACT: events@wyndham.vic.gov.au

FAQS

Tickets

The State Rose & Garden Show is a FREE event run by Wyndham City Council; tickets are NOT required to attend this event.

Alcohol

Please note the event site is a licensed area and alcohol is available for purchase. BYO Alcohol is strictly not permitted to be brought into the Victoria State Rose Garden.

ATM

There will NOT be an ATM onsite, all stands, and vendors will have cashless facilities.

Drones

Are not permitted at the event.

Exhibitors

There will be a range of exhibitors with garden related products available for sale, plants, pots, seeds, garden gloves and of course roses!

First Aid

A first Aid service will be onsite, located near the entry gate.

Food and Drink

There is plenty of delicious food and beverages for purchase in the garden and you are also welcome to bring along your own food.

Garden Closures

Please be advised that there will be restricted access to the garden in the lead up and over the event weekend.

Friday 10 November – Restricted access for event set up.

Saturday 11 November & Sunday 12 November (Event days) – The garden will close at the conclusion of the event at 4.00pm both days.

Monday 13 November – Restricted access for event pack down.

Lost Children

We encourage you to pick up an ID wristband at the entry or Information Marquee so we can quickly reunite you should you lose your child during the event. All lost children will be brought to the Information Marquee.

Pets

Pets are not permitted at this event; assistance dogs are permitted.

Photography/Filming

An official photographer will be taking photographs at the event. We may share these on our social media and websites. If you are camera shy and don't want your photo taken, please let our photographer and/or our event staff know on the day.

Live streaming or broadcasting of the State Rose & Garden Show is not permitted. Commercial photography is not permitted without prior permission from Wyndham City Council. Filming/photography and other media requests can be directed to media@wyndham.vic.gov.au.

Photos: Share your photos on the day... simply upload to your Facebook or Instagram account and #stateroseandgardenshow

Respect the Garden

To ensure the garden remains in its beautiful state, we request that you respect the hard work of the State Rose Garden Volunteers by staying off the garden beds and do NOT pick the roses. Please be careful when taking photos to not walk on the garden beds as this can damage the irrigation and fragile root systems.

Toilets

There will be toilets located within the event site at two ends of the garden, including accessible facilities and baby change.

Getting to and from the Victoria State Rose Garden:

Car

There is free parking on site and event traffic management systems will be in place. Please follow all road and traffic detours and respect traffic and parking officer's instructions to ensure you safely arrive and exit the event. We appreciate your patience and suggest that you allow extra time to get to and from the event.

Shuttle Bus

The Free Event Shuttle Bus to the State Rose & Garden Show will be running on Saturday 11 and Sunday 12 November and will be travelling to and from Werribee Train Station to the Victoria State Rose Garden at the following times.

Werribee Train Station to the Victoria State Rose Garden

10:30am, 11.30am, 12.30pm, 1.30pm and 2.30pm

Victoria State Rose Garden to Werribee Train Station

11am, 12noon, 1pm, 2pm, 3pm and 4pm

Accessibility

We have a designated accessible car park for those that require close access to the event site and accessible toilets on site.

This year we have a pilot program and have engaged the services of Travellers Aid Australia who will be supporting people with disabilities and mobility needs accessing the garden at the event. They will have wheelchairs and prams for hire ensuring that our event is inclusive and accessible for everyone.

Water

A water trailer with bottle refills and drinking taps will be available for fresh drinking water throughout the event, please be sure to bring your own water bottle!

What to Bring

Picnic rug, a hat, sunscreen, jacket, and a poncho for inclement weather. Please note there are limited shaded areas – so come prepared for rain, hail, or shine.

PROGRAM

The program will be available from our webpage closer to the event. We encourage you to check it out before the event and use it to help you make the most of your visit to the event.

Workshops: A range of gardening workshops will be available to participate in with registration for these available on the day. These workshops are capped at a maximum number of participants per session.  

COVID-19 SAFETY

The health and safety of our attendees at this event is our utmost priority. Attendees must comply with all current Victoria State Government COVID-19 requirements.

STILL HAVE QUESTIONS?

Please contact events@wyndham.vic.gov.au
State Rose & Garden Show Photo Gallery
Date and time

-
Online

No
Location

Victoria State Rose Garden, K Road, Werribee Park, Werribee
Organiser

Wyndham City
Contact
Cost

FREE