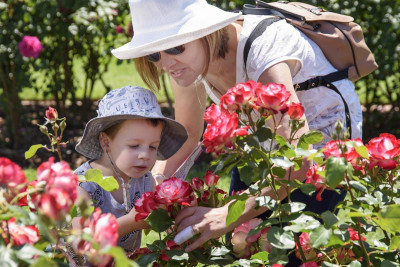 The roses are back in bloom as the State Rose & Garden Show returns in 2021!
Get lost amongst the 5000 different species of roses in the glorious grounds of the Victoria State Rose Garden at Werribee Park.
Gather new tips from a gardening expert, shop for a new plant or try a floral workshop. Grab a meal from a food truck and picnic amidst the petals at this year's event which will be held over the first weekend in November.
Entry is free, however a ticket is required and a donation to support the volunteers of the Victoria State Rose Garden is always appreciated. Free tickets will be available from 18 October 2021.
Check back here closer to the date for further information, ticket links and programs.
Wyndham City is  committed to providing a COVID safe event and Wyndham City will abide by all current restrictions and guidelines as set by the State Government of Victoria – https://www.coronavirus.vic.gov.au/public-events
Exhibitor & Food Vendor Applications
Sponsors

Principal Sponsor: 

 

All Green Nursery & Garden are the Principal Sponsor of The State Rose & Garden Show.

Visit the All Green Children's Garden or check out the All Green Nursery & Garden Workshops and try your hand at something new under the guidance of a gardening expert.

 

Are you looking to increase your brand awareness?

With our large and loyal community, supporting local events provides invaluable marketing opportunities that have proven capability to increase business stimulation and perception.

To celebrate our community's diversity, Wyndham City Council's Events team dedicate themselves to producing unique and engaging events that appeal to the broader community. We welcome all expressions of interest from businesses who wish to get involved with these events and utilise this unique platform to express their own brands.

We can offer a range of marketing and sales opportunities throughout our Event Season to maximise your partnership, with one of our set packages or a tailored package designed to suit your business needs.

For more information please contact the Events team on 9742 0902 or events@wyndham.vic.gov.au.
Frequently Asked Questions

Tickets: The State Rose & Garden Show  is a FREE event run by Wyndham City Council. In order for us to manage capacity of the event in line with venue and current COVID-19 restrictions, a pre-booked ticket is required for entry. Tickets can be booked from 9am on Monday 18 October 2021.

When registering for a ticket please consider a donation to the Victoria State Rose Garden Volunteers who work tirelessly throughout the year to maintain the gardens.

If you have not pre-booked a ticket, please do not attend the event.

Alcohol: Please note the event site is a licensed area and alcohol is available for purchase. BYO Alcohol is strictly not permitted to be brought into the Victoria State Rose Garden.

ATM: An ATM will be onsite for the duration of the event.

Drones: Are not permitted at the event.

Exhibitors:  There will be a range of exhibitors with garden related products available for sale, plants, pots, seeds garden gloves and of course roses!

Workshops: A range or gardening workshops will be available to participate in with registration for these available on the day

First Aid: A First Aid service will be onsite, please refer to the event program map for the location.

Food: There is plenty of delicious food and beverages for purchase in the garden and you are also welcome to bring along your own food.

Garden Closures: Please be advised that there will be restricted access to the garden in the lead up and over the event weekend.

Friday 8 November – Restricted access for event set up.

Saturday 9 November & Sunday 10 November (Event days) – The garden will close at the conclusion of the event at 4.00pm both days.

Monday 11 November – Restricted access for event pack down.

Lost Children: We encourage you to pick up an ID wristband at the entry or Information Marquee so we can quickly reunite you should you lose your child during the event. All lost children will be brought to the Information Marquee.

Pets: Pets are not permitted at this event, assistance dogs are permitted.

Photography/Filming: A Council photographer will be taking some happy snaps on the day! We'll share these on our social media and websites. If you're camera shy and don't want your photo taken, just let our photographer and/or our event staff know on the day!

Live streaming or broadcasting of the State Rose & Garden Show is not permitted. Commercial photography is not permitted without prior permission from Wyndham City Council. Filming/photography and other media requests can be directed to media@wyndham.vic.gov.au.

Photos: Share your photos on the day... simply upload to your Facebook or Instagram account and use the hashtag: #stateroseandgardenshow

Respect the garden: To ensure the garden remains in its beautiful state, we request that you respect the hard work of the State Rose Garden Volunteers by staying off the garden beds and do NOT pick the roses. Please be careful when taking photos to not walk on the garden beds as this damages the irrigation and fragile root systems.

Toilets: There will be toilets located within the event site at two ends of the garden, including accessible facilities and baby change.

Travel: There is free parking on site and event traffic management systems will be in place. Please follow all road and traffic detours and respect traffic and parking officer's instructions to ensure you safely arrive and exit the event. We appreciate your patience and suggest that you allow extra time to get to and from the event. There is a free shuttle bus running from Werribee train stations, check the website closer to the event for the shuttle timetable.

Water: A water trailer will be available for fresh drinking water throughout the event, please be sure to bring your own water bottle!

What to Bring: Picnic rug, a hat, sunscreen, jacket, and a poncho for inclement weather. Please note there are limited shaded areas – so come prepared for rain, hail or shine.

PROGRAM& MAP

A downloadable program and map will be available from our webpage closer to the event. We encourage you to check it out before the event and use it to help you make the most of your visit to the event.

COVID-19 SAFETY

This event is to be registered as a Tier 2 event as part of the Victoria State Government Public Events Framework. Any restrictions or regulations in place are in accordance with the current Victoria State Government guidelines available at the DHHS website.
State Rose & Garden Show Photo Gallery
Date and time

daily

Upcoming events:
Online

No
Location

Victoria State Rose Garden, K Road, Werribee Park, Werribee
Organiser

Wyndham City
Contact
Cost

FREE tickets available from 18 October 2021