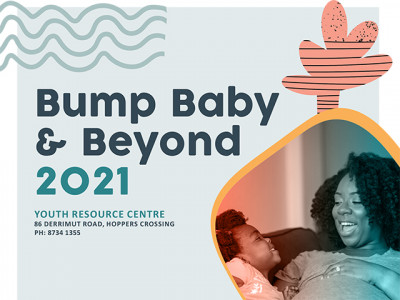 Due to Victoria entering lockdown from 8pm, Thursday 5 August, all Youth Services outdoor events have been cancelled/postponed. 
All indoor programs will be offered online.
For further details call 8734 1355, email YouthInWyndham@wyndham.vic.gov.au 
The Bump Baby and Beyond program is a Free service (small fee for some excursions) that is offered to pregnant and or mothering young females up to the age of 25 years who live, work or study in Wyndham.
We provide support to pregnant and parenting women with the opportunity for personal development, social support and participation in recreational activities.
You are welcome to attend with or without your children. 
Enhanced Nurses will be available at certain times each term.
Registrations are required prior to attending the program. 
To register your interest please fill out the registration form here: http://youthwyndham.com/register
Term 3 Program
July 21 - Child Rearing 101 - ONLINE
July 28 – Let's Talk Money - ONLINE
August 4 - Movies and Lunch – Details to be advised
August 11 – Job Readiness - ONLINE
August 18 - Relationships - ONLINE
August 27 – Mum's Night Out - details to be advised - ONLINE
September 1 - Graze Platter Workshops - ONLINE
September 8 – Child First Aid Training
September 15 -  Celebrations Event – details to be advised
For further details call Jamaica on 8734 1355 or email jamaica.barrientos@wyndham.vic.gov.au
Date and time

weekly on Wednesday
Online

Yes
Location

86 Derrimut Road,
Hoppers Crossing
VIC 3029
Organiser

Jamaica - Youth Services
Contact

8734 1355
jamaica.barrientos@wyndham.vic.gov.au

 

 
Cost

Free