Address

150 Sunset Views Boulevard, Tarneit, VIC 3029

Phone

8734 1355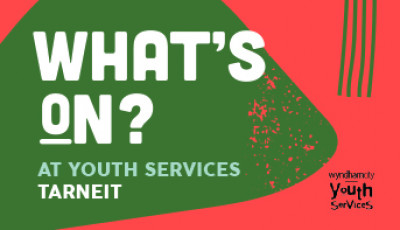 Wyndham City operates in line with all Public Health Orders. All Young People attending Youth Services facilities, events and programs aged 12 years and 2 months will need to check in via QR Code and provide proof that they are fully vaccinated against COVID-19 or provide a certified exemption before attending. This will be a condition of entry for all Council facilities and events. Masks are no longer mandatory to wear but can worn if it makes you feel more comfortable.
For further information visit: https://www.wyndham.vic.gov.au/youth
Wyndham City Youth Services is committed to ensuring that all young people have the opportunity to participate and engage in the social, economic and cultural life of the city.
Council also aims to ensure that all young people have access to and benefit from a range of educational, social, cultural, recreational activities and facilities. Council works actively with young people, schools, universities and community organisations.
Services and Programs
Youth Services @ Tarneit operates two drop in programs from the second week of every school term. The Drop In programs are held on Tuesday and Thursday nights from 3:30pm – 5:30pm. Come and hang out with friends for fun times. Enjoy a safe space to hang out, unwind and enjoy some snacks.
Youth Counselling
Face to face youth counselling is available from the Manor Lakes Youth Services.
No problem is too small to seek help for, and we encourage you to access our services whenever you feel the need.
We can offer you the following:
Up to 10 free individual counselling sessions, including for parents/carers
Up to 10 free family group counselling sessions
Connect you to specialists, including bulk billing (free) psychologist