Address

150 Sunset Views Boulevard, Tarneit, VIC 3029

Phone

8734 1355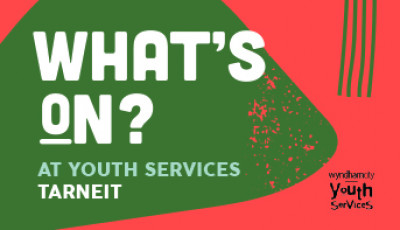 Due to Victoria entering a fourteen-day circuit breaker lockdown (Until 11.59pm on 10 June), all Youth Services programs/events have been moved to online or cancelled/postponed.
For further details call 8734 1355 or email YouthInWyndham@Wyndham.vic.gov.au
Wyndham City Youth Services is committed to ensuring that all young people have the opportunity to participate and engage in the social, economic and cultural life of the city.
Council also aims to ensure that all young people have access to and benefit from a range of educational, social, cultural, recreational activities and facilities. Council works actively with young people, schools, universities and community organisations.
Services and Programs
Youth Services @ Tarneit operates two drop in programs from the second week of every school term. The Drop In programs are held on Tuesday and Thursday nights from 3:30pm – 5:30pm. Come and hang out with friends for fun times. Enjoy a safe space to hang out, unwind and enjoy some snacks.