Open Hours: Monday to Friday from 9am-5pm.
Address

19 Communal Road, Wyndham Vale, 3024


Phone

8734 0288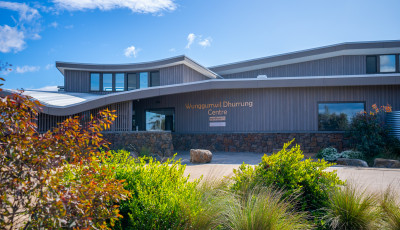 ACKNOWLEDGMENT OF COUNTRY 
We acknowledge the people of Wadawurrung as the Traditional Owners of the lands on which Wunggurrwil Dhurrung Centre is placed. In all our activities, may we pay respect to Elders of all Aboriginal communities, past, present and future.
We also acknowledge the Boonwurrung and Woiwurrung as the Traditional Owners of the land around the Werribee River and across Wyndham City.
We pay our deep respect to Ancestors and Elders of all Traditional Owners and give thanks to them in sharing country with us all.
Wunggurrwil Dhurrung Centre
Wunggurrwil Dhurrung Centre is a meeting place located in Wyndham Vale. It promotes a shared vision to recognise and celebrate Aboriginal perspective and history. The centre provides a culturally safe place, where people of all ages and experiences are welcome to gather, connect, learn and share. With a name steeped in meaning, Wunggurrwil Dhurrung means "strong heart" in Wadawurrung.
The first of its kind, this centre brings together Koling wada-ngal (Aboriginal Community Centre), Balim Balim kindergarten operated by One Tree Community Services, and a Neighbourhood Community Centre, Wyndham City Council.
Download the Wunggurrwil Dhurrung Centre Factsheet
To Subscribe to mailing list email  WunggurrwilDhurrung@wyndham.vic.gov.au)