Open Hours: Monday to Friday from 9am-5pm.
Address

153 Saltwater Promenade
Point Cook
VIC 3030
Phone

(03) 8376 5500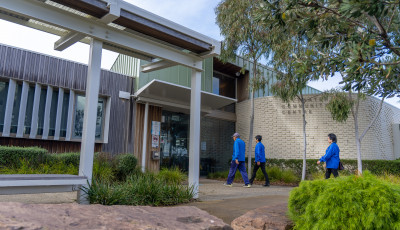 ESSENTIAL INFRASTRUCTURE WORKS: From 18 September 2023 until late February 2024/early 2024, Wyndham City is undertaking a series of upgrades to Saltwater Community Centre as part of Council's Building Asset Renewal Program.
Saltwater Kindergarten will continue to operate out of Saltwater Community Centre throughout the duration of works however, Maternal and Child Health consultations will be held at other nearby locations.
Works are being conducted in one room at a time to limit the disruption to Saltwater Community Centre's operations, however there will be brief disruptions to program timetables (1-2 weeks) due to room unavailability.
For more information on programs and services call (03) 8376 5504 or email Saltwatercc@wyndham.vic.gov.au  
Saltwater Community Centre supports the arts community, residents, community leaders, associations and groups to run exhibitions, workshops, shows, activities, programs and events for the wider neighbourhood to participate in. The centre aims to reflect the aspirations and strengths of the neighbourhood in the Saltwater area.
Hireable rooms and spaces are available at Saltwater Community Centre, with priority being given to community groups and organisations that meet the aspirations and needs of local communities. If you have a booking enquiry or an idea for a program, please contact our team on (03) 8776 5504 or saltwatercc@wyndham.vic.gov.au
Upcoming Events
Programs and Services

Art Workshops
Jobs Advocates
Mental health support groups
Playgroups
Parenting Group
Activities for people living with a disability
Tutoring classes
Dance and Fitness Classes
Arts and Crafts
Computer classes
Education and training
Youth programs
Seniors' groups and activities
Cultural groups
Faith-based groups and services
Community gatherings aiming to strengthen neighbourhoods

If you have an idea for a community program, project or event, please contact the Saltwater team to discuss.

For the latest information about programs and services, please download the Buzz Newsletter.
Room Hire

Saltwater Community Centre offers the following spaces for hire:

Community Room 1 – 50 seated | 70 standing
Community Room 2 – 50 seated | 70 standing
Meeting Room – 10 seated | 15 standing
Arts Studio - 15 seated
Amphitheatre - 100 seated
Lounge - 20 seated
Rooms are suitable for

The rooms are suitable for:

Classes
Meetings
Recreation activities
Social groups
Community events
Accessibility, Facilities and Equipment

Fully equipped kitchen
Tables and chairs
Built-in audio-visual equipment in Community Rooms
Outdoor BBQ area and community garden
Outdoor theatre and performance auditorium
Kiln
Exhibition Space
Sprung floor in community rooms
Public Wi-Fi
Baby Change Facilities
Accessible male and female toilets, adult hoist
Accessible car parking with level entry into centre
Access to portable hearing loop on request
Braille signage throughout the Centre
Make a booking
To view each of the rooms in the virtual tour, click on the name of the venue at the top left and then choose the required room from the drop down list.
On a desktop or laptop device, the tour will rotate automatically. On a touch screen device, swipe the image to rotate through the view. Use the controls at the bottom of the virtual tour to manually control the tour.