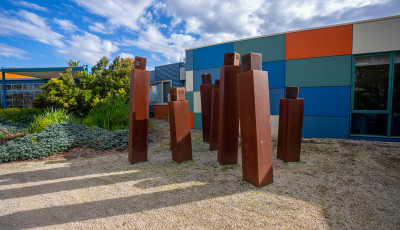 Quantin Binnah Community Centre Inc. provides a range of children's and community programs and activities to build and strengthen social and community networks within the Wyndham area.  The community centre is also home to a wonderful social enterprise in Café QB, a café providing hot drinks, homemade treat and light meals; encouraging social connection through craft activities and training opportunities to people with a disability.
Quantin Binnah Community Centre has rooms for hire which are suitable for meetings, workshops, community groups or training. For more information on room hire see below.
Quantin Binnah Community Centre Website
Quantin Binnah Community Centre Social Media
Upcoming Events
Room Hire

Chirnside Room: Max 100 people
Chaffey Room 1 & 2: Max 30 people
Peppercorn Room: Max 30 people
Accessibility, Facilities and Equipment

Full Disability Access
Baby Change Facilities
Trestle tables and chairs
Projectors in Chirnside & Chaffey
Kitchenette in Chaffey
Car park provided
Secure play space adjacent to Chirnside
Rooms are suitable for

These rooms are suitable for

Meetings
Workshops
Community Groups
Training
Finishing Time

Community Rooms may be available to hire during the following hours of a weekday 9.00am to 2.30pm and 7.00pm to 10.00pm

All functions must be completed by:

Monday - Thursday - 10pm sharp
Friday - Saturday - 11pm sharp
Sunday - 10pm sharp

Note: set up and pack up times are required to be within starting and finishing times
Make a booking
To view each of the rooms in the virtual tour, click on the name of the venue at the top left and then choose the required room from the drop down list.
On a desktop or laptop device, the tour will rotate automatically. On a touch screen device, swipe the image to rotate through the view. Use the controls at the bottom of the virtual tour to manually control the tour.