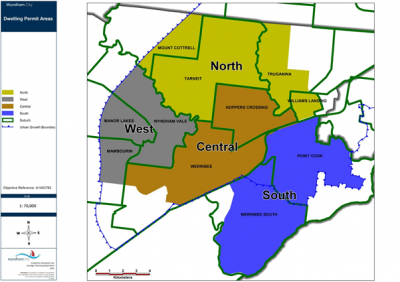 Building permits for 437 dwellings/units in Wyndham were issued in August 2018, as shown in the attached table and graphs.
Key Observations
The monthly number of dwellings/units is 437
The 3-month cumulative figure is 1170                         
The 6-month cumulative figure is 2515
The 12-month cumulative figure is 4924
Comments
The number of dwelling permits issued this August is lower than in 2017, but higher than 2016. The 12-month cumulative figure of 4,924 has decreased from 5,030 in July 2018.
In percentage terms, the August 2018 distribution of permits between the groupings of suburbs was as follows:
North 42% (Tarneit 20%, Truganina 16% and Williams Landing 6%)
West 17% (Wyndham Vale 14% and Manor Lakes 3%)
Central 17% (Werribee 16% and Hoppers Crossing 1%)
South 24% (Point Cook 24% and Werribee South 0%)
In comparing suburbs in Wyndham, Point Cook received the most building permits for dwellings (104) for this month. Tarneit (88), Truganina and Werribee (tied at 71) received the second and third largest numbers of building permits respectively. The northern (Tarneit, Truganina, Williams Landing) area of Wyndham has had the largest number of building permits to date in 2018 (1304).
Queries may be directed to Council's Strategic Planning Unit on (03) 9742 0777.
This information relies on data from Council's Building Services Department, WCC Proclaim Profiler Reports and analysis by Building Services and the Strategic Planning Unit.