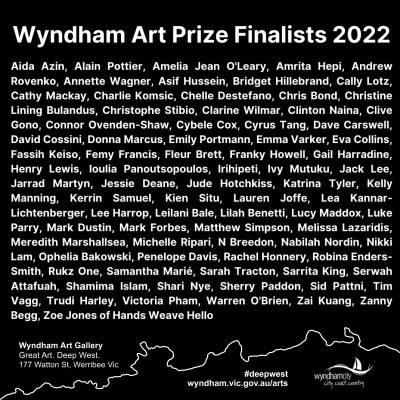 2 June - 7 August, 2022
The Wyndham Art Prize 2022 winners have been announced.
Congratulations to:
Wyndham Art Prize 2022 winner
Lilah Benetti with their photograph More Like a River (Portrait)
LEAP Award 2022 winner
Ivy Mutuku with her video The Way She Looks
People's Choice Award
Michelle Ripari with her drawing Solitary 
The Wyndham Art Prize, now in its eighth year, is Wyndham's annual art prize that has become known for its scale, inclusivity and contemporary nature.
In 2022, more than 400 artworks were entered by more than 360 artists. Once again, entries for the prize were of a very high calibre from both local and non-local artists. The shortlisting judges saw a variety of mediums including painting, drawing, printing, photography, sculpture and video, with a considerable growth in popularity for entering video works. The themes that stood out were responses to the pandemic and the exploration of gender, identity and place. Shortlisted entries are selected by the Wyndham Art Gallery curatorial team.
Gallery Curator Olivia Poloni says
"The breath of talent in this year's prize, as always, is inspiring. You could be forgiven to think that the last two years of a pandemic would see a negative effect on art making but this demonstrates the exact opposite. In the exhibition you will marvel at works that are moving and wonderous, taking you to far off places both real and imagined; feel proud by works that breathe a strong sense of cultural pride, and laugh out loud at works that imbue humour and wit".
All shortlisted entries are included in the Wyndham Art Prize exhibition which runs at Wyndham Art Gallery from Thursday 2 June to Sunday 7 August. This year, the exhibition will feature 84 shortlisted artworks, including traditional painting, meticulous print work and expressive gelatin silver prints, alongside futuristic computer-generated photography, evocative video and sculpture made from unconventional mediums.
The prize winners are selected by an external panel. For 2022 the judges are artist & curator Maree Clarke, artist Hayley Millar Baker and artist, writer & artistic director Andy Butler. The cash prizes for 2022 are the coveted Wyndham Art Prize of $15,000 (non-acquisitive) and the Local Emerging Art Prize of $5,000 (acquisitive).
The 2022 opening event includes the announcement of the prize winners as well as the launch of Wyndham Art Gallery's new book, DECADE 2011-2021 published through Black Ink Books. The event will be held 6.30-8.30pm, Thursday 2 June at Wyndham Cultural Centre. All entrants, art-lovers and community members are welcome to attend, free of charge.
Artist in Conversation
Thursday 30 June, 6 - 8pm
Artists: Femy Francis, Clive Gono, Melissa Lazaridis, Catherine Mackay, Conner Ovenden-Shaw
Come to the gallery to hear from five local artists who are finalists in the 2022 art prize. 
The Wyndham Art Prize finalists for 2022 are:
Aida Azin, Alain Pottier, Amelia Jean O'Leary, Amrita Hepi, Andrew Rovenko, Annette Wagner, Asif Hussein, Bridget Hillebrand, Cally Lotz, Cathy Mackay, Charlie Komsic, Chelle Destefano, Chris Bond, Christine Lining Bulandus, Christophe Stibio, Clarine Wilmar, Clinton Naina, Clive Gono, Connor Ovenden-Shaw, Cybele Cox, Cyrus Tang, Dave Carswell, David Cossini, Donna Marcus, Emily Portmann, Emma Varker, Eva Collins, Fassih Keiso, Femy Francis, Fleur Brett, Franky Howell, Gail Harradine, Ioulia Panoutsopoulos, Irihipeti Waretini, Ivy Mutuku, Jack Lee, Jarrad Martyn, Jessie Deane, Jude Hotchkiss, Katrina Tyler, Kelly Manning, Kerrin Samuel, Kien Situ, Lauren Joffe, Lea Kannar-Lichtenberger, Lee Harrop, Leilani Bale, Lilah Benetti, Lucy Maddox, Luke Parry, Mark Dustin, Mark Forbes, Matthew Simpson, Melissa Lazaridis, Meredith Marshallsea, Michelle Ripari, N Breedon, Nabilah Nordin, Nikki Lam, Ophelia Bakowski, Penelope Davis, Rachel Honnery, Robina Enders-Smith, Rukz One, Samantha Marié, Sarah Tracton, Sarrita King, Bernard Singleton, Serwah Attafuah, Shamima Islam, Shari Nye, Sherry Paddon, Sid Pattni, Tim Vagg, Trudi Harley, Victoria Pham, Warren O'Brien, Zai Kuang, Zanny Begg, Zoe Jones of Hands Weave Hello
Getting to the gallery

Wyndham Art Gallery is 33km from the Melbourne CBD and 43km from Geelong's CBD.

By Train
Wyndham Art Gallery is a 10 min walk from Werribee Train Station. Currently the V-line is no longer going through Werribee. The closest V-line station is Wyndham Vale, which is a 12 min drive away.

By Car
Wyndham Art Gallery is situated inside the Wyndham Cultural Centre at 177 Watton Street, Werribee. Parking is available on street , a 3hr lot next door to the Wyndham Cultural Centre and all-day parking at the end of the street.