Date
Time
Location

Werribee 3030
Organiser

Wyndham City – Events Team
Contact

9742 0777
Cost

FREE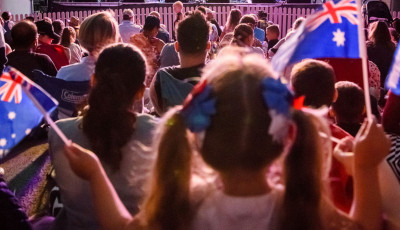 Wyndham City's free Australia Day program will be held in the heart of Werribee City Centre, with a great line up of family entertainment including live music, kids' activities, market stalls and a spectacular laser light show to light up Watton Street.
Grab a bite to eat from one of Werribee City Centre's cafes and restaurants or head down to the Street Food zone for a selection of food trucks. Enjoy the live stage program including a performance from our headline act BABBA.  
The program will also feature family movie - Red Dog, with picnics in the Pop Up Park welcome.
Please note this is an alcohol-free event.
Keep an eye out for local Salvation Army volunteers onsite from 6pm – 9pm raising funds for the Victorian Bushfire Appeal
Wyndham City acknowledges the peoples of the Kulin Nation as the Traditional Owners of the land and waterways on which Wyndham is being built. We pay respects to their elders, past and present.
Note: Fireworks have been replaced by a laser light show, as a sign of respect in response to the bushfires currently devastating parts of Victoria, and Australia more broadly.
Program

LIVE MUSIC

5pm: The Consummators

Dishing out classic tunes and party favourites!

6.15pm: Mitch King

Sweet combinations of electrified, inventive and acoustic music, a unique kind of sound.

7.30pm: Werribee Concert Band
Symphonic wind ensemble of woodwind, brass and percussion instruments.

8.30pm: BABBA
A journey through time to when Dancing Queens ruled – Australia's No 1 ABBA Tribute Band!

Catch The Consummatorsthroughout the night serving up your party classics and favourite pop tunes!

OUTDOOR CINEMA

5.05pm: Peace Choir Project (Wyndham CEC)

Community Choir led by Dr Jonathon Welch AM.

5.35pm: RED DOG

This is a story of a legendary, lovable red dog who roamed the Australian outback looking for his original master, finding his way into the hearts of everyone he meets, bringing people and communities together.

7.30pm: Australian Open – 4th Singles Round

*Program subject to change
FAQ's

What to Bring:  A hat, sunscreen, jacket and a poncho for inclement weather should be considered. Please note there is limited covered and shaded areas – so come prepared for rain or shine. 

Children ID Wristbands: Children's ID wristbands can be collected from the Information Marquee. In the event of a lost child, the Event Staff will contact the number on the wristband.

Laser Light Show:  The laser light show will begin at approx 9.30pm.  For the safety and enjoyment of all patrons, please follow the instructions of event or security staff when required.

Supervision: Children must be supervised by a parent/guardian at all times during the event.

Food: You are welcome to bring your own food and drinks (no alcohol) into the event. A variety of hot and cold food items and drinks will also be available for purchase on the day from our range of cafes and restaurants in Watton St or any of our Food Trucks.

Alcohol: This is a family friendly event and therefore alcohol is not permitted.

Street closures: To enable the safe set up and operation of the event, road closures will be in place on Sunday 26 January from 7am until approximately 1am on Monday 27 Januaryat the following locations:

Watton Street – between Bridge Street and Comben Drive (Cherry Street end), Werribee
Duncans Road – between Synnot Street, across Watton Street through to Station Place, Werribee

Parking and traffic: Parking is available for FREE and is only a short walk to the event site. Traffic Management will be in place to keep traffic moving as best as possible – however due to the popularity of this event, some delays are expected and we appreciate your patience.   Carpark suggestions are as follows:

West End Car Park: Corner of Werribee and Synnot Street, opposite Hungry Jacks
Cherry St Car Park: Access via Kelly Street
Riverbend Car Park: Barnes Place, access via Comben Drive

Valuables: Do not leave valuables in cars or unattended at the event. 

Public transport: The event is located next to Werribee Train Station, making it easy to get there via train or bus.  Check the timetable here: https://www.ptv.vic.gov.au/
Sponsors

Support Sponsor

Interested in sponsorship?

Wyndham City is home to some of the most vibrant events in the West, and part of a diverse events calendar that keeps the coast, country and the city buzzing with life for every season.

With our large and loyal community, supporting local events provides invaluable marketing opportunities that have a proven capability to increase business stimulation and perception.

To celebrate our community's diversity, Wyndham City Council's Events team dedicate themselves to producing unique and engaging events that appeal to the broader community. We welcome all expressions of interest from businesses who wish to get involved with these events and utilise this unique platform to express their own brands.

We can offer a range of marketing and sales opportunities throughout our Event Season to maximise your partnership, with one of our set packages or a tailored package designed to suit your business needs.

For more information please contact the Events team on 9742 0902 or events@wyndham.vic.gov.au
Conditions of Entry

Wyndham City Council hosts the Australia Day in Wyndham event for the benefit of the community.  Attendees must comply with the Conditions of Entry below so that everyone can enjoy the event in safety and comfort.

Alcohol

Alcohol is not permitted at Australia Day in Wyndham, except at licenced venues.

Photography/Filming

Live streaming or broadcasting of events and/or activities held at Australia Day in Wyndham is not permitted.  Commercial photography is not permitted without prior permission from Council.

Children

Children must be supervised by a parent or guardian at all times.

Advertising and the sale or hire of Goods

Attendees are not permitted to sell or offer for sale or hire any items, nor to distribute handbills, pamphlets, notices or other advertising materials, without prior permission from Council.

Anti-social behaviour

Anti-social behaviour is prohibited.  Australia Day in Wyndham is meant to be family friendly, safe and comfortable for all attendees.  Council requires that attendees behave in a safe, responsible and courteous manner at all times.

Free activities

Many of the free activities offered at Australia Day in Wyndham are run by third parties.  Council makes no guarantee about an activity's quality or suitability for attendees.  Attendees are responsible for deciding whether an activity is suitable for them and/or their children to participate in.

Be SunSmart

It is recommended that attendees take proper SunSmart precautions during Australia Day in Wyndham, including using sunscreen, wearing a hat and drinking adequate water.

Property

Attendees are responsible for all personal property taken to Australia Day in Wyndham and must not leave their property unattended.  Council reserves the right to remove any property left unattended at Australia Day in Wyndham.

Consent in relation to images and photographs

By entering Australia Day in Wyndham, attendees consent to the capturing and publishing of their image in authorised promotional photos and videos in whatever format and forum Council chooses.

Directions

Attendees must follow any reasonable direction given by a Council officer, authorised Event Security Personnel or Police.

Cancellation and/or modification of events and activities

Council reserves the right to cancel and/or modify the Australia Day in Wyndham event.

Failure to Comply with Conditions of Entry

Failure to comply may result in an attendee being removed from Australia Day in Wyndham and refused re-entry to the event and/or future events.

Changes to these conditions

Council reserves the right to change these Conditions of Entry at any time.

Disclaimer

Attendance at and/or participation in activities at Australia Day in Wyndham is entirely at the risk of attendees.  To the extent permitted by law, Council accepts no liability for any claim for loss, harm, damage, costs or expenses which may arise as a consequence of any such attendance and participation at Australia Day in Wyndham.