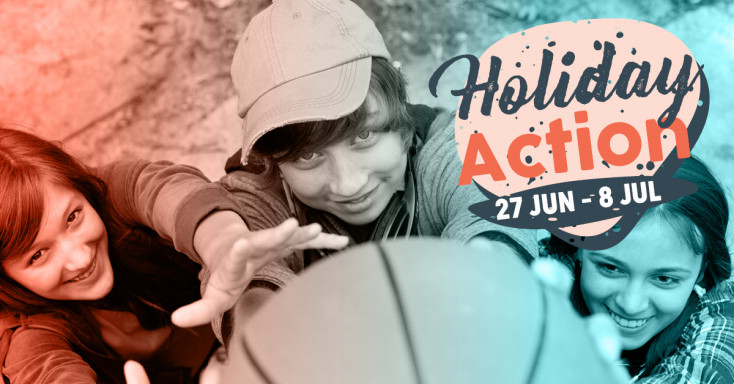 Wyndham City Youth Services is excited to be hosting an awesome Holiday Action program for the June/July 2022 school holidays.
This is a great opportunity for young people to try an activity that they might not have done before. Emphasis is placed on fun and having a go.
The June/July 2022 Holiday Action Program is running from Monday 27 June to Friday 8 July 2022 and is for young people aged 12-15 years.
Please download the registration form and send the completed form to holidayactionenquiries@wyndham.vic.gov.au or hand in to the Youth Resource Centre.
Cost: 
Youth Resource Centre (YRC) Days are $9
Excursion days are $15 or $11 concession
NOTE: Enrolments open Friday 10 June and the registration form will be available to download from that date.
Enrol for June/July Holiday Program
Week one enrolments close on 24 June 2022
Week two enrolments close on 1 July 2022
 

Date

Activity

Time

Cost

Week 1

Monday
27 June

Mario Kart & Around the World (Basket Ball) Comp
Youth Resource Centre Day
Come hang our and show us your best skills at Mario Kart - there will prizes for the winners!
Lunch: Food, snacks and drinks will be provided..

10am – 3pm

$9

 

Tuesday
28 June

IFly Excursion
If you don't want to jump out of a plane for fun, do it indoors!
Pick up and drop off @ YRC
Meet @ Youth Resource Centre 11am
Lunch: BYO lunch or bring money to buy lunch.

11am - 5pm

$15 
$11 Concession

 

Wednesday
29 June

Tik Toc Creations
Youth Resource Centre Day
Bring your best social media skills and create a video that could win you a prize!
Lunch: Will be provided.

10am – 3pm

$9

 

Thursday
30 June

Treasure Hunt
Youth Resource Centre Day
Find the treasure and win a prize!
Lunch: Will be provided.

 10am - 3pm

$9

 

Friday
1 July

Sovereign Hill Excursion
Pick up and drop off @ YRC
Meet @ Youth Resource Centre 11:30am
Lunch: BYO lunch or bring money to buy lunch.

 11:30am - 9pm    

$15 
$11 Concession

Week 2

Monday
4 July

Strike Bowling & Escape Room Excursion
Come and escape the room together and get some strikes at bowling.
Lunch: BYO lunch or bring money to buy lunch.

10am - 4pm

$15 
$11 Concession

 

Tuesday
5 July

Movie Day & Board Games
Youth Resource Centre Day
Pick a movie and play some board games chill out.
Lunch: Will be provided

10am - 4pm

$9

 

Wednesday
6 July

BOUNCE @ Essendon Fields
Excursion
Pick up and drop off @ YRC
Meet @ Youth Resource Centre 11am
Bounce your energy out… show us your skills!
Lunch: BYO lunch or bring money to buy lunch.

11am - 4pm

$15 
$11 Concession

 

Thursday
7 July

CREATE - Painting & Movie
Youth Resource Centre Day
Come and do some painting, have some food and watch a movie.
Lunch: Will be provided.

10am - 3pm

$9

 

Friday
8 July

IMAX Excursion
Meet @ Youth Resource Centre 10am
86 Derrimut Road, Hoppers Crossing
Lunch: BYO lunch or bring money to buy lunch.

10am - 5pm

$15 
$11 Concession
You can email any Holiday Action queries to holidayactionenquiries@wyndham.vic.gov.au
Date and time

-
Online

No
Location

86 Derrimut Road,
Hoppers Crossing
VIC 3029
Organiser

Wyndham City Youth Services
Contact
Cost

Youth Resource Centre (YRC) Days are $9
Excursion days are $15 or $11 concession