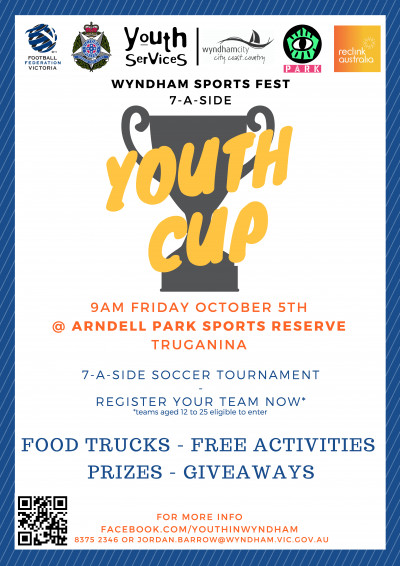 Wyndham City Youth Services, in partnership with Football Federation Victoria, will run its very first Youth Cup. The one day tournament is open for young people aged 12 to 25 to register their team of 7 and battle it out for top spot to take home the trophy.
Event Details:
Date/Time: Friday 5 October - 9am
Location: Arndell Park Reserve, 29 - 49 Federation Blvd Truganina
Registration fee: $5 per player - payable on the day
Terms and Conditions
Wyndham Sports Fest Youth Cup is for ages 12 to 25 and registration opens as soon as the site is live and closes on Friday 28th of September 2018.
Game times and group stages will be announced via email one week prior to game day.
Teams will be grouped according to age.
If you have any questions regarding the competition please contact Jordan on 8375 2346 or email Jordan.barrow@wyndham.vic.gov.au