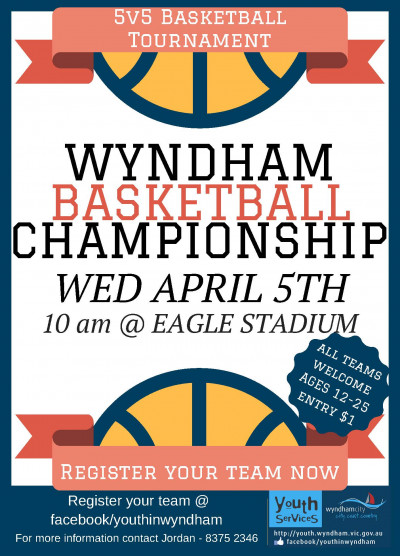 The upcoming Wyndham Basketball Championship for young people aged 12 to 25 will be held on April 5.
Wyndham Basketball Championship is a 5-on-5 tournament with prizes and trophies to be won by the best teams and players on the day.
Submit your team of 5 (with a max. of 2 substitutions) to battle it out with other teams in Wyndham for your shot at taking out the competition!
Terms & Conditions
Basketball comp is for ages 12 to 25 and registration opens Feb 9th and closes on Friday 24th of March 2017.
Game times and group stages will be announced via email and on our Youth in Wyndham Facebook page Tuesday 2nd and on the day of the competition.
Teams will be grouped according to age.
Changes to Regular 5-on-5 Rules
All regular 5 on 5 rules and regulations apply for Wyndham Basketball Championship with exception to the following:
Each match will consist of two 5 minute halves
A limit of 5 team fouls per team per game before free-throws are given
Substitutions can be made once per half
No time-out's permitted
Game clock will not stop for any interruption of play with exception to injury
Incident and Injury & Emergency Management Statement

Incident and Injury

I understand that any sports I participate in may result in minor/medium or serious injury to me and/or others, as well as damage to property. I am aware that risks are involved when undertaking these activities as a competitor,

I hereby voluntarily assume any and all such risks of loss, injury and/or damage while on these premises; releasing the organisers of this event from any claims, liability, expenses and/or damages which may arise out of, or are in any way connected to my participation in this competition.

I acknowledge the fact that I am surrendering my ability to sue or exercise any legal right to seek damages or legal compensation from the organisers of this event and all other persons and entities acting on their behalf.

Emergency Management

I give my consent and permission to the organisers of this event to obtain on my behalf any emergency medical treatment in case of accident, injury or sickness, and to do so at my expense.
Privacy Collection Statement

Your personal information is being collected by Wyndham Youth Services for the Event listed.

Your contact details will be used by the Event organisers and stored in Council's Customer Database for the purpose of collection of program statistics and emergency contact details if required on the day.