Date
Time
Location

49 Watton Street
Werribee
VIC 3030
Organiser

Stephanie Payne (Unstrung Music)
Contact
Cost

$140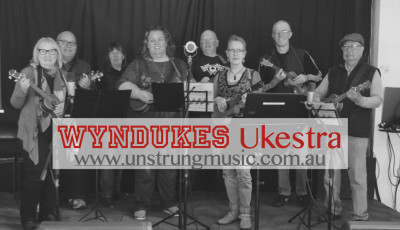 Wyndukes Ukestra - Contemporary Ukulele group
Wyndukes ensemble plays Ukestrated popular songs, meaning there are multiple ukulele and vocal parts on each song. New members very welcome - all levels! This is a really fun, ongoing group
Practice materials provided.
Thursdays 7-8:30pm
Dates: February 7, 14, 21, 28, March 7, 14, 21, 28, April 4, 11 (which is 10 weeks - I'm giving you a bonus one!)
Cost: $140 for 9 weeks
Bookings: https://www.eventbrite.com.au/e/wyndukes-ukestra-contemporary-ukulele-e…
Venue: Wyndham Arts Incubator - Old Shire Offices Room 4. Corner of Watton St and Duncans Rd, Werribee.
Preview:  https://soundcloud.com/stephabee/dreams-ukestra-1
More info: www.unstrungmusic.com.au or unstrungmusic@gmail.com,
www.facebook.com/wyndukes (see our videos there!)