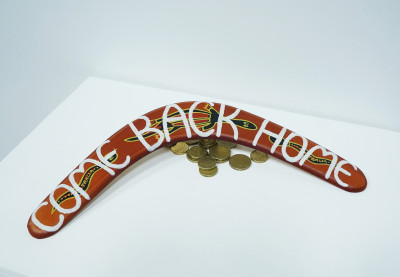 Now in its seventh year, this annual contemporary art prize attracts entries from some of the best artists across Australia and offers a chance for local and emerging artists to exhibit alongside them.
Join us on the night to immerse yourself in art, catch up with fellow art lovers and celebrate in style the Wyndham Art Gallery's first opening since COVID-19!
On the night the major prize winner, winner of the LEAP Acquisitive, and the recipient of the new TREAT commission will be announced, and you'll be able to cast your vote for this year's People's Choice Award sponsored by Arts Assist. 
The event will open with a Smoking Ceremony and Acknowledgement of Country, and after the winners are announced there will be an all-out celebration with sumptuous food, drinks and DJ to enjoy while you view the art and socialise. We encourage you to bring a friend and make a night of it! 
Congratulations to this year's finalists!
Nicholas Aloisio-Shearer, Fae Ballingall, Elaine Batton, Ashlee Becks, Tanya Beehre, Lynn Berry & Margaret Knight, Peter Burke, Fiona Cabassi, Ann Capling, Yu Fang Chi, Glen Clarke, Muthi.Tidda, Madison Connors, Sal Cooper, Jenna Corcoran, Payel Dasgupta, Yask Desai, Emily Dober, Alice Duncan, Merrin Eirth, Pony Express (Ian Sinclair and Loren Kronemyer), Liss Fenwick, Sai-Wai Foo, Katherine Gailer (AKA Katira), maddison gibbs, Brad Gunn, Safak Gurboga, Anni Hagberg, Aisha Hara, Gail Harradine, Sammy Hawker, Angela Hickey, Chris Humphries, Suresh Jeanel, Tracey Jones, Ayman Kaake, Duain Kelaart, Dominika Keller, Marketa Kemp, Soyoun Kim, Zai Kuang, Jo Lane, Julee Latimer, Ryan Andrew Lee, Janet Leith, Xiang Li, Cally Lotz, Kera Lukies, Catherine Mackay, Jasmine Mansbridge, Bethany Mansfield, John Mashar, Donna Marcus, John Mathet, Cathy Yarwood-Mahy, Liza McCosh, Kirsty McIntyre, Amy Meng, Nunzio Miano, Eva Nolan, brenda page, Raj Panda, Kirsten Perry, Mu Naw Poe, Shirley Ploog, Lorna Quinn, Jack Danger, Jaymi Rowarth, Carol Rowlands, Natalie Ryan, Pip Ryan, Johny Salama, Arun Kumar Sharma, Lily Soga, Linda Sok, Paul Snell, Shuklay Tahpo, Jill Velinos, Danny Lee, Simon Welsh, Sally West, Timothy White, Gideon Wilonja
Getting to the Gallery:
Wyndham Art Gallery is 33km from the Melbourne CBD and 43km from Geelong's CBD.
By Train
Wyndham Art Gallery is a 10 min walk from Werribee Train Station. Currently the V-line is no longer going through Werribee. The closest V-line station is Wyndham Vale, which is a 12 min drive away.
By Car
Wyndham Art Gallery is situated inside the Wyndham Cultural Centre at 177 Watton Street, Werribee. Parking is available on street , a 3hr lot next door to the Wyndham Cultural Centre and all-day parking at the end of the street. 
Image credit: Wyndham Art Prize 2020 Winner: Amala Groom – Copywrong, 2018
Date and time
Online

No
Location

177 Watton Street
Werribee
VIC 3030
Organiser

Wyndham Cultural Centre
Contact
Cost

FREE