Date
Time
Location

Youth Services @ Point Cook, Level 1 - Building C, Main Street, Point Cook Town Centre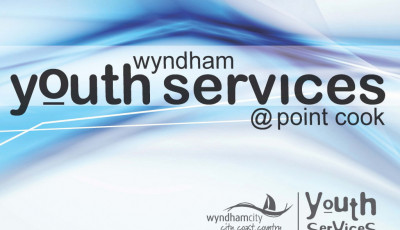 Visit our Youth Services office on Level 1 of Point Cook Town Centre.  You'll find our friendly staff, a free internet café, a cool hang out space, after-school programs, youth committee and support services such as counselling or mentoring.  You can drop in anytime from 9am – 6pm on weekdays to speak with a youth worker.  
Programs include weekly after-school programs, support programs, excursions, holiday programs, events, youth committees, counselling and mentoring.
The Point Cook Youth Centre is open weekdays 9am - 6pm (Excluding public holidays).
Urban Vibes Program

Hang Out - Dance - Arts and More!

A cultural arts program focusing on music, dance, crafts, food and visual arts for young people aged 12-25 years.

Date/Time: Monday's 27 February to 27 February, 3.30pm to 5.30pm (No program on public holiday - 13 March)
Girls Night

A girls only program with centre-based activities and excursions.   The program is a great opportunity to try something different, chill out, have a bite to eat and meet some new friends. 

For young peoples aged 12-17 years. (All genders welcome)

Weird Science Experiments
Tuesday 21 February 3:30pm - 5:30pm
Have a fun afternoon weird science experiments like magnetic slime, galaxy slime, lava lamps and crystals.
Movie Night
Tuesday 28 February 3:30pm - 5:30pm
Enjoy a fun night watching a latest release movie and have a go at the colouring station.
DIY Craft
Tuesday 7 March
3:30pm - 5:30pm
Come along and make a craft item for you to take home.
FIELD TRIP - venue to be advised.
Tuesday 14 March
3:30pm - 5:30pm
Get out of the centre on our field trip (venue to be advised).
Jewellery Making
Tuesday 21 March
3:30pm - 5:30pm
Learn how to make jewellery creations such as bracelets, necklaces and rings.
EXCURSION:
Dinner @ Lazy Moes
Tuesday 28 March
Times to be confirmed
It's the end of term, enjoy a night out with the girls to dinner @ Lazy Moes.
Point Cook Drop In

Come and hang out with friends, play pool, table-tennis, PS4, eat some food and spend some time at our Wednesday Drop-in.

Our space is open every week during the school term from 3:30pm to 5:30pm.  For ages 12-17 years.

Date/Time: Wednesday's - 22 February to 29 March (3.30pm to 5.30pm)
Workshop Wednesdays

Come along to Featherbrook Community Centre - 33 Windorah Dv, Point Cook on a Wednesday and work on a project that you can take home when it's done!

Date/Time: Wednesday's - 22 February to 29 March (3.30pm to 5.30pm)
Point Cook Prime Force Youth Committee

Have a say in what's happening for young people in Point Cook.  Are you interested in developing leadership skills? 

Get involved, represent and advocate for young people!  For young people aged 15-25 years.

Date/Time: Thursday's - 23 February to 30 March (3.30pm to 5.30pm)