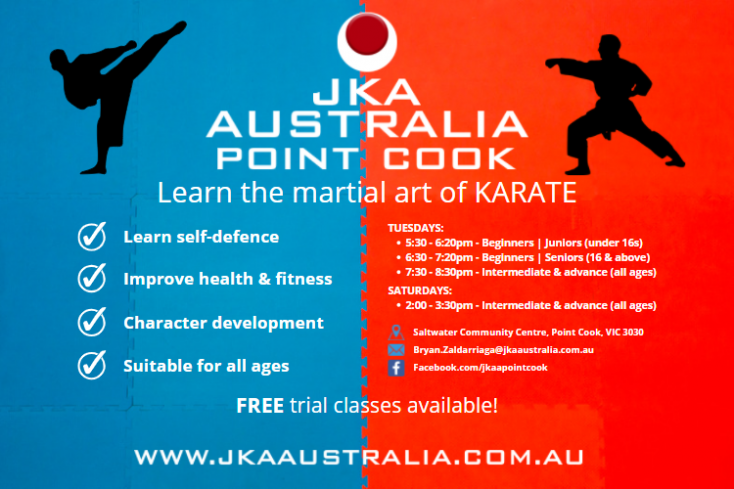 We are a branch of the Japan Karate Association (JKA) Australia Inc. (JKAA). JKAA is a not-for-profit organisation with karate 'dojos'/branches throughout Australia. JKAA is also a member organisation of the Japan Karate Association - one of the largest and most prestigious single-style karate organisations in the world, based in Tokyo, Japan. JKAA instructors are all accredited by the JKA headquarters. We teach and train JKA Shotokan-style karate. Karate training is a fantastic way to learn self-defence techniques, improve health & fitness and promote character development. Karate is suitable for all ages and we have classes to suit varying ages and skill levels. We offer 2 free trial lessons for you to try us out and to help you decide whether we are right for you.
Our class schedules for 2022 are: TUESDAYS: 5:30-6:20pm | Beginners - Juniors (under 16s) 6:30-7:20pm | Beginners - Seniors (16yrs and above) 7:30-8:30pm | Intermediate & Advance (all ages) SATURDAYS: 2:00-3:30pm | Intermediate & Advance (all ages) (beginners may attend by invitation or upon request) Our instructors have current Working With Children Checks and first-aid qualifications. As a member of JKAA, you will also have access to national insurance coverage.
If you are interested in starting your trial lessons, please contact Bryan at bryan.zaldarriaga@jkaaustralia.com.au or via Facebook - www.facebook.com/jkaapointcook To find out more about JKAA, please visit www.jkaaustralia.com.au
Date and time

weekly on Tuesday

Upcoming events:
Online

No
Location

153 Saltwater Promenade
Point Cook
VIC 3030
Organiser

Bryan Zaldarriaga
Cost

2 Free trial lessons Membership and class fees apply. Please contact us to enquire about costs.