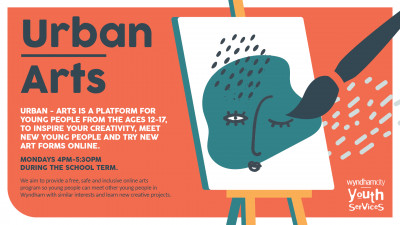 We are back! Urban Arts will be running from the Youth Space. Registrations are a MUST!
Urban Arts is a program for young people from the ages of 12–17 to come together, meet new people, try new art forms and ways to be creative!
Join us for Term 4 and help us create a program that lets you try new things, or master skills you have already have. Each session will have both a Group Activity option and Individual "Challenge by Choice" option. "Challenge by Choice" means you choose your own creative adventure, having choice around what you do and the complexity of the art form or craft you want to try!
This term we will be looking at a range of different ways to express ourselves, our identify and culture and our interests through art, cooking, dance and more!
Young people aged 16 and over will be required to show their vaccine certificate or certified medical exemption, so please make sure you have it with you!
Term 4 Program – Every Monday from 3:30pm – 5:30pm
15 November – Group Activity: Virtual Window, Individual Activity: Challenge by Choice
22 November – Group Activity: Paint pour, Individual Activity: Challenge By Choice
29 November – Group Activity: Tie Dye, Individual Activity: Challenge by Choice
6 December – Group Activity: Zen Bottles, Individual Activity: Challenge by Choice
13 December – Group Activity: Cultural Celebration Cookie Decoration, Individual Activity: Challenge by Choice
Each young person needs to complete a registration form. Please follow this link to register your interest: https://youthwyndham.com/pgm-reg
For further details please call Youth Services on 8375 2346 or email YouthInWyndham@wyndham.vic.gov.au
Date and time

weekly on Monday

Upcoming events:
Online

No
Location

86 Manor Lakes Blvd
Manor Lakes
VIC 3030
Organiser

Sarah - Youth Services
Contact

8734 1355
YouthInWyndham@wyndham.vic.gov.au
Cost

Free