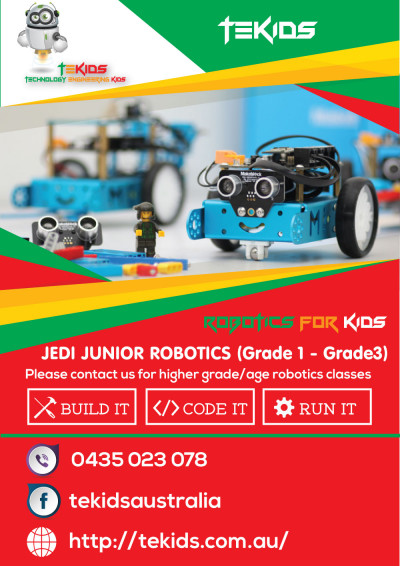 A new experience that will spark your child's interest in STEM, build skills for the future and be a ton of fun? Don't miss the Robotics and Science programs at TEKids! Your son or daughter will have a blast exploring real-world challenges using robotics to investigate possible solutions. Our Robotics and Science programs offer fun, hands-on experiences that get the kids excited about the world around them.
Get ready to inspire an early love for STEM! With our Robotics and Science programs, your child will:
Enjoy exciting projects that use 21st century skills Each session, there's a new challenge to solve, a new experiment to conduct and a new robot to build. Our projects encourage problem solving and collaboration — skills that will give your child an edge in school and careers.
Build confidence with STEM Your child can expect a small class size and personal attention. We've intentionally created a supportive learning environment that encourages creativity, exploration and hands-on problem solving.
Explore essential science concepts Our unique STEM curriculum aligns with Next Generation Science Standards, so what your child learns in our STEM classes will make an impact at school. • Have a blast with hands-on challenges The kids are always challenged and having fun, whether they're programming LEGO® models to follow commands or experimenting with everyday materials to solve real-world problems. And our teachers are right there to spark your child's curiosity.
Get excited about STEM at a young age Your child may explore topics ranging from the effects of friction on cars, to how electricity is conducted. We love finding topics that encourage curiosity and get your child psyched about STEM.
This is STEM at its best! To purchase tickets please follow link below: https://www.tekids.com.au/schedule/ LEGO® and LEGO EDUCATION® logo are trademarks of the LEGO®
Date and time

weekly on Saturday

Upcoming events:
Online

No
Location

153 Saltwater Promenade
Point Cook
VIC 3030
Location

Point Cook Community Learning Centre
Organiser

TEKids - Technology Engineering for kids
Contact

Phone: 0435 023 078 Email : contact@tekids.com.au
Cost

FREE trial class