Date
Time
Location

80 Derrimut Road,
Hoppers Crossing
VIC 3029
Organiser

Wyndham City
Contact

8734 5416
wynnovation@wyndham.vic.gov.au
Cost

Early bird tickets- $30.00pp + booking fee (early bird offer ends Friday 20th December 2019)

Standard tickets- $50.00pp + booking fee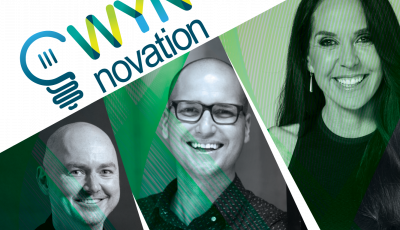 The annual WYNnovation Summit provides an opportunity to network with your fellow business owners and leaders whilst hearing from some incredibly successful keynote speakers.
A jam-packed event schedule awaits including keynotes from some of the best in the business including Janine Allis, Matt Jones and Michael McQueen.
We'll also hear what's happening locally with some of Wyndham's very own success stories and you'll have the opportunity to take a stroll through the interactive displays during the breaks.
Be sure to take advantage of the early bird offer to save on the cost of your ticket and bring along your fellow business owners and staff members!
JANINE ALLIS - Founder and Director of Boost Juice and Shark Tank Investor & Mentor.

'Boost your Business'

Janine is not your everyday self-made businesswoman. She grew her juice and smoothie empire in 2000 from her kitchen bench, to an international success story. Boost Juice Bars are now in 14 countries with three new brands of Salsas Fresh Mex Grill and Cibo espresso and Betty's Burgers totaling over 600 stores.

But her path has been anything but ordinary.

'I've had no formal business training, just a simple common-sense approach to business. I did not know what the traditional path looked like so I made it up along the way" she admits.

For most people, the formula for achieving success in life is to study hard, get good grades, get into a good business school or university and work your way up the ladder…. Janine's way was to work 3 jobs so that she could fulfil her dream of travelling the world and let life take her on a journey. This journey took Janine around the world where she took on roles from a nanny in a little village in France to working for rock and movie stars on a yacht in the South of France and the Caribbean.

She has a great passion and love for business which has translated from inception into sales of over 2 billion dollars globally.

Janine's business approach has made her a leader in her field, with BRW listing Janine as one of the top 15 people who have changed the way business is done in the last 25 years.

Janine is now sharing her knowledge with others, including through her role as a 'Shark' and mentor on Channel Ten's Shark Tank. Her latest adventure has been as a champion contender on Channel 10's Australian Survivor.

Apart from her Directorship with Retail Zoo, Janine is a Director on the publicly listed Michael Hill Jewellers, and was the first female director on the board of the Hawthorn Football Club.

She is also the best-selling author of 'The Accidental Entrepreneur, which is the story of Janine's journey with Boost Juice and podcast co-host on Superwomen We Ain't.

Janine's philosophy is simple- if she can do it, anyone can.
MATT JONES - Co-founder Four Pillars Gin

'Brand is Bias: How to build a brand in a world controlled by the customer'

Matt Jones is one of Australia's leading strategists and storytellers when it comes to the intersections of brand, business, leadership, experience, culture, technology, human behaviour and storytelling.

In December 2013, Matt was one of three founders to launch Four Pillars Gin which quickly went on to be the number one selling craft spirit in Australia. Four Pillars Gin is an overnight success story five years in the making.

Matt has an eclectic background, combining economics, politics, brand experience and gin.

As the brand brains behind Four Pillars, Matt Jones connects the dots between brand and purpose theory and gritty business and delivery reality.

His storytelling is insightful, engaging, energising and (perhaps most importantly) highly relatable to all kinds of business.

Between 2006 and 2012, Matt became one of the world's most influential thinkers in the emerging world of brand experience, helping brands like IBM, Microsoft, Qantas, Sony, Samsung and Volkswagen navigate their way in a new era of socially-connected consumers and experience-led
MICHAEL MCQUEEN - Multi Award winning speaker, trend forecaster and best-selling author.

'Preparing now for what's next: How to bullet proof your business model in turbulent times.

Michael McQueen is a multi-award-winning speaker, trend forecaster and best-selling author of eight books.

Michael is a regular commentator on TV and radio with his work featuring in publications ranging from the UK Daily Mail to Medium.com and the Huffington Post. In addition, Michael is a familiar face on the international conference circuit having shared the stage with the likes of Bill Gates, Dr John Maxwell and Apple co-founder Steve Wozniak.

Having been recently named Australia's Keynote Speaker of the Year, Michael was inducted into the Professional Speakers Hall of Fame. He has spoken to over 500,000 people across 5 continents since 2004, and is known for his engaging, entertaining and practical conference presentations. With clients including KPMG, Pepsi and Cisco, he has helped some of the world's most successful brands navigate disruption and maintain momentum.