Date
Time
Location

Boardwalk Boulevard Wetlands, corner of Boardwalk Boulevard and Central Park Avenue, Point Cook.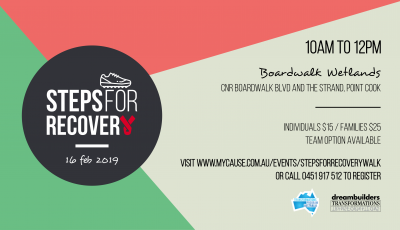 The Steps for Recovery Walk is national event organised by Transformations Australia which gives an opportunity for the community to come together to support each other, to bring awareness to the heartbreaking causes of addiction and to bring honour to those that are on the hardest but most rewarding journey of their lives.  
The Melbourne walk is held at the Cheetham Wetlands in Point Cook and is followed by a BBQ fundraiser, games and fun in the Park provided by Reclink. It's a time of reflection and joy.  Coffee will be available for purchase.  The walk is all access friendly.