Date
Time
Location

Victoria State Rose Garden, K Road, Access via Gate 2, Werribee South
Organiser

Wyndham City - Events Team
Contact

9742 0777
Cost

FREE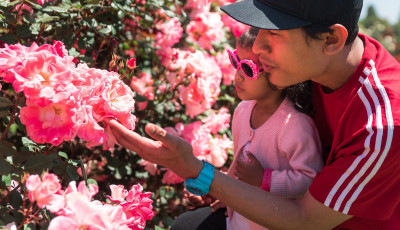 Spring has arrived and the glorious roses at the State Rose Garden are in full bloom, it is the perfect time to explore the garden and discover over 5,000 roses in the grounds. This free event will take place over one huge weekend on Saturday 10 and Sunday 11 November at the Victorian State Rose Garden.
There will be a variety of garden specialist exhibitors as well as a stage featuring gardening experts including respected rose specialist and In The Garden's (Channel 9) Kim Syrus, The Gardenettes - Chloe Thomson and Melissa King (also from The Garden Guru) and SBS's plant and produce guru Vasili Kanidiadis with the latest tips and advice on getting your garden into perfect shape.
Relax in the garden and enjoy live music with a variety of food trucks onsite and even a Prosecco Garden! So pack your picnic rug and make a day of it all amongst the stunning roses.
Thanks to the passion and hard work of local volunteers, the Victoria State Rose Garden has become a must-see destination for garden and outdoor lovers. This year, to support the wonderful work of garden volunteers, visitors are invited to make a gold coin donation at the event.
What's On

Garden Tours

Enjoy a guided tour of the Victorian State Rose Garden hosted by the volunteers who know the garden best.

Tour times: 11am, 12noon, 1pm and 2pm

All Green Nursery Stage

SATURDAY 10 NOVEMBER

10.30am

Welcome of Country

10.45am

Mayoral Welcome

11.00am

Victoria State Rose Garden Supporters

11.45am

Kim Syrus

Easy Rose Growing & Creating a Rose

12.45pm

Vasili

Planting & pruning

1.15pm

Jason Lance

Rare and unusual cacti

1.45pm

The Gardenettes

2.30pm

Dianna Sargeant

All About Roses!

3.15pm

Craig Castree

Edible Gardens

SUNDAY 11 NOVEMBER

 

11.00am

Minute Silence

Remembrance Day

11.05am

Dianna Sargeant

All About Roses

11.45am

The Gardenettes

12.30pm

Vasili

Fruit & vegetables and building new compost beds

1.00pm

Craig Castree

Edible Gardens

1.45pm

Kim Syrus

Rose Pruning for Success & Fabulous Fragrant Roses

2.30pm

Olive Green

Air Purifying Indoor Plants

3.15pm

Victoria State Rose Garden Volunteers
Exhibitor and Food Vendor Applications

Applications for the State Rose & Garden Show 2018 have now closed. For more information or to register your interest for future events please contact the Wyndham City Events team on events@wyndham.vic.gov.au or 9742 0902

 
Sponsors

 

 

 
Activities

Check back here regularly for updated details on this year's event activities.
FAQs

Tickets: This event is a FREE event, no ticket is required.
Food:There is plenty of delicious food and beverages for purchase in the garden however you are welcome to bring along a picnic.
Water: A water trailer will be available for fresh drinking water throughout the event.
Travel: There is parking on site and event traffic management systems will be in place. Please follow all road and traffic detours and respect traffic and parking officer's instructions to ensure you safely arrive and exit the event. We appreciate your patience and suggest that you allow extra time to get to and from the event.
Travel: Don't have a car, no worries! There is a bus from Werribee Train Station that will bring you to the gate. Check the Public Transport Victoria website for details.
What to Bring: Picnic rug, a hat, sunscreen, jacket, and a poncho for inclement weather. Please note there are limited shaded areas – so come prepared for rain, hail or shine.
Garden Closures: Please be advised that there will be restricted access to the garden in the lead up and over the event weekend.

Friday 9 November – Restricted access for event set up.
Saturday 10 November & Sunday 11 November (Event days) – The garden will close at the conclusion of the event at 4.00pm both days.
Monday 12 November – Restricted access for event pack down.

Respect the garden: We kindly ask all event patrons to please respect all areas of the Victoria State Rose Garden. Roses are strictly prohibited from being picked and whilst taking some great selfies with the roses, please remain off the garden beds to avoid damaging irrigation and root systems.
ATM: An ATM will be onsite for the duration of the event.
Dogs: Our four-legged friends are not permitted at this event
Drones: Are not permitted at the event.
Alcohol: Alcohol is strictly not permitted to be taken into the garden.

For any questions regarding this event please email events@wyndham.vic.gov.au
State Rose & Garden Show 2017 - Photo Gallery