Date
Time
Location

Victoria State Rose Garden, K Road, Access via Gate 2, Werribee South
Organiser

Wyndham City - Events Team
Contact

9742 0777
Cost

FREE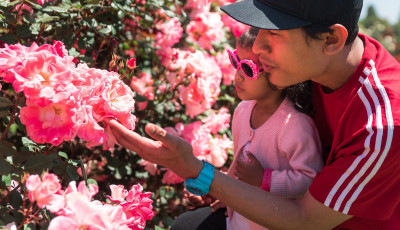 The dates are locked in, the State Rose & Garden Show 2018 will be back on Saturday 10 and Sunday 11 November 2018.
The perfect beginning to Spring at the State Rose & Garden Show!
This highly anticipated event will take place over two huge days as seas of fragrant roses illuminate the grounds at the Victorian State Rose Garden.
Planning is well underway for this year's show – check back here soon for this year's program details
Exhibitor and Food Vendor Applications - Now Open

Your opportunity to be involved

Businesses, community groups and organisations are invited to submit an Application form for this year's expo. When applying we ask you to think of ways in which you could provide an activity or demonstration giving maximum opportunity to engage the families as well as promote your products and services. This can be achieved by providing an activity or workshop, conducting demonstrations or interactive displays.

Some of the benefits include:

This is an opportunity to educate or sell your products on the day
A chance to reach new consumers, reconnect or build locality with existing ones
Network with industry peers
Build awareness and bring your brand to life

Being involved provides a unique opportunity for you to showcase and promote your organisation to the wider Wyndham community.  Attracting crowds of 7000+, you are sure to reach a wide and diverse audience and raise awareness of your group, business or service.
Sponsors

By sponsoring this event, your company/organisation will be linked with what is now a highly anticipated, annual event in Wyndham.

For sponsorship opportunities please contact the Events Team on 9742 0824 or events@wyndham.vic.gov.au
Activities

Check back here regularly for updated details on this year's event activities.
FAQs

Tickets: This event is a FREE event, no ticket is required.
Food:There is plenty of delicious food and beverages for purchase in the garden however you are welcome to bring along a picnic.
Water: A water trailer will be available for fresh drinking water throughout the event.
Travel: There is parking on site and event traffic management systems will be in place. Please follow all road and traffic detours and respect traffic and parking officer's instructions to ensure you safely arrive and exit the event. We appreciate your patience and suggest that you allow extra time to get to and from the event.
Travel: Don't have a car, no worries! There is a bus from Werribee Train Station that will bring you to the gate. Check the Public Transport Victoria website for details.
What to Bring: Picnic rug, a hat, sunscreen, jacket, and a poncho for inclement weather. Please note there are limited shaded areas – so come prepared for rain, hail or shine.
Garden Closures: Please be advised that there will be restricted access to the garden in the lead up and over the event weekend.

Friday 9 November – Restricted access for event set up.
Saturday 10 November & Sunday 11 November (Event days) – The garden will close at the conclusion of the event at 4.00pm both days.
Monday 12 November – Restricted access for event pack down.

Respect the garden: We kindly ask all event patrons to please respect all areas of the Victoria State Rose Garden. Roses are strictly prohibited from being picked and whilst taking some great selfies with the roses, please remain off the garden beds to avoid damaging irrigation and root systems.
ATM: An ATM will be onsite for the duration of the event.
Dogs: Our four-legged friends are not permitted at this event
Drones: Are not permitted at the event.
Alcohol: Alcohol is strictly not permitted to be taken into the garden.

For any questions regarding this event please email events@wyndham.vic.gov.au
State Rose & Garden Show 2017 - Photo Gallery