Date
Time
Location

Spendthrift Australia Park Werribee Racing Club 2-10 Bulban Road Werribee VIC 3030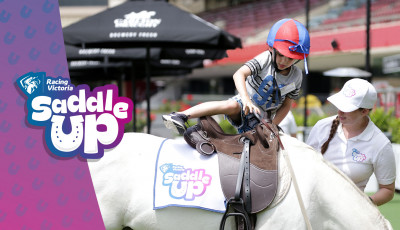 Give your kids the ride of their lives this Autumn! We're thrilled to offer you the chance to get involved in our next Saddle Up School Holiday Program Autumn Series this March & April.
This full day program provides a range of horse-related activities for primary aged children which include:
Design your own Jockey Cap & Horse Saddle
Take part in the GOLDEN HORSE team challenge
Compete in the running of the new and improved Saddle Up Cup Event
Get involved in a horse-themed trivia game activity
Take part in a variety of horse-themed sports activities
Have their photo taken at the prestigious finishing posts
All activities facilitated by Kelly Sports. The cost is $60 per child (inc. GST). Activities are adapted each holidays & for extreme weather. All venues have indoor air conditioned facilities. An additional $20 (inc. GST) for 17 minutes (min number of 15 children required) to learn the fundamentals of riding a horse and make their way through the Saddle Up Obstacle Trail. It's time Saddle Up!