Date
Time
Location

In and around Wedge St and the Piazza
Organiser

Wyndham City Arts & Culture
Contact
Cost

FREE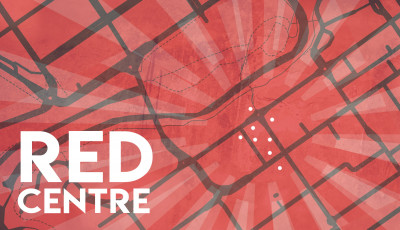 Discover a giant outdoor gallery in Werribee's RED CENTRE.
Artists from across Wyndham have paired with artists from across Melbourne to collaborate on new artworks for Wyndham's annual public art program. The result is something special and surprising for you to enjoy throughout December. You can find the works at the following sites
Site 01: The Mynt wall facing the Wyndham Cultural Centre Car Park

Liz Hooker x Lucy Lucy – Venus to Mars and the Universe Between

A combination of figuration, symbolism and abstraction in a variety of hues and textures this work presents the full spectrum of masculinity and femininity and the tensions between.

Liz Hooker is a muralist and public installation artist from Wyndham. Lucy Lucy is street artist from Paris living in Melbourne.
Site 02: The front of the Wyndham Cultural Centre

Emmet Davies x Michael Peck – Untitled

A monumental exploration of portraiture, this work takes over the façade of the Wyndham Cultural Centre with eyes and lights that beam into you.

Emmet Davies is a skilled draftsman who works in hyper-realistic portraiture and is the recipient of the Local Emerging Art Prize from the 2019 Wyndham Art Prize. Michael Peck is a painter who explores issues of cultural identity and is the artist behind the murals at the Point Cook Community Learning Centre.
Site 03: The windows of the Werribee Library

Eva Klusacek x Carla Gottgens – Leafing through rufus incrementum

Paying homage to the hues of red found seasonally throughout Wyndham and the library as a repository of ideas to be stored and borrowed this work is an inspiration for the imagination and to being 'well read'.

Eva Klusacek is a local artist and environmentalist, reflecting her love of nature in her creative practice. Carla Gottgens is a photographer and accomplished public artwork creator – including being the creator behind our beloved Babushka inflatables!
Site 04: The Piazza and the Watton St x Wedge St Piazza

Clive Gono x Steven Rhall – Intersections

Using signs, symbols, and object-based installations the intersection of Wedge St and Watton St will become a symbol for the meeting of two biographies and a community-wide mixing of culture and history in this place-based work. 

Clive Gono is a curator and sculptor who is brings traditional Shona stone carving into a contemporary art framework. Steven Rhall is interdisciplinary artist frequently working in installation, performance, and photography.
Site 05: Benlor window on the corner of Watton St. and Wedge St.

Hengameh Ghaderi – Sweet but Spontaneous

Walking down an ancient hallway a girl is caught in a cascade of pomegranates that surprise and overwhelm her as they grow. A symbol of love in Iranian culture, this work captures the sweet surprise that love can be but also how it can be overwhelming.

Hengameh Ghaderi is a photographic artist who uses photographs and photomanipulation software to create compositions of complex narratives.
Site 06: Back of the Wyndham Cultural Centre

Angela Hickey x Amanda Shone – All the World's A Stage 

Playing on Shakespeare's famous quote, that 'all the world's a stage', this work brings the frontstage to the back of the theatre and for us to see how we perform in our daily lives.

Angela Hickey is a conceptual artist and wyndham local who's work investigates political and social issues. Amanda Shone is a multidisciplinary artist who uses sculptural installation to explore the difference between actual experience and pre-conceived ideas.
Please join us for the launch of RED CENTRE where we will indulge in a special performance (with pizza) along with celebrating an enormous year for the arts in Wyndham – we'd love to see you there!
LAUNCH: FRI 29 NOV, 7pm - 8pm at Wyndham Cultural Centre
RSVP: https://www.facebook.com/events/976166156062784/
Be sure to tag us in your pics #redcentrewerribee #deepwest