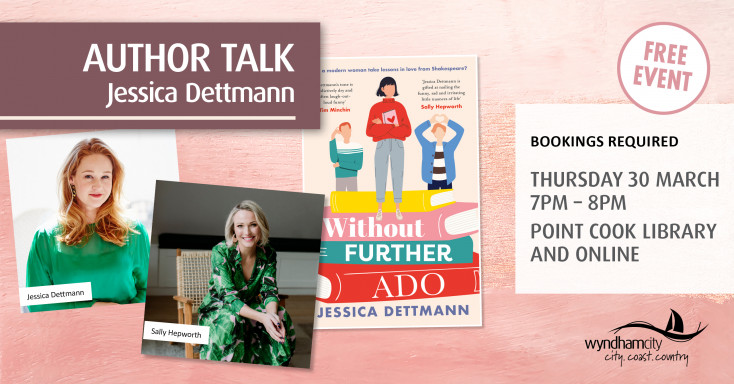 Unfortunately, we have to postpone the author talk Jessica Dettmann in conversation with Sally Hepworth due to illness. This event will now be on Thursday 13 April, 7pm-8pm at Point Cook Library and Online. .
To book in for the new date, please click here.
Come along and hear author Jessica Dettmann in conversation with Sally Hepworth to discuss her sparkling new romantic comedy Without Further Ado.
Without Further Ado is a delightfully Shakespearean romantic comedy about modern love, women's roles and how the films and stories we grow up with shape us.
Book signing after the talk. Books will be available to purchase on the night from our partners The Sun Bookshop.
Bookings required. Note: this event is being held in person and online. In person capacity is strictly limited and booking is essential.
About Without Further Ado
'Sigh no more, ladies, sigh no more. Men were deceivers ever ...'
Since she was sixteen, Willa's curious touchstone in life and work has been the 1993 film Much Ado About Nothing. She's always looking for The Feeling, the stirring in her heart - and loins - that she gets when watching the opening scenes. Now she's navigating her mid-thirties, her career as a romance publisher in an unusual family business, and her determination to remain child-free, while quietly holding out for a love as big as Beatrice and Benedick's.
But when relationships start to get complicated between Willa, her cousin Imogen and the four sons of the family she works for, and the events of her own life begin to mirror the plot of her beloved comedy, Willa must consider whether there is such a thing as too much ado.
About Jessica Dettmann
Jessica Dettmann is the author of three novels, How To Be Second Best, This Has Been Absolutely Lovely and Without Further Ado, and has also written one children's book, There's No Such Book. She previously worked as a book editor and her blog, Life With Gusto, turned a sharp but affectionate eye on modern parenthood. She lives in Sydney with her family.
About Sally Hepworth
Sally Hepworth is the New York Times bestselling author of seven novels, including The Good Sister and The Younger Wife.
Drawing on the good, the bad and the downright odd of human behaviour, Sally writes incisively about family, relationships and identity. Her domestic thriller novels are laced with quirky humour, sass and a darkly charming tone. They are available worldwide in English and have been translated into twenty languages.
Sally lives in Melbourne, Australia, with her husband, three children and one adorable dog.
This Library program/event is being administered by Wyndham City Council using an event booking platform provided by a third party, EventBrite. Any personal information you submit when registering will be stored and processed by EventBrite in accordance with its Privacy Policy. Please note that EventBrite is a US based organisation, and your data will be held in US servers located outside of Australia. By registering for the program/event, you are agreeing to EventBrite's Privacy Policy.
Date and time
Online

Yes
Location

1-21 Cheetham Street
Point Cook
VIC 3030
Organiser

Wyndham City Libraries
Contact

8734 8999
Cost

FREE