Date
Time
Location

177 Watton Street
Werribee
VIC 3030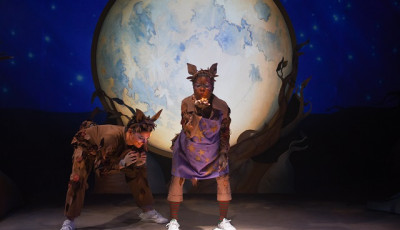 Dates/Times:
Thursday 19 and Friday 20 September
10am to 10.50am
1pm to 1.50pm
For more than 30 years, Mem Fox's Possum Magic has captivated and enchanted young people all over Australia.
Grandma Poss loves making magic. She makes wombats blue and kookaburras pink. She makes dingoes smile and emus shrink. But one day, when danger arrives in the form of a snake, Grandma uses her most magical spell to make Hush invisible. Hush has many wonderful adventures. But being invisible isn't all it's cracked up to be, and Hush longs to see herself again.
One problem. Grandma Poss can't find the spell to make Hush visible again.  
Joined by an extraordinary creative team, Monkey Baa brings to life the characters, journey and love that has made Possum Magic the most-loved and best-selling Australian picture book of all time.
"It may sound trite to say "Monkey Baa has done it again", but it's true." - (Stage Whispers)
****1/2"Possum Magic brings the paper and ink to life in a glorious way that
children obviously adore and carers remember with genuine love and affection" - (ArtsHub)
Monkey Baa Theatre Company
Based on the book by Mem Fox and Julie Vivas
10am & 1pm Thursday 19 September
1pm, Friday 20 September
50 minutes with no interval
Make the most of your visit to Wyndham Cultural Centre and enjoy a drink or some snacks from the bar before the show. The venue and Box Office will open one hour prior to the start of the performance.