Date
Time
Location

177 Watton Street
Werribee
VIC 3030
Organiser

Wyndham Arts and Culture
Cost

FREE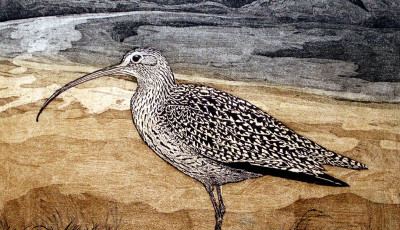 Mapping Sanctuary, is a project created by artist Kate Gorringe-Smith, bringing visibility to Australia's endangered migratory shorebirds.
Migratory shorebirds are the fastest declining group of birds in Australia due to their dependence on particular habitats across the 23 countries through which they travel on their migration paths.
The Western Treatment Plant at Werribee is one of Australia's most important areas of shorebird habitat.
OVERWINTERING is an exhibition of work by artists who have created work responding to this brief. It involves printmaking, sound and video artworks depicting migratory shorebirds and the issues they face.The project has so far engaged over 100 printmakers around Australia and New Zealand to cast a light on these amazing but little known birds.
Local Wyndham artists will be participating along with artists from across Australia and New Zealand to produce an exhibition of diverse depictions of migratory birds. Sound artist Byron Scullin has created a sound installation which will fill the gallery with a work that speculates on human intervention in the natural landscape.
There will also be scheduled tours to see these birds in their habitat at the Western Treatment Plant as well as workshops for visitors to the gallery to participate in to explore their own response to the experience of migration
www.theoverwinteringproject.com
Join us at the Sunday Salon event
Join us on a tour of the Western Treatment Plant
Image credit: Annie Day - Time to go