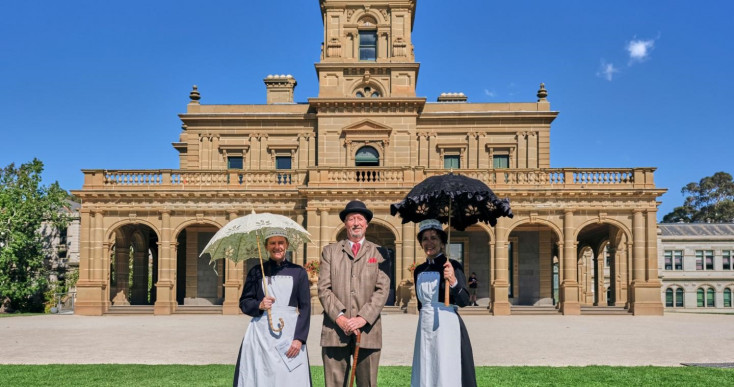 Werribee Mansion is one of Australia's largest, grandest, and most architecturally sophisticated mansions, and is included on the Victorian Heritage Register. Construction of the large basalt and sandstone mansion was completed in 1877 for the Chirnside family who were originally from Scotland, and made their fortune from wool in Victoria's Western District.
The mansion is a symmetrical two storey central block, with dominant tower and a ground level arcade on three sides. With 60 rooms across several wings, the fine interior includes some original furniture set within a richly decorated entry hall containing a Minton encaustic tiled floor, niches, Corinthian pilasters, and free-standing columns leading to a grand staircase. The main reception rooms, library and dining room are all classically ornamented.
Converted into a seminary in the 1920s, the estate was purchased by the Victorian State Government in 1977 and is now managed by Parks Victoria. It has featured in Miss Fisher's Murder Mysteries (an Australian drama television series), and Winchester.
Bookings not required. Capacity is limited. Entry will be timed and operates on a first come, first in basis.
Parking is available via the K Road entrance, and it's a short walk through the gardens to the front entrance of the mansion building.
The ground level is wheelchair accessible, however the upper levels are not. Due to space restrictions, prams and pushers are not permitted within the mansion building. Last entry at 3.45pm.
Parks Victoria staff and volunteers will be on site to chat to visitors about the mansion's history, art, and architectural features.
There will be a number of forms of entertainment occurring sporadically throughout, in a 'flash-mob' style – providing a lively atmosphere, and surprising and delighting visitors.
Date and time
Online

No
Location

Werribee Park Mansion
K Road, Werribee South
Organiser

Parks Victoria
Contact

info@parks.vic.gov.au
Phone 13 1963
Cost

Free Entry