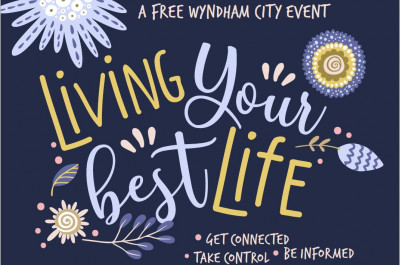 Postponed - join us at the event in 2022!
Know your rights, and speak face to face with key services in Wyndham, directly and safely.
Get Connected
Take Control
Be Informed
Information sessions such as:
Victoria Police: 'Confident Living' safety in the community
Fire Rescue Victoria: being prepared
Contact to discuss any access requirements or for language/Auslan interpreters.
A free Wyndham City Event
Presentations

| | |
| --- | --- |
| 9:00am-9:30am |   |
| 10:00am-10:30am | Safety in the Community - Victoria Police |
| 10:30am-11:00am | Coffee with a Cop |
| 11:00am -11:30am | Ageing Wellbeing & Safety - Council on the Ageing (COTA) |
| 12:00-12:30pm | Safety in the Home - Emergency Services |
| 1:00pm-1:30pm |   |
| 2pm-2:30pm | Safety in the Community - Victoria Police |
| 2:30-3:00pm | Coffee with a Cop |
| 3pm-3:30pm | Ageing Wellbeing & Safety - Council on the Ageing (COTA) |
| 4:00-4:30pm | Safety in the home - Emergency Services |
More about our Stallholders

Victoria Police offer a range of services and supports. Their role is to serve the Victorian community and uphold the law to promote a safe, secure and orderly society.

Fire Rescue Victoria (FRV) and Country Fire Authority (CFA), fire safety experts, will discuss and provide advice on home fire safety, smoke alarms, grass fire and bushfire safety. Available to answer all your questions about fire safety. Fire safety resources in a range of languages available.

COTA (Council on the Ageing) offer advice and services and is the voice of older Victorians. They are the leading advocate, educator and source of trusted information, representing the interests of all older Victorians. COTA's Seniors Information Victoria service provides free information on issues including retirement, home-based services, health and wellbeing, pensions and concessions, housing options, technology and much more.

Anglicare Financial Counselling offer free and confidential financial counselling service offering advocacy and advice on:

Debts you're are struggling to pay
being harassed by debt collectors
gas, electricity and phone disconnection or payment arrangements
access grants or concessions such as Utility Relief Grants
Mortgage stress and advocating with banks

Consumer Affairs Victoria (CAV) will be focusing on product safety, consumer scams and residential tenancy accommodation. CAV will bring pamphlets of information and samples of dangerous products.

Energy and Water Ombudsman (EWOV) is an independent service that investigates and resolves complaints. Dealing with complaints in Victoria's electricity, gas and water sector, covering most companies that offer services to customers. Customers can also discuss issues without starting a formal complaint. Free to Victorian customers meaning you won't have to pay to contact us or have us look into your complaint.

IPC Health, Social Prescribing: a person-centred program that looks to improve overall wellbeing in non-medical ways in conjunction with your GP or healthcare worker. A social prescription can connect you with local community or exercise groups or link you into services like parenting support or legal and financial advice.

Salvation Army Western Metro Private Rental Assistance Program aims to assist residents to establish sustainable tenancies in the private rental market.

Priority is given to those individuals identified as able to sustain a tenancy with limited assistance which includes being provided with private rental information, brokerage, start-up costs and time limited assistance. Priority is given to individuals at risk of losing their current tenancy, currently live in crisis or transitional housing. Priority is also given to individuals currently residing in rooming houses and those at risk of entering a rooming house.

Time limited case management support and liaising with property managers regarding Landlord Incentives, where applicable.

Services Australia (Centrelink) will be available to provide information on payments and services, including how to claim and register for MyGov online services, assistance for families, and information on the COVID 19 Vaccine rollout. As a Services Australia customer, it is important to know what your rights and responsibilities are, and how to avoid debts. A Financial Information Services Officer will also be present to give you some insights on retirement and superannuation, help you understand how to budget and save money or how money affects your payments.

The Grange Community Centre offers a range of social and wellbeing programs to support members of our community stay connected and active. Offering support and guidance about what activities are available for members to participate in.

U3A -Life Long Learning offer activities including, but not limited to, the following:

Exploring history;
Computer learning (beginners and intermediate);
Games - Cards and Mahjong;
Creative Arts – Music, Line Dancing, Photography, needlework and Mosaics;
Mental Health and Relaxation – Tai Chi and Yoga;
Physical – Senior Men in Light Exercise;
Book Club;
Ballet Matinee;
Luncheons and Movies, and
Current Affairs.

Each activity is led by a group leader in a safe environment with the emphasis on social interaction, friendship, enjoyment and learning.

For more information visit our website: http://www.u3awbee.net.au

Uniting Wyndham provide housing support to families, youth single adults, youth singles and families. Our service provides holistic support to identify barriers that impact our consumers. Providing emergency relief service which consists of fortnightly food parcel and yearly food vouchers to people who meet the eligibility criteria.

Volunteer West provides information, resources and support - both to prospective volunteers as well as to organisations that need volunteers. Especially interested in making volunteering accessible to more diverse sections of the community. Volunteering has many benefits for mental health and for our sense of wellbeing and community. Information on current volunteering opportunities in Wyndham will be available as well as answering any queries about volunteering. Referral team available to help attendees find their perfect volunteering role.

West Justice legal clinics provide legal advice and casework assistance for eligible community members across our range of legal practice areas, including motor vehicle accidents, general insurance, debt, mortgages, consumer law, tenancy law, family violence and family law, employment law, criminal law, fines, and VOCAT.

Western Health offer a confidential chat and information on family violence and abusive behaviour toward older people and people with disability which often goes unrecognised and is under reported. Providing advice and information on certain things you can do to help you and/or your loved ones feel safer - the support of friends, family, relatives or a community member can be important for someone living with abuse. Information also available for important forward planning for later life. Resources are available in various languages & for various abilities.

Wyndham City Community Connector team will provide specific information and referral/s to local supports & services tailored to meet the needs of the individual.

Wyndham City Debt Management team will be available to discuss and support Financial Hardship & Planning.

Wyndham City Green Living will give you tips on how to reduce your energy bill, where and how to get information about gardening, community gardens, garden/food swaps, seed library, water saving, sustainable food and much more.

Wyndham City/Global Learning Festival offer information on the all of community event running 1-5 September with the theme "Re-emerge, Connect and Thrive" with 55 free events, with the objective of motivating the community to get involved in learning and to showcase the learning opportunities available, and to promote lifelong learning for the community of Wyndham.

More details available https://www.wynlearnfestival.org.au/

In addition, as a member of UNESCO's Global Network of Learning Cities Wyndham is proud to co-lead (along with Melton City Council) the Global Learning Festival. Building on the enormous success of last years' Global Learning Festival, we are thrilled to confirm the 2021 Global Learning Festival will be taking place from 8-11 November 2021. There will be hundreds of virtual learning events taking place across the 4 days, across a variety of time zones and languages – bringing the world to Wyndham and taking Wyndham to the world!

More details available https://www.globallearningfestival.com/
 

Wyndham City Library Services: Reconnect with libraries and discover a vibrant, welcoming space to learn, grow, discover and connect with others in your community. Libraries offer free programs and events, access to information, job seeker support and a huge range of online resources from movie streaming and audiobooks, to education support and podcasts! Create something new at Craft and Conversation sessions, learn how to use an iPad with 1 on 1 IT support, research your family history, or simply relax in a safe, comfortable space.
 
Wyndham Park Community Centre offer programs and information and the following services:

Community Shed programs

Woodwork
Metalwork
Pottery
Bike repairs
Community garden
Sewing

Centre programs/Specialist services

Wyndham Women's Support Group
Birdcage Community Store
Storytime
Anytime Anywhere Learning Club
Power Saving bonus
Utility Bill Relief program
No Interest Loans(program with Good Shepherd and Neighbourhood Houses Victoria)
Psychologist service based at the community centre
Date and time
Online

No
Location

80 Derrimut Road,
Hoppers Crossing
VIC 3029
Organiser

Wyndham City
Contact

1300 023 411
Cost

free