Date
Time
Location

Werribee South Beach (near boat ramp)
Organiser

Alexander Youings
Contact

0423201398
Cost

FREE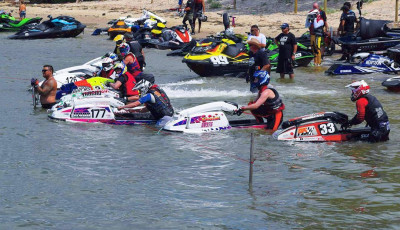 Jettin Vic is a PWC (personal water craft) club who was formed in 2018 by highly experienced riders who have competed on national level as well as an international level as well.
Jettin Vic is associated with the AJSBA (Australian Jet Sports Association) since the club was formed, we follow their code of conduct with ruling and safety guidelines which is based off the IJSBA (International Jet Sports Association).
Jettin Vics goal is to grow the sport for our members, give the best understanding of racing conditions and  that safety is taken to the highest consideration and as well as training for new and welcoming members on a social side as well.
Reading further on you will find general information about the event, from what we require for our setup on the day, how we format the day, how we educate new riders and the public with our safety briefings.
We have SMP implemented for our site specifics and public liability certificate of currency as well, this can be provided upon further progress of a future event to be held with you and your waterway. More information can be provided upon request, please do not hesitate to ask any questions as we are more than happy to answer them.
Event proposal Werribee south water ways.
Location: along shorelines of Werribee south, somewhere with decent access and good for spectating
EVENT SPECIFIC – Jettin Vic PWC RACE DAY
EVENT DESCRIPTION – Jettin Vic to hold social ride / closed course race meet.
Jettin Vic will be giving away prizes to competitors who complete a 6 lap closed course race with at least 3-4 moto runs throughout the day(time dependent, if on time schedule) .
Approximately 50 entrants total, with classes divided by ski type and rider experience. Individual class sizes to be approximately 10 to 12 riders per class maximum competing.
Class type and descriptions are:
Beginner Ski/runabout: This class is for first time or limited experience racers on any type of 2 stroke or 4 stroke PWC.
Amateur Ski/runabout: This class is for more experienced riders/racers on any type of 2 stroke or 4 stroke PWC.
Pro/Am Ski/runabout: This class is for experienced riders on any type of 2 stroke or 4 stroke PWC.
Open Ski/runabout: this class is for experienced riders on any 2 stroke or 4 stroke PWC.
Classes above Beginner may be combined due to low rider numbers. Riders will ride their own Watercraft through a closed course race track to determine the top 3 competitors of each class over 3 rounds.
The Jettin Vic pwc race event to be held along werribee south  is designed to promote safe watercraft operation and understanding of their vessel in racing conditions.
Event Schedule can edit times for first race event
Event to run from 9:00am –6:00pm TBA
rider entry fee to include insurance and venue costs and anything needed to hire $100 spectators entry is free