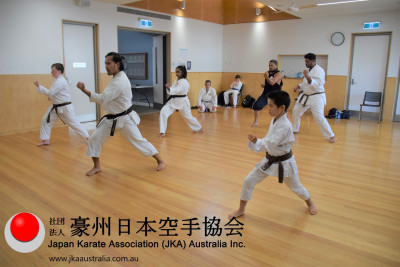 General/Advanced class runs on Thursdays 5:00pm – 6:15pm and Saturdays 4.30pm - 6:15pm.
This class is for those who have some previous experience with karate or martial arts. If you are unsure whether to attend a beginner or general/ advanced class please contact Bryan who will happily advise.
You can attend two free trial lessons to try our training and see if you like it. If you are unsure if you would like to become a member after the 2 free trial lessons, JKA can provide 2 fresh trial lessons again.
When attending trial lessons just wear comfortable clothes for training/exercise – e.g. shorts, track pants, t shirt, etc. and bring a drink bottle and sweat towel. Uniforms only need to be purchased in the future if you choose to do 'gradings'.
JKA are a karate "dojo" and a branch of the Japan Karate Association (JKA) Australia Inc. The style of karate that we teach is traditional JKA-style Shotokan karate.
People can register by contacting bryan.zaldarriaga@jkaaustralia.com.au or via our Facebook page: https://www.facebook.com/jkaapointcook
To find out more please visit: https://www.jkaaustralia.com.au/ Classes for beginners are also available on Tuesdays (see other listing)
A COVID-Safe Plan is in place. Key points are:
Mandatory check-in when entering the community centre
Hand sanitizers to be used when entering and leaving the building
Masks to be worn when inside the building, unless people have a proper exemption. Masks do not have to be worn during training.
For the time being, our training is non-contact.
Specified entry and exit points have to be followed.
COVID-Safe Plan is regularly reviewed to ensure that it meets government regulations as well as requirements from the Saltwater Community Centre.
Date and time

weekly on Saturday

Upcoming events:
Online

No
Location

153 Saltwater Promenade
Point Cook
VIC 3030
Organiser

Japan Karate Association Point Cook
Cost

Free trial lessons, sessional cost applies if continue