Date
Time
Location

153 Saltwater Promenade
Point Cook
VIC 3030
Organiser

Inky Thumb Studio
Contact
Cost

Total cost for an 8 week term: $295.00 During the first two weeks of class there are limited "trail" spots available at $35.00/class All Supplies are included.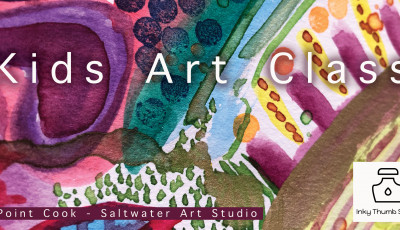 Throughout the term (8 classes), artists will experiment with a range of art mediums. Our main focus will be on drawing, mark making, painting, ink and collage.
Each class will begin with warm-up exercises that relate to the central idea that we will be exploring. Once we've thoroughly warmed up our artistic brains we'll apply our new skills to a larger work. The larger works may take a few classes to complete as we build up our toolbox of techniques and explore our own personal style.
Artists will be guided through the design process and will learn how to pause and view their piece in progress and alter plans where necessary. Each artist's individual art techniques and abilities will be celebrated.
At the end of the term, artists will have completed three (or more) larger artworks, as well as a variety of small pieces and warm-up exercises. 
​Artists will need to wear comfortable clothes that are okay to get painty.