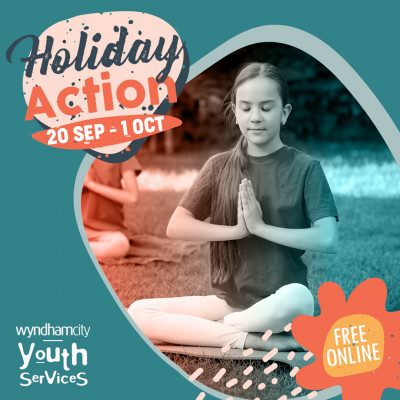 Wyndham City Youth Services is excited to be hosting an awesome Holiday Action program for the Term 3 holidays.
Due to Melbourne's current lockdown, Holiday Action will be running an online program for young people aged 12-17 years.  
Note: Was previously advertised as 12-15 years, but is open to young people aged 12-17 years of age.
This is a great opportunity for young people to try an activity that they might not have done before. Emphasis is placed on fun and having a go.
Note: all programs could be altered/cancelled due to COVID restrictions
NOTE:  Registrations to activities close at 5:30pm the night prior to program, unless booked out earlier.
Complete the Registration Form and email it through to holidayactionenquiries@wyndham.vic.gov.au
You can email any queries to holidayactionenquiries@wyndham.vic.gov.au
Activity Details:
Wyndham Art Therapies - Join us for an interactive Art based program. Here you'll be to express your thoughts, emotions or just get in touch with your creative side with assistance from the amazing team at Wyndham Art Therapies.
Cooking with OTAO Kitchen - Tap in with the incredibly talented team at OTAO Kitchen as they work alongside us to create some delicious dumplings. We will go through every stage of the process with a later program start time so you can finish in time to eat them straight for dinner!
Little Big Warrior Yoga - Stretch out and put on your finest exercise clothes as the team from Little Big Warrior deliver us an awesome Youth focused Yoga session. What a great opportunity to move our body and get active! No experience necessary.
FULL - Got Game? - Join the Youth Services team as we host our very successful Got Game? Game Show. There's a range of challenges involved that will be sure to leave you laughing! Join alone or with a team.
FULL - Western BACE STEM Workshop - For all our techheads out there, Western BACE will be running a two day STEM Workshop covering Robotics, Coding and Microcontrollers. Leave with a prize, some awesome new skills and experience as well as a certificate to display all your learnings.
FULL - Melbourne Magic Academy - Be exposed to the wonderful world of Magic as Melbourne Magic Academy put on a magic show for as all, as well as giving participants there on Top Secret magic portfolio and given the skills to perform tricks and become a magician yourself!
FULL - NJ Productions Workshop - Have a passion for photography, videography or the like? NJ Productions will be hosting a workshop to give us the skills necessary to become our very own YouTube, Tik Tok or Twitch streamer! These skills are invaluable to take to the real world.
Dance Habit - Online Hip Hop Dance Class - Join in the fun at this interactive online hip hop class and learn some new moves!
 

Date

Activity

Time

Cost

Week 1

Monday

20 September

Wyndham Art Therapies

Online

12pm - 2pm

FREE

FULL

Tuesday

21 September

Cooking with Otao Kitchen

Online

2pm - 4pm

FREE

 

Wednesday

22 September

Little Big Warrior – Youth Yoga

Online

12pm - 1:30pm

FREE

FULL

Wednesday

22 September

Western BACE – STEM Workshop

Online

10am - 3pm

FREE

FULL

Thursday

23 September

Western BACE – STEM Workshop

Online

10am - 2:30pm

FREE

Week 2

FULL

Monday

27 September

Got Game?

Online Game Show

12pm - 2pm

FREE

 

Tuesday

28 September

Dance Habit

Online Hip Hop Dance Class

10am – 11:30pm

FREE

FULL

Wednesday

29 September

Melbourne Magic Academy Workshop

Online

12pm - 1:30pm

FREE

FULL

Friday

1 October

NJ Productions

Photography and Video Editing

Online

12pm - 1:30pm

FREE

 

Friday

1 October

CANCELLED
Movie Night @ the YRC

*Tentative if lockdown has concluded*

5pm - 8pm

FREE
Date and time

-
Online

Yes
Organiser

Wyndham City Youth Services
Contact
Cost

FREE