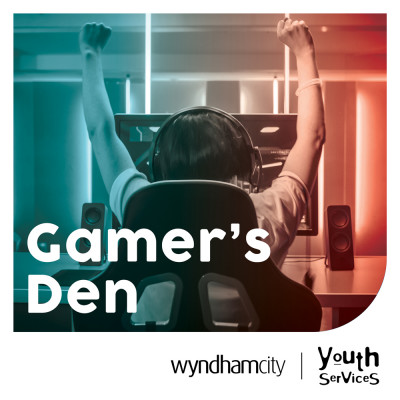 ​We're gaming online every Wednesday with Youth Services Manor Lakes and Point Cook.
​​Are you aged between 12​- 17 and want a space to hang out, flex your gaming skills and make some friends?
​Gamer's Den is currently a virtual space to come together and play interactive games!
Every week we hang out, starting the session with a new game. Don't worry, we will have time to play games that the group requests too!
Register now to help us solve mysteries in "Among Us" and get creative on "Scribbl.io", see you there!
To register visit: https://youthwyndham.com/pgm-reg
​(Register for either Manor Lakes or Point Cook Gamer's Den and we'll be in touch!) 
Term 4 Program - Every Wednesday 4pm - 6pm
1 December – All things Minecraft
8 December - Mini Minecraft Event:
Gamer's Den together with Yonder Esports invites you to our…Minecraft event! Are you a Minecraft player? Do you like to build and explore?
Join us online, work with other Minecraft players to complete set challenges, and explore the wonderful world of Minecraft!
Free: Ages 12-25 years - Spaces are limited book now so you don't miss out! Booking link: https://www.trybooking.com/BVJRC
15 December - End of year celebration! yeeha!
For further details call Youth Services on 8375 2346 or email YouthInWyndham@wyndham.vic.gov.au
Date and time

weekly on Wednesday

Upcoming events:
Online

Yes
Location

86 Manor Lakes Blvd
Manor Lakes
VIC 3030
Organiser

Sarah - Youth Services
Contact

8734 1355
YouthInWyndham@wyndham.vic.gov.au
Cost

Free