Date
Time
Location

86 Manor Lakes Blvd
Manor Lakes
VIC 3030
Organiser

Manor Lakes Community Learning Centre
Contact

8734 8934 or manorlakesclc@wyndham.vic.gov.au
Cost

$40 non concession or $25 concession (Payment by card only)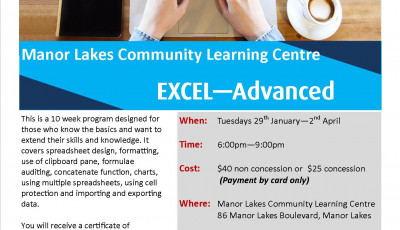 This is a 10 week program designed for those who know the basics and want to extend their skills and knowledge. It covers spreadsheet design, formatting, use of clipboard pane, formulae auditing, concatenate function, charts, using multiple spreadsheets, using cell protection and importing and exporting data.
You will receive a certificate of participation at the end of this course.
Please note that spots are limited and are available on first come first serve basis only.
To make a booking or for more information please contact the centre on the number provided.